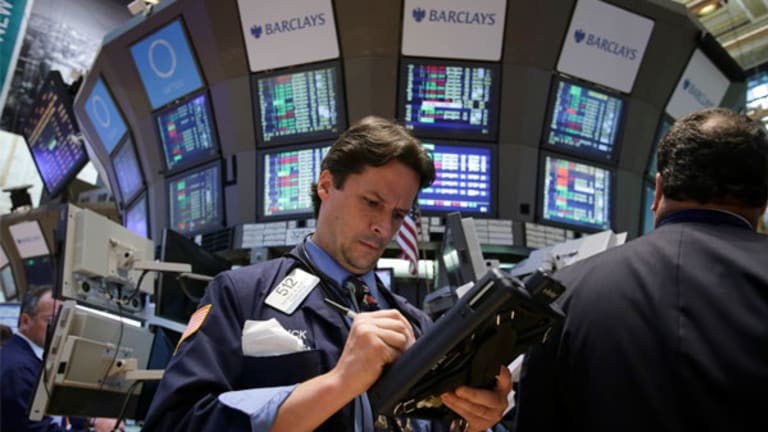 The early days of 2010 saw orderly trading, but by late January, volatility had resurfaced amid ongoing concerns about the global financial crisis. After rocky trading in early February, anxiety levels eased a bit through March and April, but then fear again swept through global markets and peaked in late May. Worries about financial reform in Washington and unease about EU debt problems sent the Dow Jones Industrial Average reeling for a 376-point loss on May 20. Volatility spiked to its best levels of the year. Gold prices surged. The fear and panic has since faded. Now, with eight trading days left for 2010, trading is orderly, M&A activity continues, the IPO market is heating up and the number of options exchanges has increased to nine. These are the top options stories of 2010.
1. The European debt crisis is the top story of 2010 because it has had such a significant impact on other assets and overall levels of global market volatility. The debt problems accelerated in early 2010 and resulted in widening bond yield spreads throughout Euro-zone countries. Then, in early-May, the IMF and Euro-zone countries agreed to bail out Greece. Ireland late agreed to an IMF-led bail-out as well.
The crisis of confidence is spreading and worries about large deficits in other countries like Portugal, Spain and Italy continue to weigh on investor sentiment worldwide. The euro is once again under siege. The CurrencyShares Euro Trust (FXE) - Get Invesco CurrencyShares Euro Trust Report, which is an ETF that tracks the euro/U.S. dollar currency pair, had staged an impressive rally from $118.80 in June to $141.50 in early November. Since then, however, the European currency is back under pressure and FXE is probing the $130.00 level, indicating the euro is at $1.30 against the dollar and down more than 8% from the highs seen in November.
2. The problems across the Atlantic and the falling euro have important implications for other assets. For example, some commodities have been heating up in 2010. Gold, which is dollar denominated, has been benefiting from weakness in the euro. The yellow metal traded at record highs north of $1400 an ounce earlier this month and currently trades around $1380. This year's 25% rally in the precious metal has certainly made 2010 a year to remember for gold bugs.
3. Crude oil is bubbling as well and the recent move higher has some people talking about $100 per barrel. Crude oil, which also benefits from a increasing dollar, is trading up $0.90, to $89.50, today and is up almost 15% year-to-date.
4. While gold and oil seem to be benefiting from euro weakness, the crisis in confidence in the EU seems to be spilling over onto US shores and having a negative impact on Treasury notes and bonds. Since early October, the yield on the benchmark ten-year Treasury note has jumped to 3.3% from 2.3%. Yields move opposite to bond prices and the recent run up indicates that Treasury prices are falling. Since the Federal Reserve has publicly pledged to buyback $600 billion in Treasurys, the selloff in bonds is certainly a big story in 2010. Is the U.S. debt market also at risk of a crisis in confidence similar to that facing the EU?
5. The Flash Crash was certainly a reminder of how quickly volatility can resurface and send stock prices reeling. On May 6, 2010, the Dow Jones Industrial Average was trading about 300 points lower on worries about the Debt Crisis in Greece. Then, beginning around 2:42, the Dow sank another 600 points in a matter of minutes. The jaw-dropping plunge was followed by an abrupt reversal and by 3:07, it had recovered most of the 600-point loss. The catalyst for the sell-off is being blamed on a fund company selling large amounts of S&P mini futures. Regardless, the extreme volatility caused by the May 6 Flash Crash is a one of the top stories for 2010. It shows just how fast investor fear can trigger extreme volatility in financial markets.
6. While volatility was extreme during the month of May and the Flash Crash, overall levels of market volatility have fallen to levels not seen since 2007. Using the CBOE Volatility IndexI:VIX as a guide, the average volatility in 2010 is 22.75 percent, which is down from 31.5% in 2009 and 32.7 percent in 2008. Volatility has been easing in recent weeks as well. VIX, which tracks the expected volatility priced into S&P 500 Index options, fell to $15.46 Friday and its lowest levels of since April. Falling volatility in 2010 is a story. The real story, however, is how long can it last?
7. Volatility is easing and market conditions are improving. Consequently, IPOs are back. 2010 offerings include the newly-listed General Motors (GM) - Get General Motors Company (GM) Report. Shares started trading on November 18 and options were listed about a week later. Other recent IPOs include strong showings for Youku (YOKU) and Dangdang (DANG) , the Youtube's and Amazon.com's (AMZN) - Get Amazon.com, Inc. Report of China. The return of IPO activity is a noteworthy story for 2010, as it reflects the bullish underlying tone of the equity market as well as increased investor appetite for risky investments.
8. M&A activity continues. 2010 has seen a number of substantial merger agreements and failed acquisition attempts, including BHP Billiton (BHP) - Get BHP Group Ltd Sponsored ADR Report for Potash (POT) , Intel (INTC) - Get Intel Corporation (INTC) Report and McAfee( MFE), Avis (CAR) - Get Avis Budget Group, Inc. Report and Hertz (HTZ) - Get Hertz Global Holdings, Inc. Report fighting for Dollar Thrifty( DTG). Private equity deals, like Blackstone (BXL) taking out Dynegy for $543 million, is driving a lot of speculative activity as well. Which company might be next? The guessing game is seen daily in the options market, as potential acquisition targets see sudden bursts of speculative activity when chatter makes the round.
9. The Gulf oil spill is a 2010 story that will not soon be forgotten. BP (BP) - Get BP p.l.c. Sponsored ADR Report shares sank in volatile trading amid reports a massive Transocean oil rig, operated for a group led by BP, caught fire and sank on April 21. From that point forward, the entire oil service sector was sent into a tailspin. Meanwhile, BP sank from more than $60.00 per share to $26.83, or 55%, by late June. Shares have since rebounded to $43.67, but the disaster has left a stain on BP and raised important issues about the future of oil drilling in the Gulf of Mexico and other environmentally sensitive areas around the globe.
10. Finally, 2010 has been a good year for the options industry as volumes set another record and two new options exchanges made their debuts. The BATs Options Exchange started listing puts and calls in February. More recently, CBOE Holdings (CBOE) - Get Cboe Global Markets Inc Report launched its second options exchange, dubbed C2. Nine separate exchanges now list options and, according to the Options Clearing Corporation, total volume so far in 2010 is more than 3.8 billion contracts, which has now surpassed the 2009 record of 3.625 billion.
At the time of publication, Fred Ruffy held no positions in the stocks or issues mentioned.
Frederic Ruffy is an experienced trader and provides daily commentary and analysis of the options market. He is co-founder of the web site, WhatsTrading.com. His work has also appeared in Futures Magazine, Technical Analysis of Stocks & Commodities, Stock Futures and Options, and Sentiment.
In addition to writing market commentary and trading-related books and articles, Fred has also worked as an instructor, educating investors on advanced topics like measuring volatility, the benefits of sector rotation and the risks and potential profits from trading around earnings. An active trader himself, with over 15 years securities industry experience, his market observations and analysis of the options market are featured regularly in the financial press including Barron's, Reuters, The Wall Street Journal, and Bloomberg.
OptionsProfits For actionable options trade ideas from a team of experts, visit TheStreet's OptionsProfits now.
Readers Also Like:
>>Investment Strategy Under the New Tax Bill
Readers Also Like:
Readers Also Like: