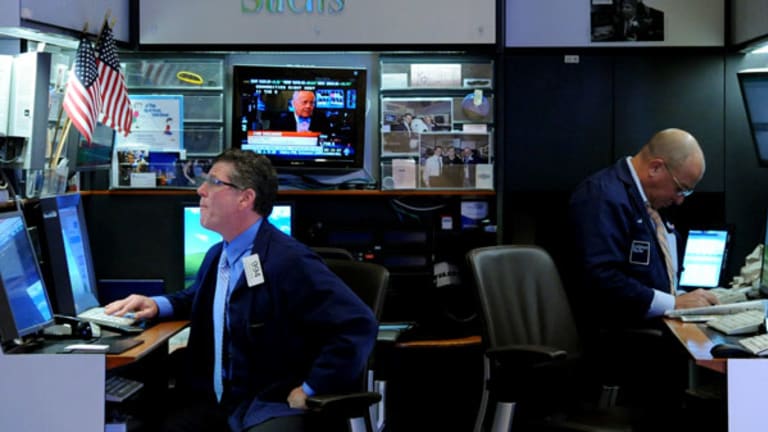 ESI Does It
We are selling ESI October options against what I believe to be the start of a decline in HV30, prior to earnings.
Was the very modest pullback yesterday a buying opportunity? Too many people were happy to sell something they bought cheap two weeks ago, so maybe more of a short-term selling opportunity. Short term events can be an opportunity with options where there is a mismatch between more long term outlooks at short term volatility pricing.Take a look at Aqumin's Landscape below. Dark green buildings show 30-day historical volatility in their 9th decile for the year. This means the stocks are active over a 30-day moving average. Very active. Building height here just means the stock is up on the day on top of the landscape horizon. When I was doing a market search on Monday, I noticed the education industry subgroup and dug a bit deeper on Tuesday. I saw two names that looked interesting ITT Educational Services (ITT) - Get ITT, Inc. Report and Lincoln Educational Services (LINC) - Get Lincoln Educational Services Corporation Report. We know the government is getting in their kitchen for business practices and the law firms of Winkem, Blinkem and Nod are demanding shareholder dollars. Down goes stock prices and up goes the HV30. I tossed out LINC because the options were not liquid enough and the spreads were too wide. Notice the decline lately in 30-day implied volatility in the chart on the lower right for ESI.
ITT Educational Services (ESI) Volatility
Source: Aqumin

This means the market is digesting the news. Whatever happens with these companies will take a while and the funds are starting to smell opportunities. Best of all, the 10-day historical volatility number (the short-term number for volatility in stock movement) has dropped to the mid $30s. The trend here is starting to drop for HV30 as short-term movements pull the 30-day down. The steady gains from the bottom in this group, should erode implied volatilities (and have). The trade here is selling October options against what I believe to be the start of a decline in HV30, prior to earnings (which should be after the October cycle). ESI trades at a P/E of 5+ (market heavily discounting already) and the trend in stock prices in this group looks to firm overall for the bottom. The slight pullback yesterday means better prices today.
Trades: Sell to open 2 ESI October 53 puts at $1.91 (58v) and buy to open 2 ESI October 47.5 puts for $0.98 (65v) for a $0.93 credit on a 14 delta, with ESI trading at $56.71.
At the time of publication, Andrew Giovinazzi held no positions in the stocks or issues mentioned.
Andrew is the Executive Vice President of Business Development for Aqumin, where he participated in the design team to apply AlphaVision to the financial markets. For 15 years he was a member of the Pacific Exchange and the Chicago Board Options Exchange, where he actively made markets and traded in both equity and index options.
OptionsProfitsFor actionable options trade ideas from a team of experts, visit TheStreet's OptionsProfits now.
Readers Also Like:
>>Options Trading in Risk Arbitrage Situations
Readers Also Like:
Readers Also Like: