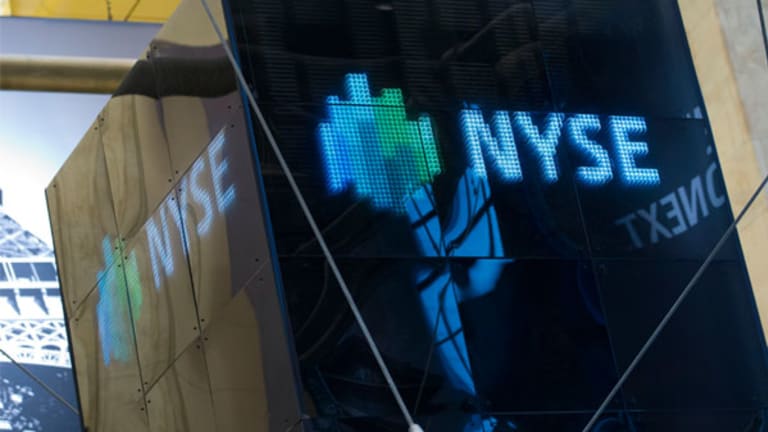 Alcoa
kick starts the first quarter earnings-reporting season next week. The aluminum maker is the first of the Dow 30 to release results and is scheduled to report Monday, April 11 after the closing bell. Overall, analysts expect corporate America to deliver good results for the first quarter 2011. Total S&P operating earnings are expected to improve by 14.2% over the first quarter 2010, according to data compiled by Standard & Poor's. In options action, we are already beginning to see interest in companies that are due to report results, as players jockey for position for big post-earnings moves. While, some of the activity is bullish, there's also been some notable put buying in a number of Dow stocks as well.
Dow component Intel (INTC) - Get Intel Corporation (INTC) Report is due to release results on the afternoon of April 19. Analysts expect the world's largest chipmaker to report quarterly earnings of $0.47 per share, up $0.09 from a year ago, but $0.06 less than the previous quarter. Meanwhile, Sterne Agee analyst Vijay Rakesh warned today that Intel will probably miss Street estimates due to an 8%-10% decline in PC shipments. Rakesh lowered estimates on Intel to $0.45 per share for the quarter, down from $0.52. Macquarie Equities cut earnings estimates for Intel Friday.Shares of Intel are down $0.23 to $19.49 today and have now fallen 4.7% since Wednesday.
Clearly, sentiment is cautious leading up to Intel's profit report. Not only are analysts slashing estimates, but the options order flow is somewhat bearish as well. Today, for example, 92,000 puts have traded in the chipmaker, which is about 3X the typical volume at midday. Morning trades included buyers of April 18 puts at $0.06 per contract and April 19 puts at $0.15. The April 19 puts, which are 2.5% out-of-the-money and expire on April 16, have traded more than 30,000 contracts and are the most actives. It seems like some investors are bracing for additional losses and a move below $19 ahead of the profit report (Note: the options expire before the earnings report). Is the bar being set too low? If so, like last year, Intel might pop when the actual number is reported. Shares saw a two-day 6.4% rally when first quarter results were released on year ago.
General Electric (GE) - Get General Electric Company (GE) Report is the only component of the Dow Jones Industrial Average that was also the part of the original index. Charles Dow created the industrial average in 1896. More recently, GE shares came under pressure in mid-March on the heels of the Japanese nuke crisis, but are up 8.1% since March 16. Earnings come into focus on April 21. Analysts expect GE to report $0.28 per share; which is up from $0.16 a year ago, but down $0.04 from the final quarter of 2010.
Meanwhile, although General Electric shares are grinding higher ahead of the news, one player in the options market seems to be hedging their bets with respect to GE. Two weeks ago, a massive position in 50,000 GE September 12 puts was bought-to-open at $0.18 per contract. Open interest in those puts is now 104,000 and one of the largest positions in GE. It's noteworthy because, with GE up $0.17 to $20.51 Monday, these puts are 41.5% out-of-the-money. There is a 97% chance that they contract will expire worthless.
Bank of America (BAC) - Get Bank of America Corp Report is seeing increased options action today ahead of its earnings report. To make things interesting, BAC will report earnings on April 15, which is April expiration Friday. Analysts expect the bank to report a quarterly profit of $0.28 per share, which is up from $0.09 a year ago and double the EPS reported in the final quarter of 2010. Shares are up $0.04 to $13.41 today and 163,000 call options have traded in BAC through midday. April and May 14 calls, which are 4.4% out-of-the-money, are the most actives. The action includes a 19,000-contract block of May 14 calls bought at $0.36, which is a positoin that pays off if shares move beyond $14.36 through the May expiration, or 7.1% over the next 46 days.
Investors will certainly be sizing up Cisco Systems (CSCO) - Get Cisco Systems, Inc. Report before and after the Dow component releases earnings in early-May. The stock chart has nasty gaps left when shares fell on earnings during the previous three quarters. CSCO is down 36.3% since first quarter 2010 earnings were reported 11 months ago. Analysts expect the company to report $0.37 per share, which is down $0.02 from a year ago, but $0.02 better than the previous quarter. Shares are trading flat today at $17.05 and not far from 52-week lows of $16.97 set on March 17. Investors will scrutinize the upcoming profit report for signs of improvement for Cisco. In the options market, there hasn't been much jockeying in the networking giant yet. In fact, one of the biggest recent trades was a seller of 28,000 January 17.5 straddles at $3.62. The strategist sold both the puts and the calls, probably betting that shares will hold near $17.50 through the January 2012 expiration.
AT&T (T) - Get AT&T Inc. Report earnings come into focus on the morning of April 20. Analysts have had nice things to say about the company since the recently announced plans to buy T-Mobile. Consequently, the stock is up 12.4% since March 17. AT&T is expected to report $0.58 per share for the first quarter, which is up from $0.55 a year ago and four cents better than the previous quarter. There's optimism building in the options market as well. A noteworthy options trade in AT&T surfaced last week when one investor bought a 30,000-contract block of October 35 calls at $0.11 each. With shares up $0.10 to $30.72 today, these calls are 13.9% out-of-the-money with 200 days of life remaining. The market is now $0.20-$0.22.
At the time of publication, Fred Ruffy held no positions in the stocks or issues mentioned.
Frederic Ruffy is an experienced trader and provides daily commentary and analysis of the options market. He is co-founder of the web site, WhatsTrading.com. His work has also appeared in Futures Magazine, Technical Analysis of Stocks & Commodities, Stock Futures and Options, and Sentiment.
In addition to writing market commentary and trading-related books and articles, Fred has also worked as an instructor, educating investors on advanced topics like measuring volatility, the benefits of sector rotation and the risks and potential profits from trading around earnings. An active trader himself, with over 15 years securities industry experience, his market observations and analysis of the options market are featured regularly in the financial press including Barron's, Reuters, The Wall Street Journal, and Bloomberg.
OptionsProfits For actionable options trade ideas from a team of experts, visit TheStreet's OptionsProfits now.
Readers Also Like:
>>Trading Volatility in a Biotech Stock
Readers Also Like:
Readers Also Like: