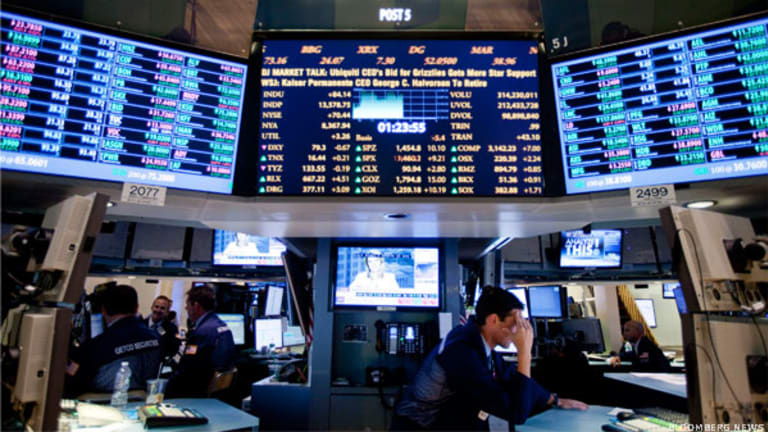 Dykstra: Profit From Rogers' Recent Rout
This stock's been overly punished. Also, reader email.
When companies perform well, their shareholders are rewarded with a higher stock price, and when companies do not perform, their shareholders lose. This is common sense, but what often happens is that good performance gets unjustly rewarded and bad performance gets beaten down.
We see this all the time in sports, stocks, and life. Earlier this year, with David Wright struggling for the Mets, many were questioning whether he was not quite as good as everyone thought -- which, of course, is simply absurd. My point is that this is a theme that I often discuss -- extremes on stocks are grossly over exaggerated; they run up higher and drop down lower than they should.
A clear example of this is
Rogers
(ROG) - Get Report
. Last November, the stock peaked at over $70. Although the company reported disappointing earnings since then, growth in revenue remained strong, with record first-quarter revenue coming in 12% higher than the year before.
However, earnings were down from the previous year, pinched by higher production costs and increased equity-based compensation.
Rogers produces specialty components for portable communications equipment, computers, transportation and consumer products. In the first quarter, the company had exceptional growth in its custom electrical components division, led by increased demand in portable communication applications. In addition, Rogers makes components for high-definition satellite television.
With all of the excitement over the iPhone, it's clear that new generation cell phones that can do more than simply make calls have caught consumers' attention. Although I know of no connection between Rogers and the iPhone, I believe the attention on next-generation phones will generally help spur more sales in the division.
Additionally, with HDTV becoming more popular, Rogers' exposure to HD satellite TV will only increase in profitability over time. As more people buy new TVs, satellite TV will become more popular.
At its close yesterday of $38.43, Roger's steep decline over the past year provides for a great buying opportunity. The company continues to grow revenue, and management will push forward with ways to cut costs and increase the bottom-line profit.
This company amazingly has only 17.32 million shares in the float; even more amazing is that Rogers has a mere 17.67 million shares outstanding. Regarding the float: This means the total amount of shares available to trade are 17.32 million.
In comparison, Microsoft has 8.23
billion
shares available to trade. The reason I mention this is so you understand we will have to pay a much higher premium than we normally pay. So, here we go: Buy 10 December $35 deep-in-the-money, or DITM, calls (ROGLG) for $5.60, or better.
As a player, I always had an obligation to produce in any way I could for the team. We won as a team, and we lost as a team. Undoubtedly, I was fortunate enough to achieve some significant individual goals during my career. However, my shining accomplishment was being a part of the 1986 World Series Championship Mets, for which I will be forever appreciative. Moreover, I am greatly appreciative for the fan support I received both in New York and Philly.
As I have mentioned previously in my column, I am greatly appreciative to
TheStreet.com
for allowing me the vehicle to share my insight with you. Fridays are reserved for answering a few of the hundreds of emails I receive on a weekly basis. Some are not very complimentary; others are incredibly flattering. Regardless, I am deeply appreciative of your support.
Now, to your letters.
I'm a big fan of your articles, and was glad to see you come back afterthe hiatus last year.A question about your score card. I have only just started back on your articles in the last week or so, so maybe I have not seen the answer to this yet, but I don't see any list of "losers" in your score card. Is that because you haven't experienced one yet or are you not listing these? If the former, then wow! If the latter, it would be very beneficial to see this included in your score card. -- Tony
Tony,
Reader comments are important to me, and so is accountability. To answer your question, the reason there are no losers in the Stat Book to date is because of a couple of factors, the first being that there haven't been any yet, and the second being that none of my picks have had the opportunity to lose yet either.
We play this game to make money, serious money, and the beauty of the strategy is we are not only buying low-cost options as an alternative to stocks that would cost us much more, we are giving ourselves plenty of time to adjust the plan as market conditions fluctuate. Although I don't play to lose, eventually I may pick an option that results in a loss. When this happen, it will be posted to the Stat Book along with everything else.
Your track record is impressive! Despite having few losses, I wouldappreciate if you would publish loss transactions as well. A few weeks ago, you suggested DITM calls for BigBand Networks (BBND). It went nowhere but down. Did you make money on that one?I am not being critical. I appreciate all of your plays and can only praise your returns. I am just curious about your wrong plays as well.-- Gregory
Gregory,
As soon as the DITM strategy yields a loss, it will be published. You are correct, on May 2 the column featured BigBand. However, before the position to buy was filled, news that would adversely affect the chances of a win with this pick was released. Therefore, in my
column on May 4 , I alerted readers with this news and recommended canceling the order.
You know it's true that we all make mistakes, and I am no exception to the rule, but I was able to avoid a loss because I do my homework. Once I put my money on the line and purchase DITM calls, I follow up and read the headlines that relate to them. This way I will be alerted to both the good news and the bad news with regard to my investments and plan and adjust accordingly.
How does your "next buy level" work? When the underlying stock hits this price, do you automatically by another 10 contracts?-- Josh
Josh,
The answer is yes. When a stock price reaches its next buy level, it makes good sense to average your investment cost basis and reduce risk by purchasing a matching number of DITM contracts. By listing the next buy level in the weekly Stat Book, it presents followers of my DITM strategy the tools they need to execute another buy, without having to read each column and scour it for possible next-buy instructions.
At the time of publication, Dykstra was long Rogers.
Nicknamed "Nails" for his tough style of play during his Major League Baseball career, Lenny Dykstra was an integral member of the powerful Mets of the mid-1980s, including the world champion 1986 squad, and the Phillies in the early 1990s.
Today, Dykstra manages his own stock portfolio and serves as president of several of his privately held companies, including car washes; a partnership with Castrol in "Team Dykstra" Quick Lube Centers; a state-of-the-art ConocoPhillips fueling facility; a real estate development company; and a new venture to develop several "I Sold It on eBay" stores throughout high-demographic areas of Southern California.