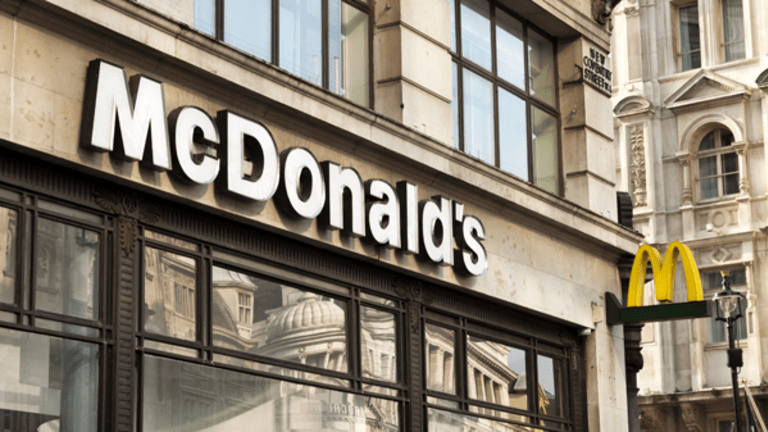 Don't Expect McDonald's Earnings Beat to Help the Stock -- Here's Why
McDonald's better-than-expected earnings report isn't going to help the stock. here's how you can use stock options to profit.
McDonald's (MCD) - Get Free Report reported better-than-expected quarterly results Monday, but don't expect this to help the company's share price much. Shares fell in early trading.
Positive earnings surprises typically lead to short-term price bumps, but McDonald's problems are significant. For the latest quarter, the company reported adjusted earnings per share of $1.44, topping the average analyst estimate for $1.41. Revenue of $6.03 billion beat estimates of $5.99 billion. Even so, revenue declined 5% from the same period a year earlier.
The chart shows very little in terms of a trend. The stock's price has been consolidating narrowly, and last Thursday and Friday revealed a double-top formation, which could be seen as bearish. However, there is little to confirm this possible move so far. The chart as of Friday's close shows what has been happening as of last week.
Traffic trends are disturbing for McDonald's. Millennials are not going to the chain as much as in the past, preferring Five Guys and similar chains. International revenue is also down. China was a star in the international revenue picture a few years ago, but even there revenues have been slumping.
Before the market opened, we thought the stock might get a short-term lift from the earnings news, but that wasn't the case. Investors need to look at the longer-term picture, though. Has McDonald's peaked?
If you're feeling bearish about McDonald's prospects for the near future, there are potentially profitable options strategies you can employ. 
The Feb. 3 options (expiring in 11 days) offer an opportunity for those who already own shares of McDonald's (or for those who are willing to take on the risk of writing an uncovered call option):
1. Buy the 120 put option at an ask price of 1.60. Including trading fees, the actual cost of the option will be $169.
2. Sell the 120 call at a bid price of 1.20. Including trading fees, the actual credit will be $111.
The net debit on the position will be 0.58, or $58.
The break-even level for the stock price on this trade is 120-0.58, or $119.42.
This article is commentary by an independent contributor. At the time of publication, the author held no positions in the stocks mentioned.
Besides blogging atTheStreet.com,Michael Thomsett alsoblogs atOptions Money Maker,the Top Advisor's Corner atStockcharts.com, andSeeking Alpha.He has been trading options for 35 years and has published books with Palgrave Macmillan, Wiley, FT Press and Amacom, among other publishers. Thomsett's latest book is A Technical Approach to Trend Analysis.He is working on a new book on options math, to be published by Palgrave Macmillan in 2017.