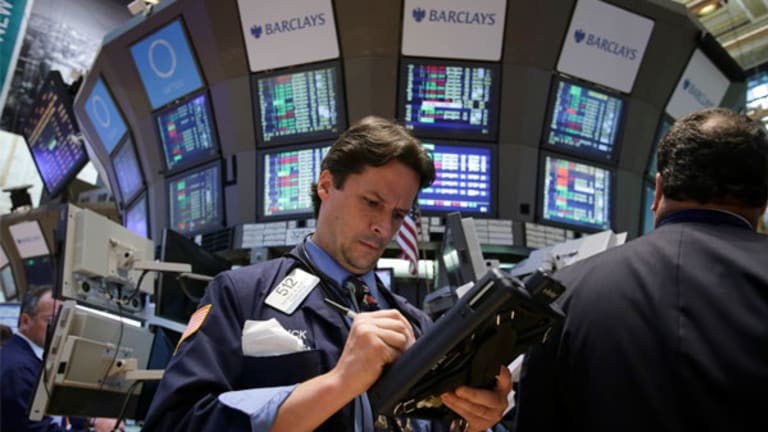 Covered Call Strategies for This Volatile Market
Getting paid for taking risks.
Updated from 10:31 a.m. EDT
Covered calls, which is the simultaneous purchase of stock and selling short of a related call option, is one of the most popular options strategies. This is based on the fact that most people are generally long-term (at least a year or more) investors and the
belief
that it is a
relatively conservative strategy that helps generate income and works best during calm or non-volatile trading environments.
Some Myths and Misdemeanors
First, I'd like to point out that the conservative part is very relative and I believe misleading; a covered call has essentially the same risk/reward profile of selling a put naked, something that most investors would never consider nor would their brokers allow.
Second, in calm or low-volatility markets, the option premiums are usually too low to produce the steady double-digit returns that are calculated by brokers promoting the strategy.
Remember, they usually use annualized returns, which is based on selling a 30-day option and assumes this will be a repeatable event for 12 consecutive times over the course of a year. The reality is very few stocks stand still for 52 weeks, and if the implied volatility is too low, the premiums collected are not worth the risk being taken.
Get a Reward for Taking Risk
Instead, my take is that applying covered calls to high beta or highly volatile stocks, and therefore carry high implied volatility, makes more sense. If you are going to take a risk, you may as well get paid for it, in terms of truly boosting returns by receiving rich premiums.
The key, of course, is to try to minimize that risk or trying to identify stocks that are not likely to reach their downside breakeven point at the options' expiration.
So aside from simply looking at stocks with a high IV, the other item I like to use would be some simple technical analysis and find stocks that are approaching support levels on their charts.
One name that looks attractive is
Amazon
(AMZN) - Get Amazon.com Inc. Report
, which has sold off sharply in recent weeks. With the stock currently trading around $67, one could sell the April 70 calls for $3 a contract. The chart shows good support at the $60 price level, so having a $64 breakeven point seems a fairly prudent exit point. It also creates a position that has the option to earn $7 or 10% over the next six weeks. Overall, I think that creates a pretty attractive position with a relatively conservative risk/reward.
One other name to throw out there is
MF Global
( MF). This is more of a special situation. If you recall, the stock got hammered when it was revealed three weeks ago that a rogue trader lost $141 million trying to short wheat futures. The stock is now trading down around $18.30 a share, with $18 looking like some minor support. Meanwhile, its IV remains near 52-week highs and the April $20 call can be sold for about $1.20 a contract.
China Mobile
( BSC) also offers some attractive numbers for establishing a covered-call position. The stock recently received an upgrade, which helped it hold support at 70. Now with shares trading at $71.50 and implied volatility running at 55, which is up from 42 two weeks ago, one can sell the April 75 call for $3 a contract. This gives you a downside breakeven of $68.50 a share and provides a maximum profit potential of $6.60, or 9%, over the next six weeks.
And just to mix things up, lets look at a potential sell-write candidate; that is, shorting stock and simultaneously shorting puts. I don't even have to look too hard to think that
Bear Stearns
( BSC) is a prime candidate for this strategy, which benefits from a stock in which one does not foresee much upside in the near term and whose options have a high implied volatility.
This is not your father's covered call.
Steve Smith writes the Options Alerts newsletter for TheStreet.com. Each week Smith prepares a winning cocktail of options trades for his subscribers. He's currently got options plays on a variety of companies including Apple and the Consumer Discretionary SPDR, as well as the Spyder Trust.
Know What You Own:
MF operates in the financial services industry, and some of the other stocks in its field include
Goldman Sachs
(GS) - Get Goldman Sachs Group Inc. (The) Report
,
Morgan Stanley
(MS) - Get Morgan Stanley Report
,
Bear Stearns
( BSC),
Citigroup
(C) - Get Citigroup Inc. Report
and
Merrill Lynch
( MER). These stocks were recently trading at $166.22, $41.99, $64.43, $21.98 and $46.07, respectively. For more on the value of knowing what you own, visit TheStreet.com's Investing A-to-Z section.
Steven Smith writes regularly for TheStreet.com. In keeping with TSC's editorial policy, he doesn't own or short individual stocks. He also doesn't invest in hedge funds or other private investment partnerships. He was a seatholding member of the Chicago Board of Trade (CBOT) and the Chicago Board Options Exchange (CBOE) from May 1989 to August 1995. During that six-year period, he traded multiple markets for his own personal account and acted as an executing broker for third-party accounts. He appreciates your feedback;
to send him an email.
To read more of Steve Smith's options ideas take a free trial to
.