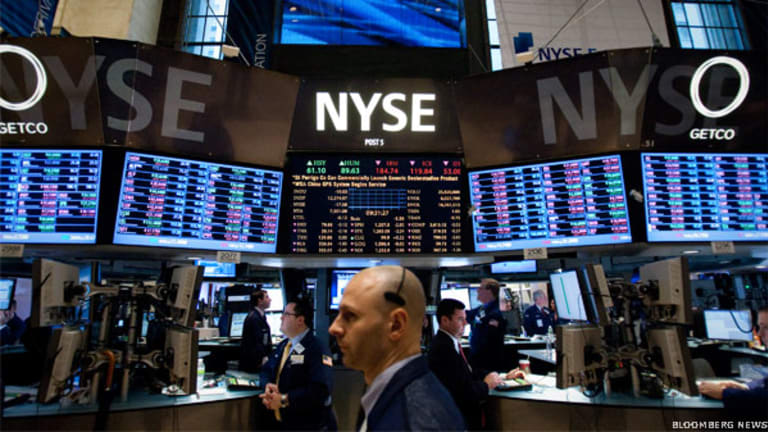 Combat Options Trading on Mosaic
Strategic Mindset is bearish on Mosaic; target is MOS trading at $71.30.
The following commentary comes from an independent investor or market observer as part of TheStreet's guest contributor program, which is separate from the company's news coverage.
NEW YORK (
) --
Strategic Mindset:
Bearish
Target:
MOS trading at $71.30
Commit Criteria:
The
Top Gun Options trading team is still bearish on the overall market because all signs (PMI, consumer confidence, unemployment, housing, etc.) point to continued weakness in the domestic and global economy and no solution to the global debt problem, or our own for that matter, seems likely.
Mosaic
(MOS) - Get Mosaic Company (MOS) Report
has rallied back with the rest of the market, but when we look at the chart, we see it's stalled out right at a major resistance level. Until the global outlook brightens, we don't see the stock breaking through this level.
Tactic:
Long put spread
Tactical Employment:
Buy to open 12 October 72.50 puts, and
Sell to open 12 October 67.50 puts,
As a spread
For a net debit of $2.10
Maximum risk = $2.10 per share; $2.10 per spread
Maximum reward = $2.90 per share; $290 per spread
Breakeven point = $70.40 if held till expiration
Midcourse Guidance:
We're taking this tactic straight out of the OPCL
(Options Pocket Checklist) as well for the same reasons as the previous IBM trade - we don't expect much volatility to the high side of the market at this point.
Eject level: If the trade loses 50% of its value, then close the trade in our model portfolio. What that means is that if the spread decreases in value to $1.05, then we'll close the trade.
Profit exit: If the spread reaches a profit equal to 50% of the potential profit, then that would mean that the spread has reached a value of $3.55. At that point we'll raise the Eject Level to the point where we'd only have a 25% profit, which would be $2.83.
A standard
Top Gun Options trading ROE (rule of engagement) is if the commit criteria change, we'll close the trade.
Threats to success: Tomorrow's jobless claims number and Friday's unemployment number could be market-moving events, but most likely to the downside.
Exit:
Sell to close the October 72.50 put and buy to close the October 67.50 put, as a vertical spread (selling the vertical spread) for a net credit.
Firing Line:
After earthquakes and hurricanes we're expecting to see locusts on the horizon in short order. We believe this relief rally is just that and we're setting our sails for another potential leg down, unless Uncle Ben brings in some fire support...but that cannon may just shoot a flag that says "Bang" on it, and that's it.
This commentary comes from an independent investor or market observer as part of TheStreet guest contributor program. The views expressed are those of the author and do not necessarily represent the views of TheStreet or its management.