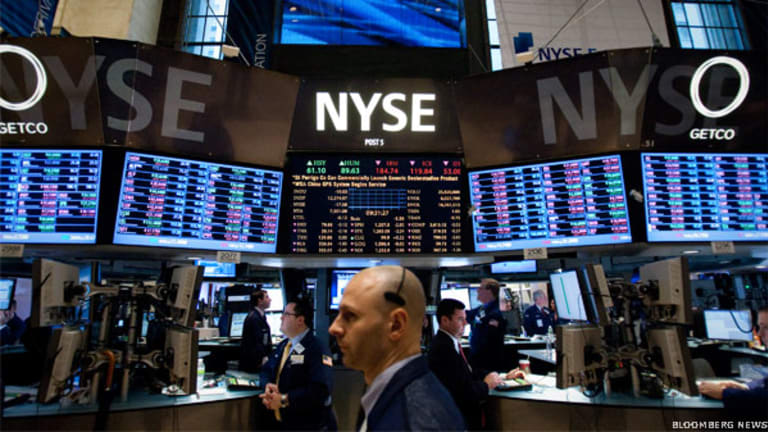 Combat Options Trading on IBM
Strategic mindset is bearish; target is IBM trading at $169.
The following commentary comes from an independent investor or market observer as part of TheStreet's guest contributor program, which is separate from the company's news coverage.
NEW YORK (
) --
Strategic Mindset:
Bearish
Target:
IBM trading at $169
Commit Criteria:
The market has completely forgotten the reasons for the sell off over the past two weeks, so these rallies are good times to get into bearish trades if we think the fundamental landscape hasn't changed.
Tactic:
Long put spread
Tactical Employment:
Buy to open 13 October 170 puts, and
Sell to open 13 October 165 puts
As a spread
For a net debit of $1.95
Maximum risk = $1.95 per share; $195 per spread
Maximum reward = $3.05 per share; $305 per spread
Break even point = $168.05 if held till expiration
Midcourse Guidance:
We're taking this straight out of the
Top Gun Options OPCL (Options Pocket Checlist) because we don't expect much volatility to the high side of the market at this point.
Eject level: If the trade loses 50% of its value, then close we'll the trade. What that means is that if the spread decreases in value to $0.93, then we'll close the trade in our Intermediate model portfolio.
Profit exit: If the spread reaches a profit equal to 50% of the potential profit, then that would mean that the spread has reached a value of $3.48. At that point we'll raise the Eject Level to the point where we'd only have a 25% profit, which would be $2.71.
As always, if the commit criteria change, we'll close the trade.
Exit:
Sell to close the October 170 put and buy to close the October 165 put, as a vertical spread (selling the vertical spread) for a net credit.
Firing Line:
The biggest threats to success: Important economic data is going to be released this week and this could spark a rally in the market. This trade should be fairly safe up until the point where the stock hits the most recent high from Aug. 15. Happy hunting and make sure you hedge.
This commentary comes from an independent investor or market observer as part of TheStreet guest contributor program. The views expressed are those of the author and do not necessarily represent the views of TheStreet or its management.