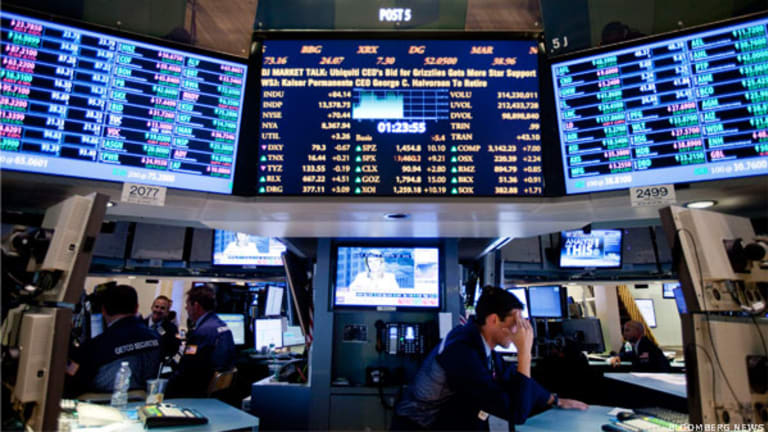 CBOE Emerging Market Volatility Feature for Options Profits
Next Tuesday, January 31, the CBOE is going to roll out a second method of taking a position based on an outlook for the market's expectation of volatility for emerging markets. Russell Rhoads, Instructor for CBOE's Options Institute, gives you exclusive insight on the new approach.
This complimentary article from Options Profits was originally published on January 25 at 8:18am EST. Don't risk missing over 40 options trade ideas every week and exclusive commentary from over 10 experts. Click here for more information and a 14-Day Free Trial.
Russell Rhoads is an instructor with The Options Institute at the Chicago Board Options Exchange. He is a financial author and editor having contributed to multiple magazines and edited several books for Wiley publishing. In 2008 he wrote Candlestick Charting For Dummies and is the author of Option Spread Trading: A Comprehensive Guide to Strategies and Tactics. Russell also wrote Trading VIX Derivatives: Trading and Hedging Strategies using VIX Futures, Options and Exchange-Traded Notes. In addition to his duties for the CBOE, he instructs a graduate level options course at the University of Illinois - Chicago and acts as an instructor for the Options Industry Council.
Russell:
Next Tuesday, January 31, the CBOE is going to roll out a second method of taking a position based on an outlook for the market's expectation of volatility for emerging markets. Options on the
CBOE Emerging Markets ETF Volatility Index
will commence trading as a compliment to VXEEM futures. VXEEM futures began trading earlier this month at the CBOE Futures Exchange.
As a brief overview, the VXEEM is an index that uses the same method of determining market volatility as the
CBOE Volatility Index
. The VIX is a measure of 30 day implied volatility of the US stock market and is calculated based on S&P 500 index option pricing. The VXEEM is calculated using options that trade on the
iShares MSCI Emerging Market Index Fund
.
I discussed the VXEEM in depth at few weeks ago in this space
.
Options on the VXEEM will trade with a multiplier of $100 and have a minimum tick of $0.05 for options priced below $3.00 and $0.10 for options priced above $3.00. The minimum strike interval will be 1.00 which may results in a wide variety of potential spread opportunities. Expiration for the next three continuous months plus farther expirations based on the February cycle may be listed. Next week the front month will be March as February options will not be listed. Also, LEAPS may be listed. Finally, like most index options, VXEEM options are European style options that may only be exercised on the expiration date.
VXEEM options (and futures) will expire on Wednesday morning that is 30 days prior to standard option expiration the following month. This is the same date that VIX options and futures expiration. This settlement price is based on opening trades in all relevant EEM option contracts. Once calculated, the settlement price will be disseminated using the ticker VXEST.
Pricing of the VXEEM options may have a twist that already exists with VIX options. That is the best underlying pricing vehicle for these contracts would be the futures contracts that share an expiration date with the option contracts. A brief example using April VIX option pricing from yesterday is below. At this time the VIX Index was quoted at 19.40.
Those that are very adept at quick math may notice something about this pricing. With the exception of the April 20 put there appears that there may something wrong with these quotes. For example if you subtract the ask side of the VIX April 24 Put (3.00) from the option strike price you get 21.00. This is a full 1.60 above the current VIX index level. It appears that there is a mispricing here, but the reality of the situation is that the best underlying security to value these option contracts is the VIX future contract that shares an expiration date with the options. In this case that would be the April VIX future contract which was trading at 25.00 when I grabbed these prices. An underlying price of 25.00 makes much more sense for these options than the VIX index which was at 19.40.
What is interesting about VIX options is they will be priced using the futures contract, but will settle in a calculation of the index. Therefore if we pay the ask side for these VIX April Put options and the VIX does not move at all between now and April expiration the result would be the profit (or loss in the case of the VIX April 20 Put) that shows up in the table below. This sort of trade is unique to VIX options, but there is no reason to believe this will not hold true for VXEEM options.
Consider the pricing of the VXEEM futures from yesterday morning that appear on the table below. Note all the listed futures contracts are trading at a premium to the VXEEM index. VXEEM futures have only been trading for a few weeks so there is not too much history to work with yet. However, the same sort of pricing that occurs in the VIX futures contracts has been present in the VXEEM Futures. Ultimately the market will determine the pricing of VXEEM option contracts, but it is very possible that the same sort of pricing characteristics that are seen with VIX options will show up in the VXEEM option arena as well.
This list of VXEEM options is a significant development for those interested in trading options as well as those that have an interest in the futures. VIX futures began trading in 2004 and VIX options were listed in 2006. Volume in the VIX futures really started to pick up after the VIX options were introduced. As market makers use the corresponding VIX futures for hedging purposes when executing an order in the volume in the VIX options increases the liquidity of the VIX futures market. With the rolling out of VXEEM options, there could well be a sudden corresponding increase in VXEEM futures trading.
So keep an eye out for VXEEM options next week along with VXEEM futures volume. A common approach to trade futures on volatility is to be bearish when bullish on the overall stock market. Maybe buying a put on the VXEEM if you are bullish on the EEM is a strategy to consider. If the VXEEM futures are at a premium to the index then you may have an added bonus of the futures contract approaching the price of the index as expiration approaches. Finally, keep an eye out for Mark Sebastian suggesting some VXEEM option trades.
Additional resources to compliment the article:
www.cboe.com/vix
www.cboe.com/vxeem
cfe.cboe.com
OptionsProfits can be followed on Twitter at twitter.com/OptionsProfits
Russell Rhoads can be followed on Twitter at twitter.com/RussellRhoads
CBOE can be followed on Twitter at twitter.com/CBOE
At the time of publication, Russell Rhoads held no positions in the stocks or issues mentioned.