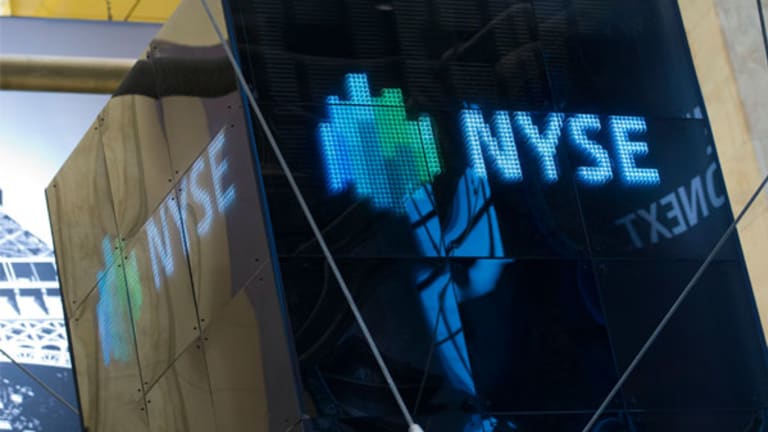 Cautious Move in Cognizant Technology
At least one investor has hedged his bet on the stock buy selling and buying calls.
CHICAGO (
) --
Cognizant Technology Solutions
(CTSH) - Get Cognizant Technology Solutions Corporation Class A Report
did not announce any news Friday morning, and it'll be another couple months before the company could announce its next earnings figures.
However, during midday trading, one investor rolled out long positions in the stock, but not without a caveat.
Around 11:42 a.m. EST, the investor sold to close 13,000 January 37.5 calls for $12.30 per contract, and bought to open 4,700 January 2012 47.5 calls for $9.50 per contract. Current open interest of the January 37.5 calls is 13,000 contracts, which is why the investor likely closed this long position. The January 2012 47 calls are home to current open interest of 16 contracts, indicating the investor bought these calls to open.
Why the volume discrepancy? This investor is maintaining exposure in CTSH, but could arguably be taking a less aggressive bullish stance on the company by taking some chips off the table. But keep in mind that the investor also rolled up to the 47.5-strike, maintaining the bet that CTSH shares could climb.
One reason for this could be that CTSH shares have climbed 20% since November. The stock is currently down four cents so far today to $48.12, up near its 52-week high of $48.95. So, this investor rolled out long call positions expecting further upside, but isn't willing to have as much capital at risk.
-- Written by Jud Pyle in Chicago
Jud Pyle, CFA, is the chief investment strategist for Options News Network. Pyle started his career in finance in 1994 as a derivative analyst with SBC Warburg. After four years with Warburg, Pyle joined PEAK6 Investments, L.P., in 1998 as an equity options trader and as chief risk officer. A native of Minneapolis, Pyle received his bachelor's degree in economics and history from Colgate University in 1994. As a trader, Pyle traded on average over 5,000 contracts per day, and over 1.2 million contracts per year. He also built the stock group for all PEAK6 Investments, L.P. hedging, which currently trades on average over 5 million shares per day, and over 1 billion shares per year. Further, from 2004-06, he managed the trading and risk management for PEAK6 Investments L.P.'s lead market-maker operation on the former PCX exchange, which traded more than 10,000 contracts per day. Pyle is the "Mad About Options" resident expert. He is also a regular contributor to "Options Physics."