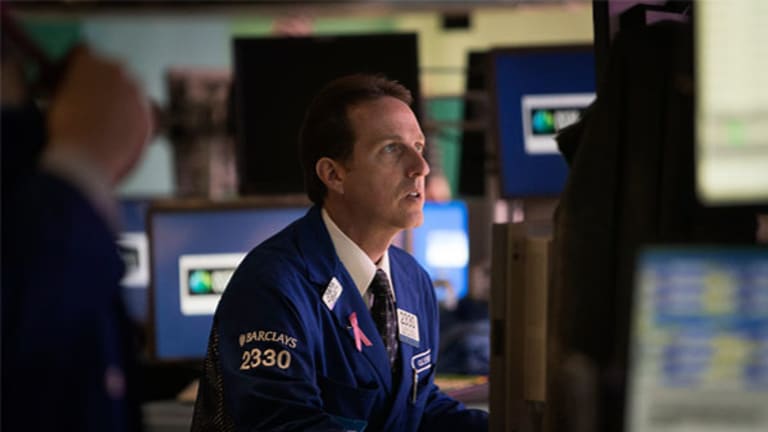 Call-Buying in Downgraded Activision Blizzard
ATVI shares are down on an up-market day, but an investor has high hopes for the gaming company.
By Jud Pyle, CFA, chief investment strategist for the Options News Network
Shares of Activision Blizzard (ATVI) - Get Activision Blizzard, Inc. Report
were down nearly 3%, or 33 cents, to $11.06 during midday trading following a morning downgrade, but at least one investor is taking the opportunity to take a bullish stance on the game manufacturer by buying calls.
Ahead of the opening bell this morning, Piper Jaffray downgraded ATVI to "neutral" from "overweight" and lowered its target price to $135 from $180. ATVI shares continue to drop due to the downgrade, and the company is scheduled to announce earnings figures on Nov. 5 after the market closes (analysts expect the company to report 4 cents per share). ATVI experienced several corporate action events in 2008, including an acquisition of Vivendi, but the company has not announced significant news recently.
The near-the-money January 2010 11-strike calls have changed hands 7,600 times so far today and are home to current open interest of 1,659 contracts. These calls are down 15 cents so far on the day to around 90 cents. This computes to an implied volatility of 42. Shortly after 11:30 a.m. EST, we saw several blocks of these options trade, which totaled 7,000 contracts. These calls traded at 85 cents per contract, and the stock was trading at $10.97 per share at that time.
Bullish investors who bought these calls and decide to hold them until January 2010 expiration will make money if ATVI shares expire higher than $11.85. But if ATVI shares turn around to the upside, investors could take profits and sell these calls prior to the beginning of next year.
The January 11 calls have a delta of approximately 55, meaning for every dollar move in the underlying, these options should drop 55 cents. Given that ATVI was down 33 cents near the close, these calls should have moved down roughly 18 cents, but the call-buying activity pushed the price higher than the delta would suggest.
Normal option volume per day in ATVI is approximately 4,000 contracts, so this type of volume is fairly unusual for the company because the blocks in question already trumped overall daily volume. Additionally, we're seeing the market roar higher, but ATVI missed out on the rally. Despite the disappointing news out of ATVI today, at least one investor is looking for further upside in the stock throughout the next few months.
Jud Pyle is the chief investment strategist for Options News Network (www.ONN.tv) and the portfolio manager of TheStreet.com Options Alerts. Click here for a free trial for Options Alerts. Mr. Pyle writes regularly about options investing for TheStreet.com.
Jud Pyle, CFA, is the chief investment strategist for Options News Network. Pyle started his career in finance in 1994 as a derivative analyst with SBC Warburg. After four years with Warburg, Pyle joined PEAK6 Investments, L.P., in 1998 as an equity options trader and as chief risk officer. A native of Minneapolis, Pyle received his bachelor's degree in economics and history from Colgate University in 1994. As a trader, Pyle traded on average over 5,000 contracts per day, and over 1.2 million contracts per year. He also built the stock group for all PEAK6 Investments, L.P. hedging, which currently trades on average over 5 million shares per day, and over 1 billion shares per year. Further, from 2004-06, he managed the trading and risk management for PEAK6 Investments L.P.'s lead market-maker operation on the former PCX exchange, which traded more than 10,000 contracts per day. Pyle is the "Mad About Options" resident expert. He is also a regular contributor to "Options Physics."