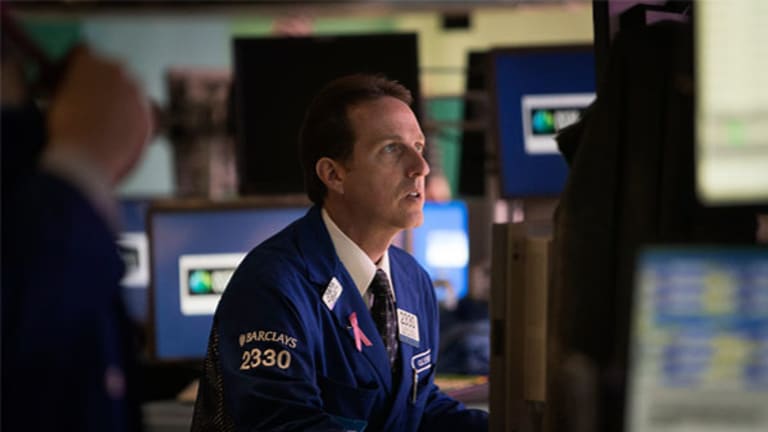 Call Buyers in InterMune
An investor expects the stock to double by March options expiration.
By Jud Pyle, CFA, chief investment strategist for the Options News Network
InterMune
(ITMN)
has remained quiet since announcing better-than-expected earnings last week, but at least one option investor bet on significant upside throughout the next 25 trading days.
On. Feb. 17, ITMN reported earnings of 62 cents per share, which beat estimates by 8cents. ITMN shares dropped nearly 3% to $14.90 on the day Monday.
The way-out-of-the-money front-month March 30 calls have crossed more than 8,400 times vs. current open interest of around 1,800 contracts, indicating investors traded the majority of these options to open. Most of these calls changed hands near the ask price of 65 cents per contract, likely meaning they were initiated on the buy side.
Bullish investors who bought these front-month calls need ITMN shares to close higher than $30.65, which represents 108% of upside in the near-term. If the calls gain value prior to expiration following a rise in the shares, the investor could choose to sell the options to book profits.
The March 30 calls have an implied volatility of 216%, far exceeding the option's 30-day historical volatility of around 58%. This is a good indication that today's buying action has pushed up implied volatility of these calls significantly.
ITMN shares haven't breached the $30 mark since Jan. 29, 2007. A definite catalyst for the heavy call-buying we saw today is unclear, but it's notable that at least one investor expects the stock to double by March options expiration.
Jud Pyle is the chief investment strategist for Options News Network (www.ONN.tv) and the portfolio manager of TheStreet.com Options Alerts. Click here for a free trial for Options Alerts. Mr. Pyle writes regularly about options investing for TheStreet.com.
Jud Pyle, CFA, is the chief investment strategist for Options News Network. Pyle started his career in finance in 1994 as a derivative analyst with SBC Warburg. After four years with Warburg, Pyle joined PEAK6 Investments, L.P., in 1998 as an equity options trader and as chief risk officer. A native of Minneapolis, Pyle received his bachelor's degree in economics and history from Colgate University in 1994. As a trader, Pyle traded on average over 5,000 contracts per day, and over 1.2 million contracts per year. He also built the stock group for all PEAK6 Investments, L.P. hedging, which currently trades on average over 5 million shares per day, and over 1 billion shares per year. Further, from 2004-06, he managed the trading and risk management for PEAK6 Investments L.P.'s lead market-maker operation on the former PCX exchange, which traded more than 10,000 contracts per day. Pyle is the "Mad About Options" resident expert. He is also a regular contributor to "Options Physics."