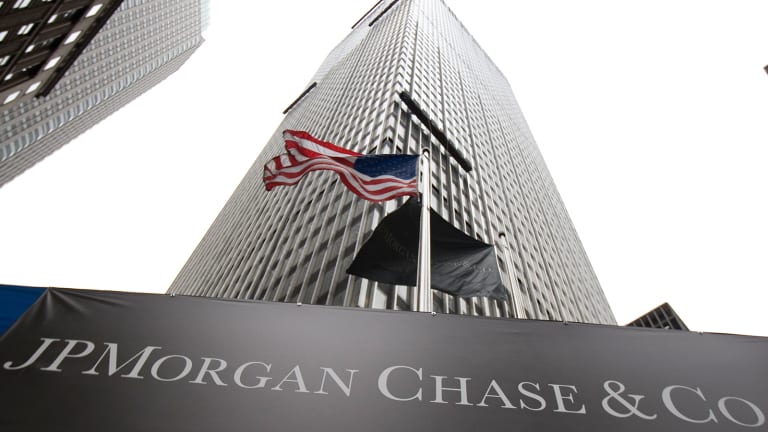 Buying JPMorgan Chase? Here's Your Options Strategy
The banking giant offers safety, a solid dividend and a decent chance for its stock to go higher.
NEW YORK (TheStreet) -- Uber-venerable banking giant JPMorgan Chase (JPM)  has been growing (and growing!) its place in financial history since 1799. Today, with JPM trading around the $62 level, the stock is once again being offered at what I consider a level that offers buyers of JPM safety, a solid dividend and a decent chance for material price appreciation over the intermediate term.
JPM trades at a trailing PE of 11 and a forward PE of nearing 9. Its dividend yield is 3% (rounded) -- 44 cents per share paid quarterly. The next ex-dividend date should be in early October. The stock has traded over the past 52 wild and crazy weeks between $50 and $71.
Technically, I read JPM'sone-year stochastic pattern as being bullish. However the Relative Strength Index remains in question, but what doesn't these days? If in doubt of questioning anything bullish, just read the financial opinions of perma-bears. The media offer a plethora of their collective baloney if you seek fear and doom.
I prefer to spread options for a variety of good reasons and especially like the use of time if the time offered is worthy of the risk. Rewards for doing so tend to take care of themselves. Thus this trade will be 100% risk controlled (as all of my trades are) and will use the options market to extend the time of the trade into early 2016, when things as per JPM and the general market should be improved from the current over-"bearing" headlines we suffer today.
The trade tactic will be the bullishly biased, out-of-the-money vertical call spread expiring in March.
Trade: buy 1 JPM March 65 call and sell 1 JPM March 70 call for a debit of $1.50.
The suggested target to close for a gain is a bid of $2 and the suggested target to stop out the trade is a bid of one point. 
Best to use a limit order, and never chase (not a pun, well, OK, it is) any trade on the opening end unless you must!
As always, this is a guideline, and you should always stick to your trading plan and what's best for your risk/reward tolerance.
OptionsProfits can be followed on Twitter at twitter.com/OptionsProfits
Skip Raschke writes regularly for Options Profits. You can get his trades first and interact with him there with a free trial.
This article is commentary by an independent contributor. At the time of publication, the author held no positions in the stocks mentioned.