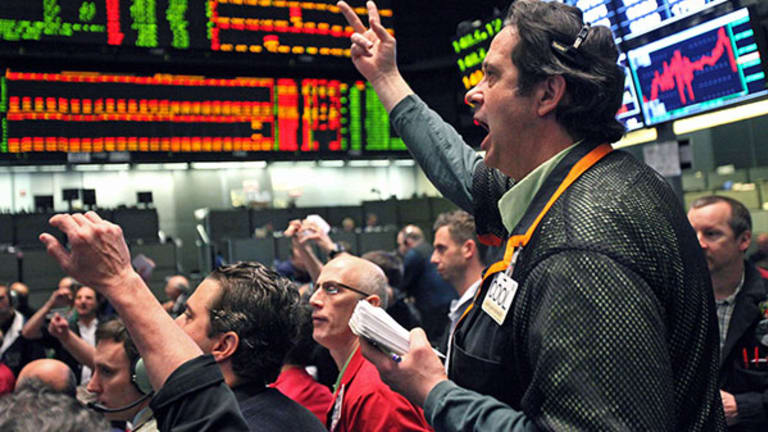 Buy XOM 10% Cheaper With a Buy-Write Strategy
Investors seeking additional yield amid the market highs since the election have found fewer options and many have waited for a pullback. An Exxon Mobil buy-write strategy can lower costs.
Investors seeking additional yield amid the market highs since the election have found fewer options and many have waited for a pullback.
Exxon Mobil (XOM) - Get Exxon Mobil Corporation Report , one of the largest oil companies, has pulled back from its highs and is trading just below its 200-day moving average, and investors seeking a larger return can lower their cost by doing a buy-write, said Ron McCoy a portfolio manager on Covestor, the online investing company, and founder of Freedom Capital Advisors in Winter Garden, Fla.
By buying the stock and selling a call against the position, an investor can lower his risk and get a discount. As crude oil prices have rebounded from its lows of $26 a barrel in 2016 and are trading above $52 a barrel, energy companies such as Exxon Mobil are facing a more stable outlook. The 52-week range for Exxon Mobil is $71.55 to $95.55 and is currently trading at 20 times earnings.
Although the current yield on the stock is 3.5%, savvy investors can increase the annualized return and lower their cost by buying Exxon Mobil at $86 and selling a January 2018 $80 call against the position, McCoy said.
Investors can reap a potential return of over 8% if all four dividends are collected and the stock is called away next January.
"Given the current outlook for oil and a potential economic rebound in 2017, Exxon Mobil at $77 is an attractive risk reward" said McCoy.
A second options strategy is to sell the July 2017 $65 Exxon Mobil puts. McCoy recently sold them in his Freedom Capital Fund which returned 25.9% in 2016 compared to the S&P 500's return of 9.5%.
"In the options market, time is money," he said. "The further out in time the option is, the more expensive it is and for sellers of options, that can be an opportunity."
Volatility in Exxon Mobil's stock is likely to occur, because former CEO Rex Tillerson has been nominated by President-elect Donald Trump to serve as secretary of state, increasing the risk for this options strategy.
Chasing higher dividend yields is more advantageous during a low interest rate environment when bonds do not provide yields, said K.C. Ma, a CFA and director of the Roland George investments program at Stetson University in Deland, Fla.
"Retail investors should snap out of the idea of constantly searching for a high dividend yield payout," he said.
As the environment for interest rates changes and rise, the capital gains of stocks can cut into the positive dividend returns.
"The higher the dividend yield, the larger the capital loss and this is why after the Fed raised the interest rate recently, the prices of all dividend-paying stock prices took a beating," Ma said.
The same logics applies to the "synthetic dividend strategy" of buying a dividend-paying stock and selling a call, which has been successful to enhance yields, he said. The basic logic of this strategy is to hold the stock and keep the dividend which means selling a call will help reduce the total cost. The dividend yield will increase as a result.
When a stock such as Exxon Mobil rises, then the other investors who are long your calls will exercise the calls at lower strike prices, Ma said.
"The call writer will need to pay the difference in stock prices and strike price to deliver the stocks," he said. "The difference will cut in the dividend you expect to receive."
If Exxon's stock rises, the potential to get called away early increases, said McCoy.
"If you net the cost on the stock after selling the $80 call against the position is $77, then your capital gain would be $3 or 3.8% in a worse case scenario," he said. "If you get the dividend on Feb. 8 for $0.75, then your effective yield is 4.8%. If you get the next dividend in May for $0.75, then your return rises to 5.8%."
If stock rises close to its highest level and to $95, then the odds increase that an investor will get called away earlier than next January, McCoy said.
"You won't make as much money than what you were shooting for, but 5.8% in six months isn't all that bad given the risk of owning $77 XOM," he said.