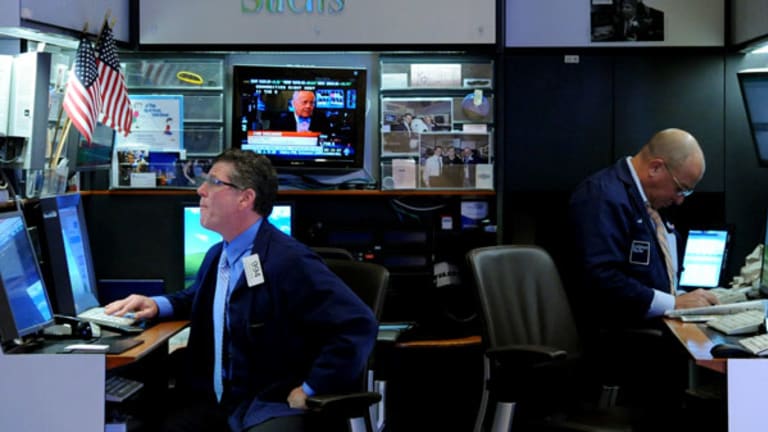 Bulls Have Something to Be Thankful For
Even though economic data showed some positive signs, this market could have witnessed a very ugly technical breakdown if the SPY fell through $118 today.
Market bulls were grateful to have been on the right side of the tape heading into the Thanksgiving holiday. Or could it have been a little bit of luck? We received economic data indicating that the labor market and consumer spending trends were improving, which is a positive sign for the macro recovery. Stocks were also helped along by European stocks rebounding from a six-week low as Ireland's government prepared to unveil a four-year deficit reduction plan. That said, this market could have witnessed a very ugly technical breakdown if the SPDR S&P 500 ETF (SPY) - Get S&P 500 ETF TRUST ETF Report fell through $118 today.
The Dow Jones Industrial Average ended up 144.14 points, or 1.31%, to close at 11,180. The S&P 500 rose 17.62 points, or 1.49%, to close at 1198, and the Nasdaq was up 48.17 points, or 1.93%, to finish at 2543.
CBOE Volatility Indexundefined traded down Wednesday, but volatility stayed elevated in January and February 2011 contracts. VIX closed lower by $1.07, at $19.56, on overall put contract volume of 74,000 versus 172,000 calls, with February 35 and December 40 calls as the most active series.
Volatility on the SPY remained low as stocks staged a rally and on holiday time decay. Investors are getting long stocks by purchasing low call volatility. SPY finished up $1.75, at $120.20, on overall put contract volume of 917,000 compared to 525,000 calls. November weekly 119 puts and 120 calls were the most active series as traders rolled positions from November weekly to December expiration. December at-the-money (ATM) 120 put option implied volatility is at 18 and January is at 20, below its 26-week average of 23. January 114 and 120 put spreaders were also active, with traders selling January 114 puts to finance their January 120 put positions.
The PowerShares QQQ Trust (QQQQ) closed up $1.05, at $53.12. December 54 calls and November (W) 53 calls were active on total put contract volume of 169,000 compared to 165,000 call contracts. December put option implied volatility is at 20 and January is at 21, below its 26-week average of 24, suggesting decreasing movement.
There are no domestic economic data or notable companies reporting for the remainder of the week as U.S. Markets will be closed in observance of Thanksgiving and closed early on Friday. So, lets turn our focus to the week of November 29 and think about the catalysts coming up that could potentially affect trading. The most important catalysts will be on the economic front. We will get the November manufacturing PMI/ISM readings (China hits late Tuesday night and the U.S. comes Wednesday morning) as well as the U.S. jobs report on Friday. Consensus is looking for 143,000 in total non-farm adds. The Beige Book will be published on Wednesday and also is in focus.
The corporate calendar is relatively quiet, with most traders looking at Black Friday traffic and forward-looking thoughts to the remainder of the holiday season. We will get auto sales on Wednesday and same-store sales on Thursday. ALTR and LSTR both will be publishing mid-quarter updates and there are still a few more October-end earnings including: ARO, AVGO, OVTI, SNPS, TOL are among them. On the political front, the White House will host a summit on Tuesday between President Obama and the new GOP leadership. The big topic will be the fate of the Bush tax cuts, as far as the market is concerned.
OptionsProfits For actionable options trade ideas from a team of experts, visit TheStreet's OptionsProfits now.
Readers Also Like:
>>'Power of Options to Leverage Your Gains
Readers Also Like:
Readers Also Like: