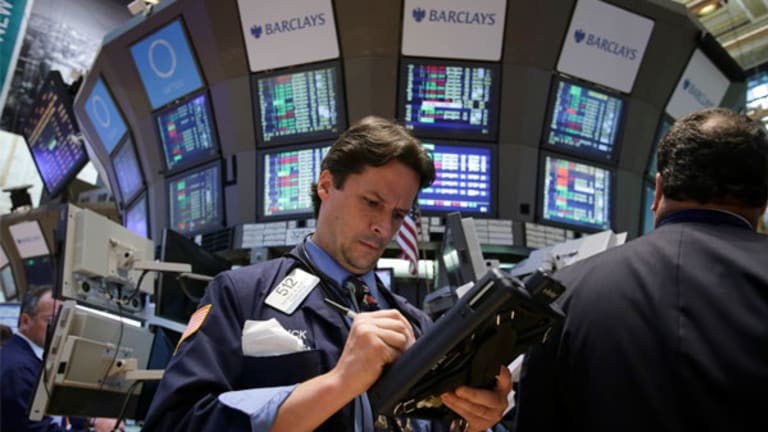 Building a Trade on a Builder
I am going to initiate a bullish position on shares of PHM.
Shares of homebuilder PulteGroup (PHM) - Get PulteGroup Inc. Report, are trading near $8 per share, 42% below its April highs, and not far above the 52-week low of $7.77 set last month. The rest of the industry is in similar straits, with peers D.R. Horton (DHI) - Get D.R. Horton Inc. Report, Toll Brother (TOL) - Get Toll Brothers Inc. Report, and Lennar (LEN) - Get Lennar Corporation Class A Report trading 30%-40% below highs set earlier this year.
Recent option flow shows at least one trader is willing to put capital to work at these levels. We have seen a number of institutional-sized blocks trading over the past month, and a directionally bullish bias to the flow.
Pulte Homes (PHM) Contract Volume
Source: Trade Alert

The two most recent spikes in put volume were on August 19 and 13, and both involve put sales at the 8 strike. On August 19, a trader sold 18,000 PHM October 8 puts for $0.54 cents to open, and on August 13, a customer collected $0.46 for a similar quantity of PHM September 8 puts to open. The most recent spike in call volume was on August 6. Nearly 9300 PHM 12.5 calls expiring in January 2012 were bought for $0.90, when shares were near $8.70.
These three trades provide the cue I need to enter a bullish trade of my own, with a sale of a January put spread collar. This involves a sale of the January 2011 6/7.5 put spread for $0.42, and application of those proceeds to buy the 10 strike calls in the same expiration. Net debit is $0.00, and the downside is $1.08 if shares get down to the $6.00. As a long delta trade, upside will kick in quickly if shares begin to lift toward the $10.00
Trades: Buy to open 10 PHM January 6 puts for $0.35, sell to open 10 PHM January 7.5 puts at $0.77 and buy to open 10 PHM January 10 calls for $0.42.
At the time of publication, Henry Schwartz held no positions in the stocks or issues mentioned.
Henry is the president of Trade Alert LLC, a provider of real-time options analysis tools to leading Wall Street firms. His systems analyze hundreds of thousands of transactions per second to help professionals identify and interpret market activity in real time, supporting informed trading decisions and intelligent idea generation.
OptionsProfits, a new provider of options news from TheStreet, educates investors and acts as a catalyst for trading.
Readers Also Like:
Readers Also Like:
Readers Also Like: