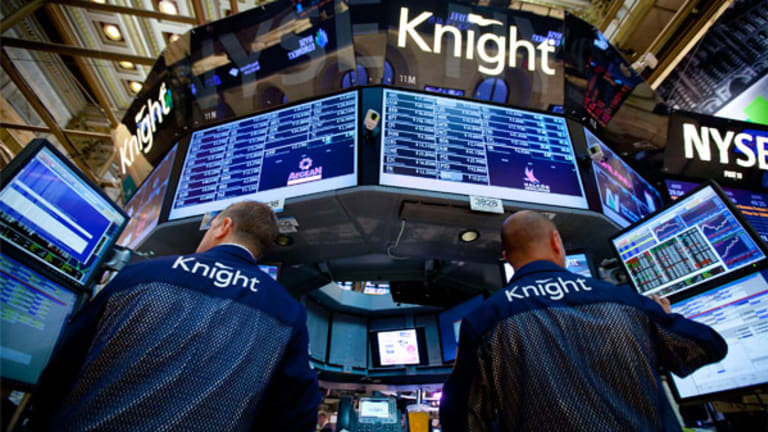 Brokering a Trade on a Broker
I believe IBKR will weather the storm, with limited downside, therefore I recommend initiating a December call spread.
One of the largest options trades of the year was executed Wednesday on Interactive Brokers Group (IBKR) - Get Interactive Brokers Group Inc. Report, a Greenwich, CT based, highly automated global brokerage and market making firm.
A very well-capitalized customer bought 100,000 IBKR January 14 puts for $0.30, sold 50,000 IBKR January 15 Puts for $0.60 and bought 350,000 shares of stock for $15.90. This trade is known as a one by two put spread, with both option legs opening new positions. The trade was crossed on the PHLX (Philadelphia Stock Exchange), with a firm crossing the entire trade (taking the other side), and is by far the largest trade in options on IBKR since the company went public in 2007. Total open interest jumped 220% to 273,000 contracts, representing 27.3 million shares, more than half the shares publicly available for trading. Normally, IBKR options and shares trade very thin, with an average of 1100 contracts and 280,000 shares trading each day. Open interest has been trending higher lately, with a focus in puts, even though shares have held very close to $16.00 all year.
Interactive Brokers Group (IBKR) Open Interest
Source: Trade Alert

Industry veterans may recall that IBKR has deep roots in the options business, growing from a single market maker on the AMEX (American Stock Exchange) to a global presence, executing nearly one million trades per day. The risk profile of this large trade is relatively bullish near current levels, as the trader is short 50,000 IBKR 15 puts expiring in 149 days. However, if some global or company-specific calamity were to cause shares to sink well below $14.00, that block of 100,000 IBKR 14 puts would come into play, leading to large gains for the customer.
While there are plenty of challenges to financial services firms in the short term, I believe IBKR will weather the storm, with limited downside, and I propose a long position for the December term, buying the 16/17.5 call spread for $0.60. Upside is $0.90 if shares rebound into year end, and some long vega (volatility exposure) should lessen any losses if things turn ugly.
Trades: Buy to open 10 IBKR December 16 calls for $1.00 and sell to open 10 IBKR December 17.5 calls for $0.40.
At the time of publication, Henry Schwartz held no positions in the stocks or issues mentioned.
Henry is the president of Trade Alert LLC, a provider of real-time options analysis tools to leading Wall Street firms. His systems analyze hundreds of thousands of transactions per second to help professionals identify and interpret market activity in real time, supporting informed trading decisions and intelligent idea generation.
OptionsProfits, a new provider of options news from TheStreet, educates investors and acts as a catalyst for trading.
Readers Also Like:
>>Shorting WEEKLYS in a Weak Market
Readers Also Like:
Readers Also Like:
>>https://www.thestreet.com/story/10844849/1/5-top-performing-hotel-stocks.html?kval=dontmiss