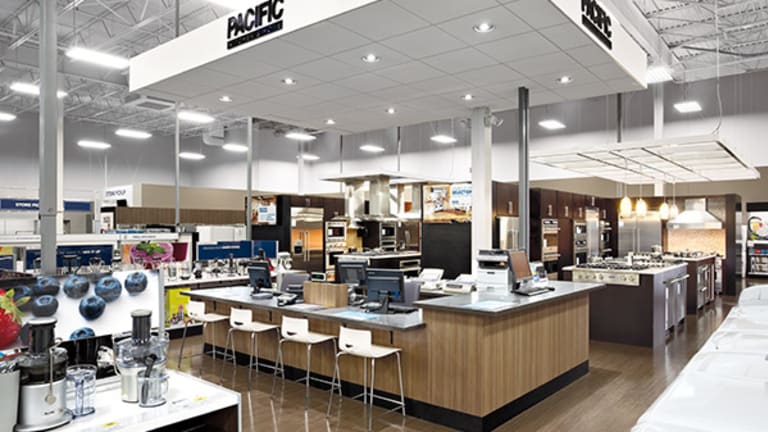 Best Buy Stock Will Fall in Wake of Earnings Rally -- Here's How to Profit
Stocks frequently retreat in the wake of earnings-related rallies, and Best Buy (BBY) shares likely will follow this pattern. Here's how you can use stock options to profit.
Best Buy (BBY)  shares jumped nearly 20% on Tuesday after the retailer reported better-than-expected quarterly results. Such rallies are often exaggerated, however, and Best Buy shares appear poised to head lower. You can use stock options to profit from such a move.
Best Buy said adjusted earnings per share were 57 cents, smashing analysts' expectations for 43 cents. Revenue of $8.53 billion topped estimates for $8.40 billion.
Even with positive news, the tendency is for the market to overreact, and the closing chart for Best Buy shows the stock is likely to make a retracement back down into range.
The strong bullish channel began in June with a 3-point trading range between $29 and $32, growing to a range of $33 to $36 by mid-August. After a brief retracement just before earnings, the stock surged well above the channel resistance, closing at $39.23.
Confirming a likely bearish reversal are two strong signals. First was the largest volume spike in six months, and second was a move in momentum, as measured by the relative strength index. This index moved 6.59 points above the overbought level of 70.
With a strong likelihood of a short-term reversal, look at the Sept. 2 weekly options, which expire in nine days. If you own shares of the stock, the timing is excellent for using a covered call options strategy. The Sept. 2 call option with a 39 strike price closed with a bid of 0.85. After trading fees, selling this call option yields a net premium of $76. Do not choose an option with an expiration later than this, because the stock's ex-dividend date is expected to occur sometime during the following week. The period immediately before ex-dividend date is the most likely timing for early exercise of in-the-money calls.
Another defensive move for stockholders, or simply good timing for swing traders, is buying the put option that expires on Sept. 2. The 39.50 put closed on Tuesday at an ask of 0.97. After adding trading fees, the total cost of this put was $106 at the close. Break-even on this trade is $38.44 per share (strike of 39.50 less the put premium of 1.06). That break-even is only 0.79 points below the closing price of the stock.
Either the covered call or the long put are smart choices for well-timed swing trades based on price behavior after earnings.
This article is commentary by an independent contributor. At the time of publication, the author held no positions in the stocks mentioned.
Besides blogging at
TheStreet.com,
Michael Thomsett also blogs at the
and several other sites. He has been trading options for 35 years and has published books with Palgrave Macmillan, Wiley, FT Press and Amacom, among others.
His latest book is