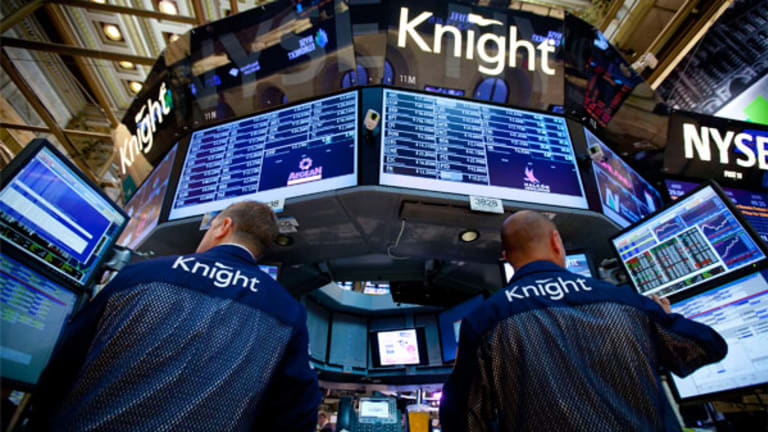 Another Tool for Your Box
Let's take a look at a unique sentiment indicator, the Credit Suisse Fear Index.
This complimentary article from Options Profits was originally published on March 27. Don't risk missing over 40 options trade ideas every week and exclusive commentary from over 15 experts. Click here for more information and a 14-Day Free Trial.
It's hard to imagine that levels of market fear are elevated today when so many indicators point to high levels of complacency and bullishness among investors. For example, the S&P 500 Index sits above 1,400 and at its best levels since 2008. Meanwhile,
CBOE Volatility Index
, which is sometimes called the market's Fear Gauge because it tends to rally during times of anxiety and panic on Wall Street, is probing multi-year lows. Yet, VIX is probably not telling the entire story. We can get a very different look at investor sentiment using the Credit Suisse Fear Index.
CSFB is a unique sentiment indicator because it will fluctuate depending on the volatility skew in S&P 500 Index. Keep in mind, there are two types of volatility skew. The first is a time skew, in which options with different expiration dates have different levels of implied volatility. For example, if an April 1300 put on the S&P 500 has implied volatility of 40% and the September 1300 put has IV of 40%, the short-term options are at a significant premium to longer-term options and it is a sign that market participants are bracing for higher levels of market volatility in the short-term. A price skew happens when two options within the same expiration month, but with different strike prices, have significantly different levels of implied volatility. Levels of implied volatility are in a constant state of flux and changing all the time.
According to Bloomberg, "The CS Fear Barometer measures investor sentiment for 3-month investment horizons by pricing a zero-cost collar. The collar is implemented by the selling of a 10% OTM SPX call option and using the proceeds to buy an OTM put. The CSFB level represents how far out-of-the-money that SPX put is." The S&P 500 Index is trading around 1,410 today and therefore a 10% out-of-the-money call option would be around 1550. The implied volatility of a July 1550 calls is now $2.75. For that amount, we can currently buy the SPDR S&P 500 ETF (SPY) July 950 put, but no higher strikes beyond that. The 950 call is 32.9% out-of-the-money.
So in today's market, the 30% (or 32.9%) out-of-the-money put is roughly equal to the 10% OTM call option. As we can see from the nearby chart, which comes from the Bloomberg web site, a reading for 30 from CSFB is somewhat extreme and indicates that downside puts on the S&P 500 are trading at a substantial premium to upside calls. There's some serious price skew that reflects the relatively high demand for S&P 500 Index puts (i.e. portfolio protection), which now exists in the options market today.
There's an adage among options trader that states, "when VIX is high, it's time to buy. When VIX is low, it's time to go." The index tracks the expected or implied volatility of a basket of near-term and next-term S&P 500 options with at least eight days left until expiration. It is designed to offer a gauge of near-term (average 30 days) of expectations regarding market volatility. When VIX reaches extreme highs, the market has seen a panic and, from a contrarian view, it's time to buy or get in the market. On the other hand, when the volatility index is low, it's a sign that there is too much complacency and bullishness in the market. It's time to go.
But sometimes looking at VIX isn't enough. When trying to get a pulse on levels of investor sentiment, one should also look for any skews that have developed in S&P 500 Index options. A March 13 article titled Don't Believe the Fear Gauge took a closer look at the steep term structure of S&P 500 options that has developed due to time skew in the options. At 30, CSFB Fear Index reflects a substantial price skew that exists and is due to the fact that downside puts are trading at significantly higher prices compared to upside calls on the S&P 500. Simply put, levels of volatility are higher than the VIX might suggest.
OptionsProfits can be followed on Twitter at twitter.com/OptionsProfits.
At the time of publication, Fred Ruffy held no positions in the stocks or issues mentioned.