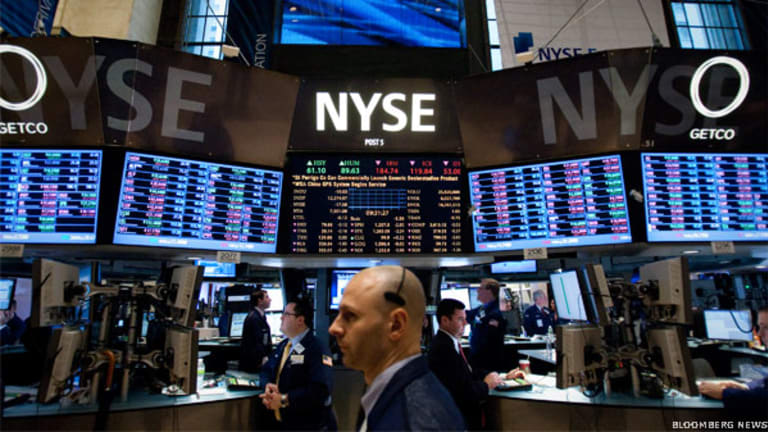 Aflac - Ready to Quack Resistance?
I believe AFL is still undervalued and will be initiating a 15-month play on the shares.
I believe AFL is still undervalued and will be initiating a 15-month play on the shares.
My regular readers know I love bargain stocks and I rarely chase performance.
AFLAC
(AFL) - Get Report
sits close to its 52-week high yet still looks cheap. AFL closed Monday at $54.36 -- just a shade under the April high of $56.56. How can I say it still looks undervalued?
Easy. Earnings have been surging since the third quarter of 2009 and current year estimates are now expecting an all-time record of $5.45-$5.49. 2011 expectations are even higher with consensus views for $6.00 or better.
That puts AFL's P/E at about 10x this year's and only 9x next year's earnings versus their 10-year median multiple of 18x. Other than 2009, its average annual P/E has been 16 or higher in every year since 1997.
AFLAC (AFL) One Year
Source: Morningstar
AFL's dividend was just increased to $0.30 quarterly giving it a current yield of 2.2%. Similarly, that's a better rate than AFL has paid in any year excepting 2009. Here are the per share numbers as reported by
Value Line
:
AFLAC (AFL) EPS
Source: Value Line
What is a reasonable valuation for AFL? Even 12x next year's estimate would bring them up to $72.00.
Standard & Poor's
carries a 12-month goal of $64.50. AFL actually changed hands at $63.90 and $68.80 at its peaks in 2007 and 2008 when EPS came in closer to $3.00 than $5.00-$6.00.
Here's a nice 15-month play for those who believe...
If Aflac reaches $60.00, or above (up 10.4%), by January 21, 2012:
¿ The call will be exercised and the put will expire.
¿ You will have collected $120 in dividends.
¿ You will end up with no shares and $6120 in cash.
This best-case scenario result would make for a gain of $6120 - $3566 = $2554.
$2554/$3566 = 71.6% cash-on-cash achieved in just over 15 months on shares that only needed to rise by 10.4%.
If AFL fails to reach $60.00 by the January 2012 expiration date, you would be forced to buy another 100 shares and to lay out an additional $6000. You would end up with 200 shares of AFL and the $120 in yield. Your net cost for the 200 shares?
$3566 + $6000 - $120 = $9446 = $47.23 /share. That's 13% below the trade inception price and less than 7.9x the 2011 estimate.
Trades: Buy 100 AFL for $54.36 per share, sell to open 1 AFL January 2012 60 call at $5.90 and sell to open 1 AFL January 2012 60 put at $12.80.
At the time of publication, Paul Price was short AFL puts at strikes from 40-60.
Dr. Price joined Merrill Lynch in 1987 and over the next 13 years worked with A.G. Edwards, Wheat First and Ferris, Baker Watts. Dr. Price enjoyed enough success to retire in October 2000, but he continues to write and give investment seminars.
OptionsProfits For actionable options trade ideas from a team of experts, visit TheStreet's OptionsProfits now.
Readers Also Like:
Readers Also Like:
>>Marathon Could Be Ready to Run
Readers Also Like: