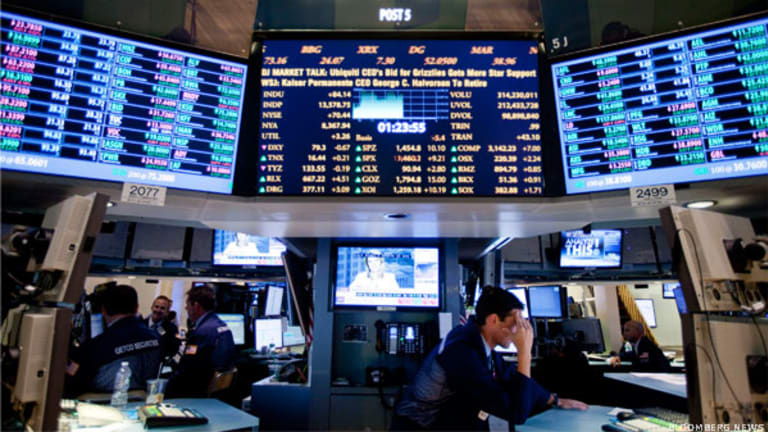 Abbott Looks Like a Bargain
My option strategy for ABT is a conservative one, as I don't see the stock declining much further from here and very likely to recover the $50 level.
Over the holiday, I happened to notice the shares of
Abbott Labs
(
(ABT) - Get Abbott Laboratories Report
; $46.80) in a steady unexplained decline from above $53.00 in early October to $47.00 last week. This $6.00 decline may not sound like a big deal, but looking at it from a relative basis, the S&P rallied over 12% for the past three months since the August lows, while ABT has fallen near 6%. This is something to pay attention to in a blue chip pharmaceutical the likes of
Johnson & Johnson
(JNJ) - Get Johnson & Johnson Report
,
Pfizer
(PFE) - Get Pfizer Inc. Report
,
Bristol Meyers
(BMY) - Get Bristol-Myers Squibb Company Report
and
Merck
(MRK) - Get Merck & Company Inc. Report
.
Digging for news or research that might lead to an explanation, it seems that ABT's new kidney drug isn't being as well received as investors had hoped. Zack's Investment Research reported on November 22:
"Abbott and partner Reata Pharmaceuticals recently announced positive data on their chronic kidney disease candidate, bardoxolone methyl, at the American Society of Nephrology. Results from a phase IIb study indicated that treatment with bardoxolone methyl could result in a reduction in the severity of the disease and an improvement in the estimated glomerular filtration rate (eGFR) and other measures of kidney function."
But Roger McNamara writing on Seeking Alpha explains that while "its product slate is comparatively diversified... it has nonetheless been widely noticed and documented that the company's pipeline of life-supporting medications had become weak, or, as one commentator cleverly put it, ABT was not delivering enough "shots on goal" toward the Food and Drug Administration's net minders, who in the meantime have grown more demanding and selective before escorting a new member through Phase III clinical trials."
ABT has been using its strong balance sheet for targeted acquisitions lately, the standout purchase being the pharma arm of Belgium's Solvay for $6 billion. Par for the course in an environment of record M&A in bio-pharma for the past two years, investors have taken note of the company's struggle to meet earnings estimates for the past two quarters. Still, it looks poised to earn over $4.50 in 2011 and currently sports a 3.7% dividend yield. So, trading at just above 10x next year's earnings, I want to take advantage of the pullback here with this play:
Trades: Buy to open ABT February 45 calls for $2.70 and sell to open ABT February 50 calls at $0.40.
Net debit of $2.30.
McNamara also points out ABT's trouble with an existing cash-cow drug Humira: "long an autoimmune all-star performer but estimated by some as by itself representing 20% of the firm's $72 billion total market value. It seems that the folks over at Johnson & Johnson detected patent infringement and whose attorneys prevailed in the opening round, prompting Abbott to set aside --- in plain view on its own balance sheet --- $1.8 billion in escrow toward an eventual adverse legal outcome."
My option strategy today is a conservative one, as I don't see the stock declining much further from here and very likely to recover the $50.00 level on any sustained rally in the broad market. For investors who like the long-term ABT story and want to use options to "put a stake in the ground" here at this level, I would suggest they might consider a February 46/47 risk reversal for close to even money. Selling the 46 put to buy the 47 call for little or no cash outlay is a great way to enter a position here on a great company.
At the time of publication, Kevin Cook held no positions in the stocks or issues mentioned.
OptionsProfits For actionable options trade ideas from a team of experts, visit TheStreet's OptionsProfits now.
Readers Also Like:
>>'Power of Options to Leverage Your Gains
Readers Also Like:
Readers Also Like: