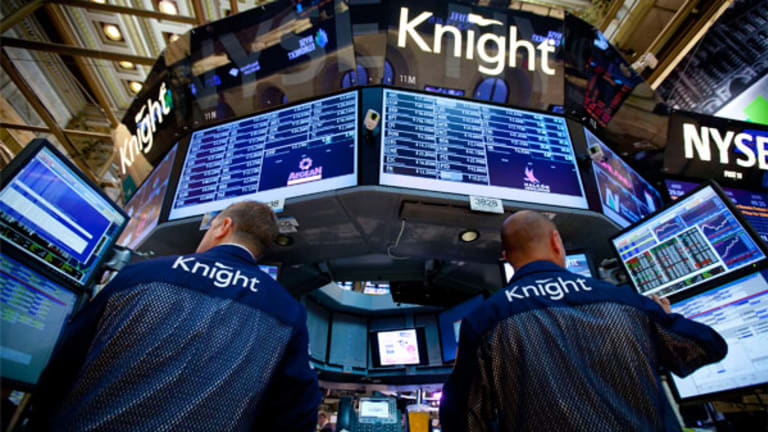 AAPL: Index Options to Trade Jobs' News
This is how you can use NASDAQ Alpha Index Options to trade Jobs' departure.
Before the market open on Thursday,
Apple
(AAPL) - Get Apple Inc. (AAPL) Report
was down a little over 4% on the news of Steve Jobs' resignation as CEO. One equity analyst tried to grab his 15 seconds of fame by claiming that: "You can teach people how to be operationally efficient, you can hire consultants to tell you how to do that, but God creates innovation. ... Apple without Steve Jobs is nothing." (
AP
)
That's nonsense. AAPL and Jobs haven't just been preparing investors for his departure - they have been preparing the company to continue to grow and develop without him. We already know the executives who will be filling key roles, because they have been prominently featured in conference presentations and product videos for some time - people like Jonny Ive, Scott Forstall, and Bob Mansfield. Of course, Tim Cook has already demonstrated his competence in the CEO position.
I would take this little gap lower as a buying opportunity if you aren't already long AAPL shares. For a trade, the most sensible position involves a slightly more complex product, the NASDAQ OMX Alpha AAPL vs. SPY Index (AVSPY) . The index tracks the daily relative price return of AAPL versus SPY, meaning that it will rise when AAPL performs better than the market average. The reason I like this product so much is that it is hedged against the broad market. Even if most equities decline on a given day, the index will be higher as long as AAPL falls less. 
AVSPY Index Value
Source: thinkorswim
Since SPY is flat pre-market and AAPL is down, we can expect the index to open a bit lower this morning. No matter how many breathless analysts are willing to sputter that this well-telegraphed event will somehow upend years of careful planning, I expect AAPL to continue to beat the market. AVSPY calls for September expiration give us a way to trade on that expectation.
Trade: Buy to open AVSPY October 164 calls for $5.70.
They closed on Wednesday at about $5.70, and I will post an updated entry price after the market opens.
Click here for a 14-day free trial to Options Profits
Jared Woodard is the principal of Condor Options, a research and trading firm in New York. With over a decade of experience trading options, futures, and equities, he has been quoted in various media outlets including The Wall Street Journal, Reuters, Bloomberg, and Financial Times Alphaville. Jared is the author of Options and the Volatility Risk Premium and Iron Condor Spread Strategies, both published by FT Press.
Jared is a registered commodity trading advisor at Clinamen Financial Group. He is a founding and contributing editor of Expiring Monthly: The Option Traders Journal, and is a Ph.D. candidate at Fordham University.