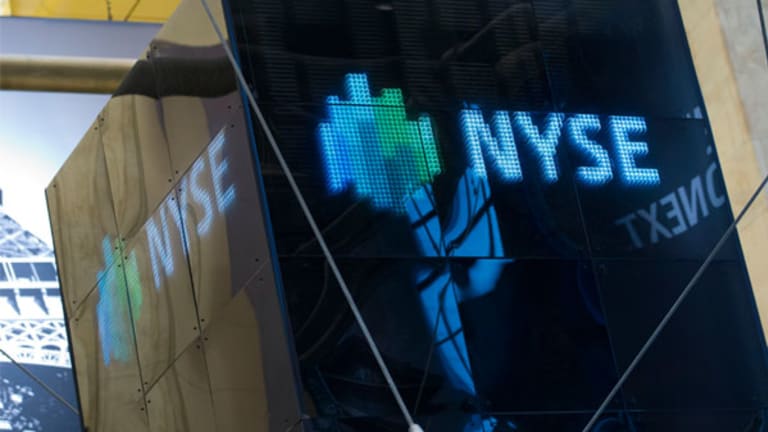 2011 Market Debrief, 2012 Look Ahead
What worked, what didn't and how you can improve future execution.
The following commentary comes from an independent investor or market observer as part of TheStreet's guest contributor program, which is separate from the company's news coverage.
NEW YORK (
) -- What a year it was to say the least. The
Standard & Poor's 500
is down 3.3%, and barring some massive Santa Claus rally (am I allowed to say that?) it will most likely end the year negative. A year ago the 500-pound brains said 2011 was going to be big! Many believed we had pulled out of the death spiral and were climbing back to altitude.
The S&P being down 3.3% should make
Top Gun Options traders very happy: Our model portfolios, based on discipline and risk management, looks to blow away the S&P and the "smart money." One of our model portfolios is up nearly 10% this month alone -- in a month where the world was going to end . . . and then it didn't ... .
At the end of any mission we always debrief to see what worked, what didn't and how we can improve our future execution. So let's begin with a review of 2011 that
Barron's
laid out over the weekend along with TGO debrief notes:
February saw an Arab Spring as Egypt's Mubarak resigned
March saw a devastating tsunami level many parts of Japan and a nuclear crisis followed
April was characterized by peak oil at $113.93 a barrel
In May the unemployment rate reached 9% (despite all the bailouts and QE1 promises)
So in June QE2 arrived with a flop. So much for "pass this bill or unemployment will be over 8.5%!" Sold...
Greece gets a $142 billion bailout (from . . . guess who?) as they continue to party in Ibiza like it's 2006; the first true flames ignite in the coming eurozone crisis
Full on political buffoonery marked August with the debt ceiling deal that avoided a U.S. default, also known as "kicking the can down the road." Seeing the feeble attempt at fiscal awareness, S&P strips the U.S. of its AAA debt rating. I guess there is a first for everything. This of course sends people scurrying for guns, ammo, water and gold as gold futures peak at $1,891 per ounce.
Follow
TheStreet
on
and become a fan on
Some people apparently have had enough and begin to Occupy Wall Street in September, and we lose a tech giant in October -- Steve Jobs. Someone who could've taught "Occupiers" a thing or two about entrepreneurship.
Meanwhile, back in Ibiza, the party is still raging in October and Greek debtors take a "voluntary" 50% haircut. Just like Obama did to
GM
debtors. Love that free market.
A couple countries wake up and boot their skippers -- Italy's Silvio Berlusconi has a lot more time now for his sexy dance parties, and Greek leader George Papandreou is now on his VIP list. Kaddafi was unavailable.
The market rallies in November on strong Black Friday and Cyber Monday sales, along with some European Central Bank action to stabilize the slow train wreck in the eurozone.
Oh, and a lot of people who thought they were smarter than us ended up in jail for insider trading or securities fraud. Hey Raj, tell Bernie we said hello...
And at the end of the year we discovered a really smart guy, one who ran
Goldman Sachs
(GS) - Get Goldman Sachs Group Inc. (The) Report
, was a U.S. Senator and ran the Great State of New Jersey (I'm from Exit 44 off the Parkway) couldn't find $1.2B, yes "B" for "billion," of his client's money.
Top Gun Options model portfolios thrived and profited from all of this volatility in 2011. So what's on our radar for 2012, a year in which a GS heavy estimates that "84% of large cap growth-fund managers were trailing their respective benchmarks this year" and "Most mutual fund managers have underperformed year to date following a similarly disappointing 2010 (from
Barron's
Dec. 19).
2012 Look Ahead
On the cover of this weekend's edition of
Barron's
the headline reads -- "Buckle up! Ten Top Wall Street Strategists Sees Stock Rising 12% Next Year, But Only After More Stomach Churning Volatility."
Now many people read "Stomach Churning Volatility" and reach for the Tums. Not at Top Gun Options. Stomach churning volatility is where we thrive. So 2012 looks to be a very target-rich environment. But only if you're onboard -- make sure you set yourself up for potential massive gains in 2012 by becoming a Top Gun Options trader and helping those less fortunate than us have a Merry Christmas. You can see more details
here .
Now let's look at some of the threats we see on the long range radar:
The U.S. market will continue to ebb and flow as the eurozone oscillates from the world is ending to all is well. The Top Gun Options trade team has been successfully trading these swings and hope we have a lot more. We believe that the ECB and governments will do whatever they can to avoid a total train wreck, but we're not certain.
Do we care? Not really -- we're going to make money on the massive volatility swings this will cause and with the
VIX
currently at recent lows, if you can say upper 20s is low, it reminds us of a TGO rule of thumb: when vol is cheap you buy it, when vol's expensive you sell it.
U.S. companies are flush with cash but they're not hiring; they're still waiting for the other shoe to drop in Washington, whatever that may be. Oh ... and there's some sort of election something happening. Instead of hiring, many companies are buying back shares or even raising dividends. That may help the stocks but it certainly doesn't help our economy and unemployment.
We believe that trading is combat, and based on that guiding precept they are some very real threats out there in 2012. We may wake up one day and find out that Israel attacked Iran (you mean saying "Stop! Or I'll say stop again!" didn't work?! Shocker...) and Iran turned around and blocked the Strait of Hormuz. I've sailed through their a couple times ... this could be done in a couple hours. How's $500 oil sound? $20/gallon to fill up the family truckster.
Is it all doom and gloom for 2012? Absolutely not. Especially for Top Gun Options traders.
The more volatile the markets, the better. Now is not the time to hide, now is the time to attack.
By developing a strategic trading plan and selecting the appropriate targets, Top Gun Options traders should have their fangs out and ready to pounce. With our two weekly skill-based Live Trade Briefs, 3-6 skill based Trade Alerts, and over 30 hours of skill-based training, we're looking to make some serious kills this year.
If you want to sit on the ground and watch. Have fun.
But if you're ready to take the bull (or bear) by the horns, you need to get airborne with Top Gun Options today. Consider it your New Year's resolution -- repeat after me: "I promise to make 2012 my most profitable year ever, and to hit the gym at least 3 times a week." We can help you with the first one . . . and maybe the second one too if you want to get up at 0600 and join us for PT (that's physical training for you civilian types).
Firing Line
: To join Top Gun Options, make 2012 potentially your best year trading yet, and to help needy children this year have a Merry Christmas, get onboard today. Happy holidays and make sure you hedge!
This commentary comes from an independent investor or market observer as part of TheStreet guest contributor program. The views expressed are those of the author and do not necessarily represent the views of TheStreet or its management.