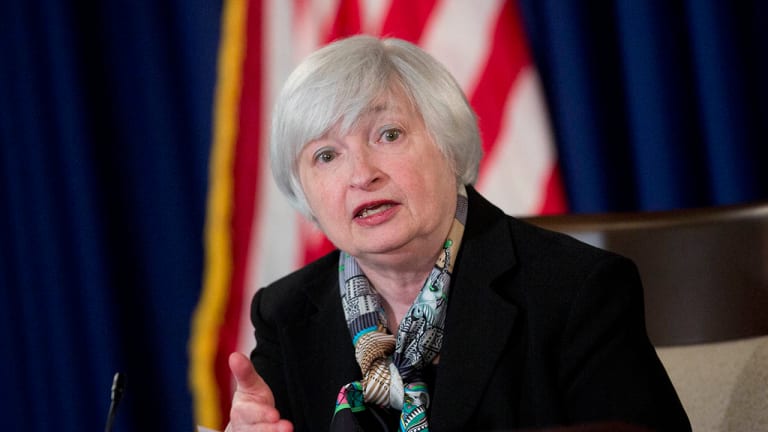 Only a Rate Hike Will Settle This Market's Nerves, Says Analyst
The stock market won't find its footing until after the Federal finally raises rates, says Craig Erlam, senior market analyst at financial services and forex specialty firm Oanda.
NEW YORK (TheStreet) -- The market won't find its footing until after the Federal Reserve pulls the trigger and raises rates, says Craig Erlam, senior market analyst at financial services and forex specialty firm Oanda.
"We need to get the rate hike out of the way," said Erlam, who is based in London. "The Fed's made it perfectly clear that the first rate hike doesn't mean there will be a second or a third within three to six months -- we just need to get our first one out of the way."
The markets have been anything but calm this week, with massive volatility and panic trading triggered by worries over China's currency and economy. The Dow Industrials fell 1,089 points on Monday morning, and ended the session lower by about 600 points. After further declines Tuesday, the market then snapped back, posting around a 600 point increase on Wednesday and a nearly 400 point jump on Thursday -- the blue chip index's biggest two-day point increase ever.
But the timing surrounding the Fed's rate hike is subject to great uncertainty and debate. On Wednesday, Federal Reserve Bank of New York President William Dudley told reporters that a liftoff during the Fed's September meeting seems "less compelling" in light of the market's meltdown over the past week.
The Federal Reserve has long maintained that its rate hike decisions are data dependent. Second-quarter GDP rose better than expected on Thursday and should next Friday's August jobs report show strength, experts say the Fed could pull the trigger in September.
Plus, the Fed is focused on its dual mandate of stable prices and full employment -- not necessarily on keeping investors happy. The markets would cheer a rate hike delay, as low rates have contributed to the six year bull rally in stocks.
For now, all eyes are on the Fed's annual retreat in Jackson Hole, Wyo., this week, where Federal Reserve Bank of Kansas City President Esther George didn't seem too fazed by the selloff seen across markets.
"I've been talking about the normalization of rates for some time," she said in an interview with CNBC on Wednesday. "This week's events complicate the picture, but I think it's too soon to say it fundamentally changes that picture. In my own view, the normalization process needs to begin."
Whatever takes place in September, Erlam said rates will stay low for quite some time, which will favor housing stocks.
"Plus, people are looking to improve their houses to boost resale value, so stocks like Home Depot (HD) - Get Home Depot, Inc. (HD) Report have a fair bit of value," he said. "The likes of JPMorgan (JPM) - Get JPMorgan Chase & Co. (JPM) Report also offer value from rising interest rates," referring to the rise in the bank's net interest income.
Home Depot shares have fallen 4.1% from their high on Aug. 18. JPMorgan shares slumped 8.2% since their high on July 22.
Erlam also said to watch Apple (AAPL) - Get Apple Inc. (AAPL) Report over the next few weeks. "From a technical standpoint, we've seen the death cross in Apple stock which is the 50-day moving average crossing below the 200-day moving average."
He said Apple's stock could push higher following its Sept. 9 event, where it's widely expected that the Cupertino, Calif.-based tech giant will release an updated version of its iPhone. Apple sold 47.5 million iPhones during its fiscal third quarter.
Apple shares have declined 15.3% from their high on April 27. The stock hit its low for the year on Monday.