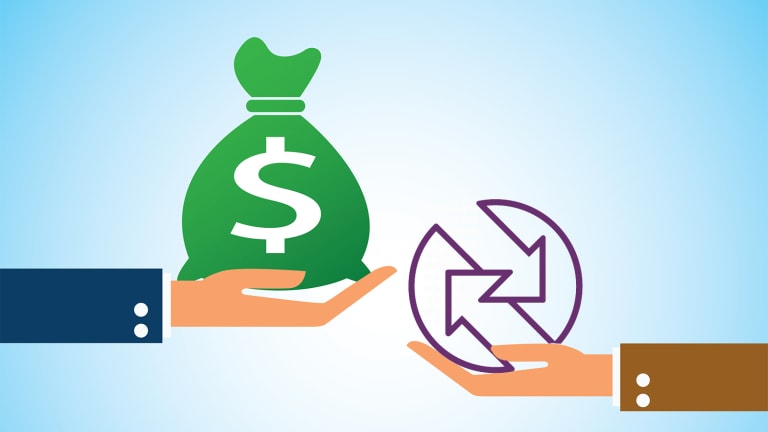 Funding Circle Co-Founder Predicts $1 Billion in Loans as Peers Opt for IPOs
Marketplace lender Funding Circle co-founder Sam Hodges talks about his business's future in an interview with TheStreet.
NEW YORK (TheStreet) -- Marketplace lender Funding Circle, which expects to make more than $1 billion in small business loans this year, sees going public -- like two of its peers have recently done -- as a logical step but has no plans to do so in the near future, co-founder Sam Hodges said.
Funding Circle, which likens its model to LendingClub (LC) , Prosper and Social Finance, funds borrowers through an online marketplace, performs credit analysis, and offers an exchange for investors to buy pieces of loans.
LendingClub went public last December, and Hodges expects more online marketplaces to follow suit in the next year to 18 months. Social Finance, or SoFi, announced plans for its initial public offering earlier this year, along with a $2 billion funding milestone.
"We have no near-term plans of going public, but we think that it is a logical thing for us to do as a business," Hodges said in an interview with TheStreet in New York. "What that is going to mean is all of a sudden, there is going to be this new category of alternative asset-driven marketplace service providers available for investment."
Funding Circle's average borrower in the U.S. has $1.8 million and has been in operation for about eight years, according to Hodges. Typically the businesses are well established, with 10-20 employees, are turning a profit and are looking for expansion capital. Founded in 2010, Funding Circle has made more than $1.2 billion in loans altogether while maintaining a year-over-year growth rate of at least 200%. It forecasts more than $1 billion in online lending this year.
"It sounds like a lot of money, but it's still a drop in the bucket in respect to Wells Fargo," Hodges said. "But if we keep growing as we are, at a certain point, it won't be a drop in the bucket, and we're starting to have some interesting conversations with more forward-thinking banks about how we can team up."
Funding Circle has already allied with RBS (RBS) and Banco Santander (SAN) , and expects to ink two more big-name partnerships before the end of 2015.
The business was conceived as Hodges, who had spent years in the tech and finance industries, struggled to find sufficient small-business lending for a fledgling fitness company. It was a tedious process, Hodges recalled, and it showed him there was high demand for loans to small companies and an inadequate supply.
"The entire experience was broken," he said. "We talked to 90-something different lenders and we were either turned down or offered terms that simply didn't make sense."
The process wasn't much better than the terms, Hodges added. "You'd go into a branch bank on the corner and they'd be like, 'We're going to give you this thorough exam; by the way, here on this sheet of paper is where we'd like you to write out your balance sheet,'" he said. "And here in an age where people are used to fast online experiences where the opportunity cost isn't that high, it just didn't make a lot of sense."
Hodges found a "structural gap" below the level at which banks are willing to lend to small businesses and above the level where consumer credit is available to small business owners.
"We also saw a trend of banks pulling back from lending opportunities like this," he said. "There are lots of pockets of credit that it's hard for them to serve profitably. So that's where it led to this confluence of events where we just saw a big window where a marketplace-based approach would work."
According to a 2014 Harvard study on small business lending, peer-to-peer platforms, also known as P2P lenders, such as Funding Circle are becoming targets of established banks looking to expand their loan offerings as consumer demand shifts.
"P2P lenders say the peer-lending component lowers their cost of capital by freeing them from raising money," Karen Gordon Mills and Braydon McCarthy wrote in the study. "They view their value proposition as straightforward: create lower interest rates for borrowers, attractive rates of return for individual investors and clean and simple electronic interfaces designed to make sophisticated consumer transactions between individuals efficient, convenient and painless."
The demand for such products is reflected in sales at both Lending Club and OnDeck (ONDK) , which had its IPO last December. Lending Club revenue grew from $16.2 million to $211.3 million in the two years through 2014, while OnDeck sales increased from $25.6 million to $158.1 million.
Established players such as Citigroup  (C)  see an opportunity and are moving into the sector as partners. New York-based Citi and LendingClub struck an agreement this year in which Citi finances LendingClub investors, allowing them to increase the money they put toward loans.
"What Citi is doing is providing leverage to the people who are lending through LendingClub," Hodges said. "What investors are looking to do is put leverage on those positions so that they can enhance their equity returns."
Funding Circle has so far had more than 40,000 individual investors extend money for loans through the platform. Hodges says, on average, they've seen a 10% annualized return in the U.S. market.
"If you look at the growth rate and potential opportunity, that's what I think is really exciting," he said.