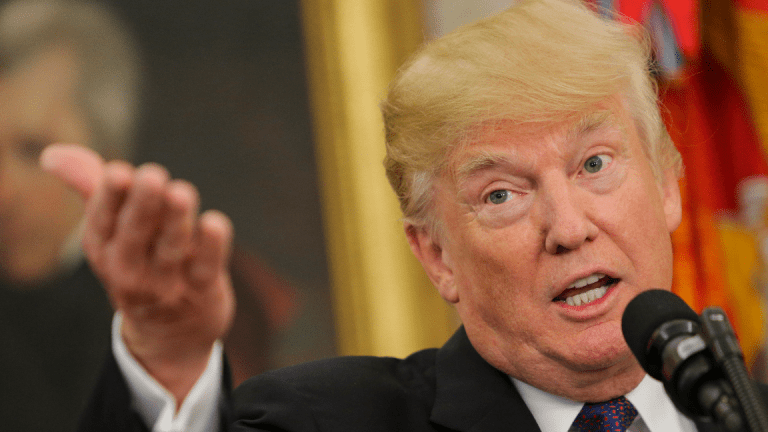 A Surprise Reaction to Nvidia's Earnings Offer Up One Important Investing Lesson
It has been yet another long week on Wall Street. On Friday, investors are greeted with a mild Nvidia earnings related selloff. Be on the lookout for valuation-based tech stock downgrades in the week ahead.
It may be unhealthy to trade drug stocks Friday.
The word on Wall Street is to not expect too much from President Trump's speech on drug prices. That means expect the unexpected, and prepare for a volatility spike in key healthcare names such as Express Scripts (ESRX) , CVS Health (CVS) , Endo International (ENDP) , Mallinckrodt (MNK) , McKesson (MCK) and Cardinal Health (CAH) .
Reports TheStreet's Bill Meagher: "Evercore ISI may be an outlier as its analysts anticipate that recent speeches by officials from the Food and Drug Administration, Health and Human Services and Centers for Medicare & Medicaid Services may have telegraphed the Trump administration's willingness to move beyond loud talk and tweets into policy discussions. In those tweets and in talks with his cabinet, Trump has been critical of the pharmaceutical sector and its pricing of prescription drugs, famously saying on at least two occasions that companies are "getting away with murder."
The speech will reportedly take place at Trump's favorite time slot of 2:00 p.m. today.
Let This Be Yet Another Lesson
Don't get emotional about a stock is an old adage my former boss told me fresh out of college. The mysterious market can care less about your affinity for a company's fundamentals and outlook. If the market wants to dump a stock on a piece of news, it will do so and oftentimes do it with force. You can scream at the trading screen on earnings day all you want while watching a 10 cent earnings beat send the stock 5% lower after-hours. It's vicious out there people.
Such is the case with tech darling Nvidia (NVDA) .
Shares are looking a little shaky early Friday despite a blowout first quarter. There are at least three reasons for the pullback. First, market psychology is such that Nvidia probably needed to beat earnings estimates by $1.00 instead of the 52 cents reported. The stock is up 105% in the past year, so market psychology working against Nvidia in a sideways broader market shouldn't be a shock.
Secondarily, the auto segment was light on sales. How investors may read this: with major automakers pulling back on passenger cars, in-car chip players could get hit in the short-term. Though investors should remember that SUVs are larger and contain more chips, which is a long-term opportunity for the chip players.
And finally, Nvidia was unable to shake the notion it's solely an investment in cryptocurrency. This comment helped fuel the bearish sentiment that emerged: "Cryptominers bought a lot of our GPUs during the quarter, and it drove prices up. And I think that a lot of the gamers weren't able to buy into the new GeForces as a result," CEO Jensen Huang told investors on a conference call. "And so we're starting to see the prices come down. We monitor spot pricing every single day around the world. And the prices are starting to normalize."
Pay careful attention to possible valuation-based tech downgrades in coming weeks off the Nvidia report.  
Stats on the TheStreet
It's good to see that RBC Capital Markets auto analyst Joseph Spak hasn't lost a step after getting messed with by Tesla's (TSLA) Elon Musk on last week's earnings call. Spak just dropped an in-depth 91 page read on the future of electric cars -- as a former stock analyst, hat tip to you Joe for rallying back.
Key stat from Spak's research: "By 2050, we see ~66% BEV global new vehicle penetration, representing a ~9% CAGR (compound annual growth rate) over a 25-year period from 2025. We see regions like China and Western Europe reaching 85% penetration. We forecast the U.S. at 60% penetration."
That's decent news for Mother Earth, but potentially challenging news for automakers such as Ford (F) and General Motors (GM) given the high R&D expenses needs to support electric car roll-outs.