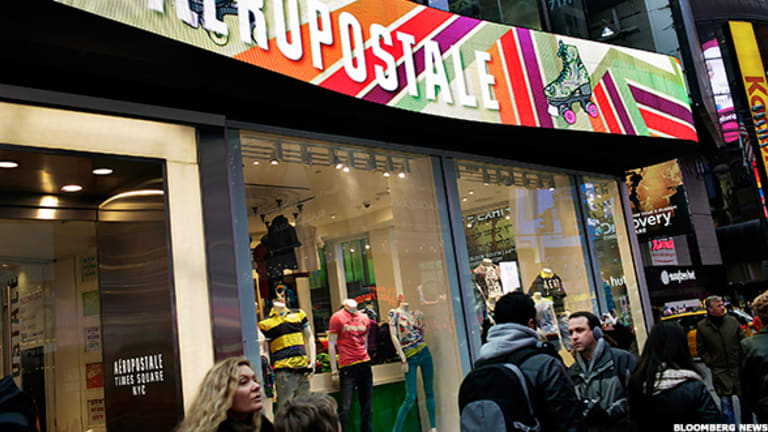 Once High-Flying Teen Apparel Retailer Now Trades for Under $1 a Share
Teen apparel retailer Aeropostale is struggling to stay alive, even while its former rivals stage comebacks.
NEW YORK ( TheStreet) -- Shares of former high-flying teen apparel retailer Aeropostale (ARO) have fallen below the $1 mark as the company clings on for dear life in a fiercely competitive industry.
Thursday evening, Aeropostale reported an adjusted loss per share of 56 cents, missing analyst estimates for a loss of 55 cents a share. Same-store sales plunged 8%, with worrisome declines in both boys and girls apparel in the lead up to the back to school shopping season. Same-store sales fell 6% in the girl's business, with challenges in most product categories except for t-shirts, dresses and denim. For the men's business, same-store sales declined 11% as execs admitted to having assortments skewed toward to old of a teen customer.
Unfortunately for Aeropostale, the stock market believes it is headed for a gloomy holiday season and further financial difficulties in early 2016. Shares of Aeropostale nosedived 22% on Friday, and fell below a dollar to 95 cents. Over the past year with CEO Julian Geiger at the helm trying to orchestrate a heroic turnaround, shares have cratered to the tune of 74%.
Fueling the stock's decline is a dwindling cash position brought on by 11 straight quarters of losses, and the very real possibility that Aeropostale may not survive. Aeropostale's cash at the end of the second quarter was $86 million, down from $151 million at the start of the year.
The clock has now started on Aeropostale's stock staying listed on the New York Stock Exchange (NYSE). According to NYSE listing requirements, if a security's price closes below $1.00 for 30 consecutive trading days then the exchange would initiate the delisting process.
Execs appeared oblivious to the clear challenges being confronted by the company, as well as the severely weakened state of the balance sheet. "A year has passed since I returned to Aéropostale, and I want you to know that I am confident and optimistic about the future," said Aeropostale CEO Julian Geiger on the earnings call.
Geiger returned in August 2014 after retiring from serving as Aeropostale's chairman and CEO from 1998-2010. He sounded as if his company was fresh off a monster quarter of profits, pointing to continued sequential sales improvement in certain merchandise categories in the second quarter as a reason to be optimistic.

Furthermore, Geiger was quick to mention that comparable store sales for August were only down by a low single-digit percentage, "a measurable change from the second quarter trend." Analysts oddly did not take Geiger to task for yet another lackluster quarter. 
Aeropostale's one-time rivals in the mall -- Abercrombie & Fitch (ANF) - Get Report and American Eagle Outfitters (AEO) - Get Report -- are feasting on it struggles. Both competitors have mounted something of a comeback lately with more fashionable wares and better pricing.
The three companies were once collectively referred to as the "Big 3" in teen retail,  but their styles have fallen out of favor as "fast fashion" retailers such as H&M and Forever 21 gained favor. All three have spent the past five years closing under-performing stores, cutting prices and trying to spruce up their fashions. Now, it looks as if Aeropostale may be the odd person out in the group's mini resurgence.  
"Employees may appear happier likely because they have more control over their stores," said an Abercrombie & Fitch exec on a call with analysts Aug. 26 following better than expected second quarter results. According to the company, employees are now able to react to key trends in the business, such as ordering more tops that are hot sellers with shoppers. In turn, the positive results from those efforts are motivating employees to work even harder, effectively making them feel as if they are small business owners.
Abercrombie's strategy shift is beginning to pay dividends, and is leading it to significantly out-perform Aeropostale. Sales came in at $817.8 million, topping estimates for $811.3 million. Adjusted earnings per share tallied $0.12, beating forecasts for a loss of $0.08.
More importantly, same-store sales trends improved from the dismal first quarter. Same-store sales fell 7% at the Abercrombie & Fitch division during the second quarter, compared to an 9% decline in the first quarter.
American Eagle Outfitters blew away both Abercrombie & Fitch and Aeropostale in the second quarter in terms of sales, planting its flag as the strongest of the traditional teen apparel retailers. The company saw its second quarter same-store sales surge 11%. The company's new flex denim, which is designed to look and feel like regular jeans but is actually stretchy, was mentioned as a star performer. Tops for both boys and girls also sold briskly.