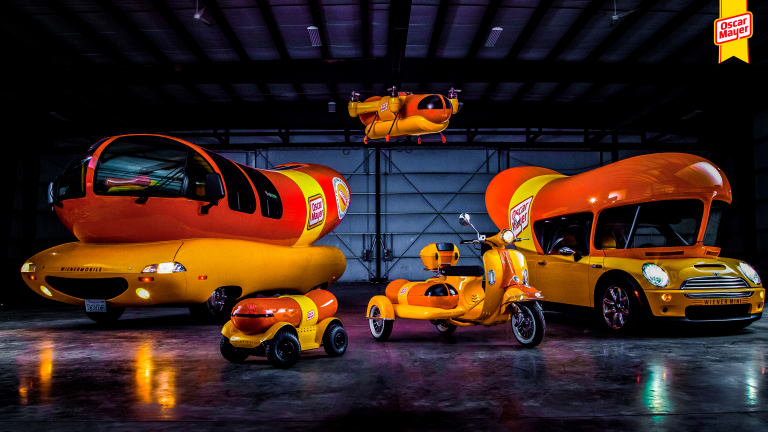 There Is Now an Official Oscar Mayer Wienermobile Drone -- Here's a Look Back at the Storied Car
"I wish I were an Oscar Mayer wiener..."
As The Oscar Mayer Co. changes the standards of hot dog quality, it is doing the same for hot dog delivery.
To promote its new hot dogs — which contain no added nitrates and nitrites except those naturally occurring in celery juice, by products and artificial preservatives — The Kraft Heinz Co.'s  (KHC) - Get Report   meat and cold cut producer is introducing two new vehicles to its Wienermobile fleet: the WienerCycle and WienerDrone.
"As the most iconic brand, we're going where other hot dogs can't," Greg Guidotti, Oscar Meyer's head of marketing, said in a news release. "We're committed to getting our new hot dog in everyone's hands — and going to great lengths to do this. We knew that was a job for more than just our existing Wienermobile. So, we've expanded our Oscar Mayer fleet, ensuring every American can taste the new recipe because we believe everyone deserves a better hot dog."
Although the Wienermobile is not made to actually serve hot dogs (just Wienerwhistles, the whistles shaped like the mobile), its new partners are. The WienerCycle is a three-wheeled moped that is "ideal for tricky urban deliveries," according to the release. It is three-and-a-half feet, or seven hot dogs, long and has 8.5 horsepower. Its side car even includes a hot dog warming station.
The WienerDrone is the first unmanned hot dog-carrying aircraft for remote locations within one mile, the news release said. It weighs 6.5 pounds.
The new members of the fleet join the classic Wienermobile, the WienerMini and the WienerRover. They will be introduced to the public in Wiener, Arkansas for Independence Day.
Check out the history of the fleet.