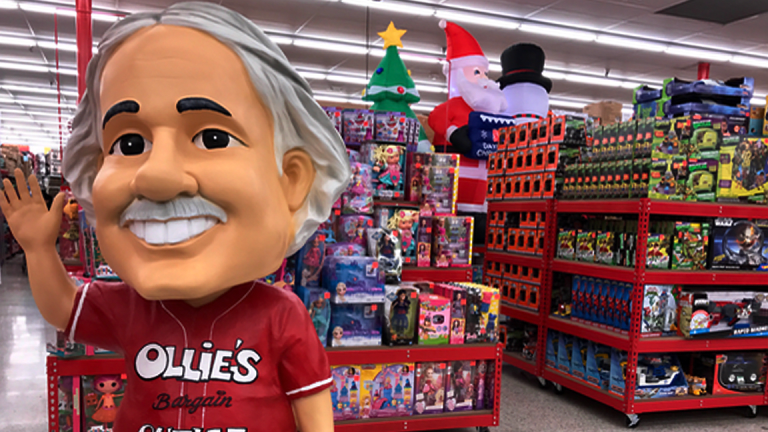 Ollie's Bargain Outlet Slumps After Chairman and CEO Butler Dies at 61
The board names Chief Operating Officer John Swygert as interim CEO.
Ollie's Bargain Outlet (OLLI) - Get Ollie's Bargain Outlet Holdings Inc. Report shares slumped on Monday after the discount retailer said Chairman, President and CEO Mark Butler died unexpectedly on Sunday.
Butler was 61; a statement from Ollie's didn't disclose a cause of death.
The board named John Swygert interim president and CEO. Swaggart has been executive vice president and chief operating officer since January 2018. Previously, he'd been chief financial officer since 2004.
Butler founded the retailer in 1982 in Mechanicsburg, Pa. It's now headquartered in Harrisburg.
TheStreet's Jim Cramer, speaking to the Action Alerts Plus membership via his Daily Rundown, lauded Butler, saying "his hallmark was charity" and "he built a great company."
The chain, which markets with the slogan "Good Stuff Cheap," operates 345 stores in 25 states within the eastern United States.
Ollie's shares at last check on Monday were down 8% at $60.19. The stock was trading past $103 in late May.
For the second quarter ended Aug. 3, Ollie's reported net income fell 16% to 38 cents a share from 45 cents in the year-earlier quarter. Revenue climbed 16% to $333.9 million from $288.1 million.
Comparable-store sales declined 1.7%. Gross-profit margin narrowed to 37.2% from 39.1% a year earlier.
The company had attributed the results to effects of its opening 29 new stores in the first half. Comparable sales were hurt by two key matters: A number of the new stores took away sales from existing stores, and supply-chain pressures hurt inventory levels.
The company said at the time that it had made progress to correct these short-term issues, with comparable-store inventory levels back in line with expectations.
Join the Action Alerts Plus members-only club via a special 2-for-1 Cyber Monday deal.