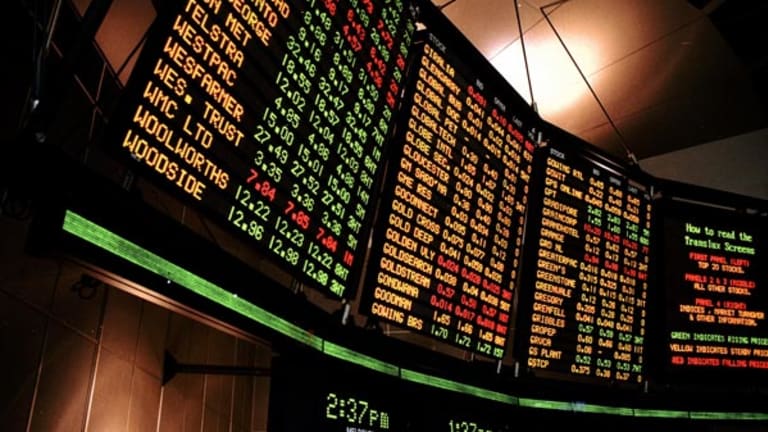 Oil Stock Winners and Losers: Exxon Mobil
Weekly gasoline inventories rise by less than expected.
Oil stocks were mixed Wednesday after a rise in crude oil futures and the release of weekly fuel inventory data.
The Amex Oil Index was recently trading up 41 points to 868.60.
Light, sweet crude oil futures for May were recently trading at $50.74 a barrel, up $1.59, on the New York Mercantile Exchange.
For the week ended Friday, crude supplies increased by 1.7 million barrels, or 0.5%, to 361.1 million barrels, 15.2% above year-ago levels, the Energy Department's Energy Information Administration said in its weekly report.
Analysts had expected a boost of 2.3 million barrels, according to a survey by Platts, the energy information arm of McGraw-Hill Cos.
Gasoline inventories rose by 600,000 barrels, or 0.3%, to 217.4 million barrels, 1.4% below year-ago levels. Analysts expected gasoline stockpiles to fall by 1.5 million barrels.
Demand for gasoline over the four weeks ended Friday was 0.2% lower than a year earlier, averaging about 9.1 million barrels a day.
U.S. refineries ran at 81.8% of total capacity on average, an increase of 0.1 percentage point from the prior week. Analysts expected capacity to increase 0.25 percentage point to 81.95%.
Shares of
Exxon Mobil
(XOM)
was up 0.2% to $68.87.
BP
(BP)
was down 0.8% to $39.34.
ConocoPhillips
(COP)
was down 1.1%, to $39.26.
Chevron
(CVX)
shares were down 0.6% to $68.02.
Royal Dutch Shell
undefined
shares were down 1.6% to $42.27.
Copyright 2009 TheStreet.com Inc. All rights reserved. This material may not be published, broadcast, rewritten, or redistributed. AP contributed to this report.