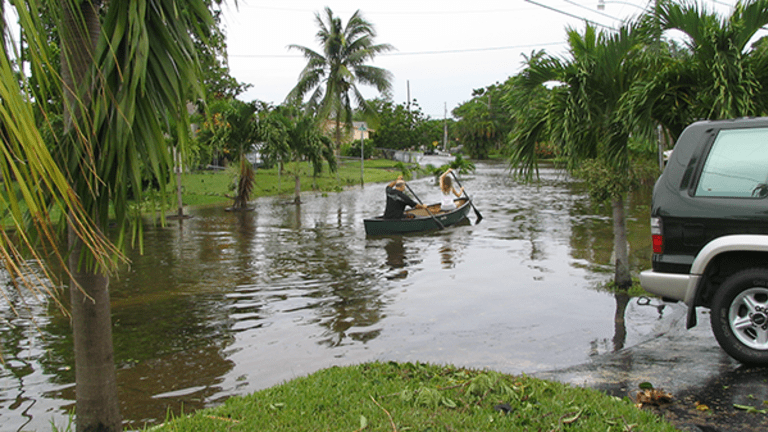 Publish date:
Oil Rises as Hurricane Harvey Threat to Refining and Production Grows
The massive storm is on track to be the first Category 3 Hurricane to hit the U.S. coast in more than a decade.
The massive storm is on track to be the first Category 3 Hurricane to hit the U.S. coast in more than a decade.
Oil prices rose Friday as traders reassessed Hurricane Harvey potential impact on production as the massive storm intensified in the Gulf of Mexico and closed in on the Texas coastline.
West Texas Crude futures for delivery in October rose 0.76% to trade at $47.79 early Friday, Aug. 25, reversing a decline on Thursday that came despite meteorologist warning that the storm would do significant damage to coastal regions. International benchmark Brent Crude futures for delivery in October climbed 0.81% to $52.46.
The Gulf of Mexico accounts for about 17% of the U.S.'s total crude production, while the coastline between Corpus Christi, Texas and Lake Charles in Louisiana is home to about a third of the national oil and gas refining capacity.
The storm, which is expected to make landfall near Corpus Christi late Friday or early Saturday, was upgraded to a Category 2 hurricane on Friday by the U.S. National Hurricane Center. The storm remains on track for a further upgrade and could be the first Category 3 hurricane to make landfall in the U.S. since hurricane Wilma hit Florida in October 2005.
These Black Market Beers Cost More Than Your Monthly Income!
"Harvey is forecast to bring torrential rains and dangerous storm surge that have the potential to create a life-threatening flooding situation starting Friday," warned the National Hurricane Center. Coastal regions can expect up to 35 inches of rain, winds of up to 125 miles per hour and a storm surge that could raise sea levels by as much as 12 feet.
Until Friday, the hurricane's threat had served to push down oil prices, with traders taking the view that the storm could result in an oil backlog as refineries closed while offshore rigs continued operations. The path of the storm is likely to take it south of the major oil producing regions in the Gulf's northern sector.
That expectation wavered over the past 24 hours as reports of offshore production closures began to filter in. By midday on Thursday, closures of rigs in the Gulf of Mexico had resulted in about 10% decline in the region's offshore production capacity and a 15% fall in natural gas production capacity. Some fracking in the Eagleford onshore basin had also been suspended.
About 1 million barrels per day of coastal refining capacity has been shut, while a further four million barrels of refining capacity could be affected.
Among the producers affected were Royal Dutch Shell Plc () , Anadarko Petroleum Corp. (APC) - Get Report and ExxonMobil Corp. (XOM) - Get Report all of which said they had evacuated workers from some offshore rigs as a precautionary safety measure.
Don't miss these top stories on TheStreet:
Hurricane Harvey Isn't the Bruising Storm That Wall Street Hates: Market Recon