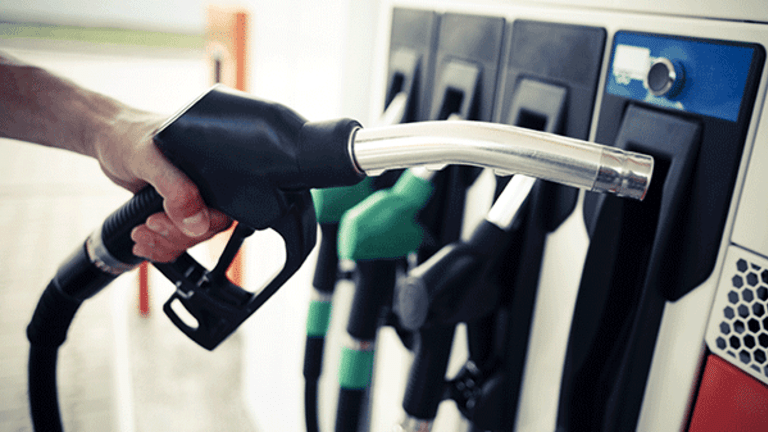 Oil Prices Slip as U.S. Producers Push to Produce
Domestic crude inventories rose for the third consecutive week as U.S. production rises amid OPEC production cuts.
Crude oil prices slipped Wednesday after industry data showed U.S. crude inventories jumping as domestic oil producers up production while OPEC appears committed to its announced output cuts.
U.S. benchmark West Texas Intermediate crude for March 2017 delivery was down by 1.1%, trading at around $52.61, while Brent crude futures fell 1.2% to $54.79 at 10:30 a.m. ET.
Crude inventories, excluding those in the Strategic Petroleum Reserve, rose by 2.8 million barrels for the week ending Jan. 20, the U.S. Energy Information Administration reported on Wednesday. The increase this past week push domestic inventories near the upper limit of the average range for this time of year at 488.3 million barrels.
The build was in-line with analysts' expectations and only slightly below the 2.93-million-barrel build reported by American Petroleum Institute's (API) late Tuesday.
"Keep in mind that last week, the Baker Hughes Rig Count showed the number of U.S. oil rigs currently in production popped by an astounding 29 rigs," TheStreet contributor Stephen Guilfoyle noted on Wednesday.
Crude oil imports declined to 7.8 million barrels per day last week, down by 568,000 barrels a day from the previous week. Over the past four weeks, imports average 8.1 million barrels per day, which represents a 4.3% increase from the same period last year.
U.S. refineries reduced inputs, decreasing by 421,000 barrels per day to 16 million barrels per day last week. Refineries operated at 88.3% of their operable capacity last week, according to the EIA.
Gasoline inventories, which increased by 6.8 million barrels last week, were also pressuring oil prices. Meanwhile, distillate fuel inventories remained "virtually unchanged last week," but are still above the upper limit of the average range for this time of year.
Immediately following the EIA report, oil majors such as Chevron (CVX) - Get Chevron Corporation Report and ConocoPhillips (COP) - Get ConocoPhillips Report were both rising during the trading session.
Oil prices had been under pressure before the EIA report on the API's similarly bearish data, which showed crude, gasoline and diesel stockpiles rising more than expected last week.
Although the U.S. is currently increasing production, the EIA says global crude oil balances are expected to tighten through 2018.
"Global production and consumption are both projected to increase through 2018, but consumption is expected to increase at a faster rate than production," the government agency stated in a separate report Wednesday. "As a result, global balances are expected to tighten."
Employees of TheStreet are restricted from trading individual securities.