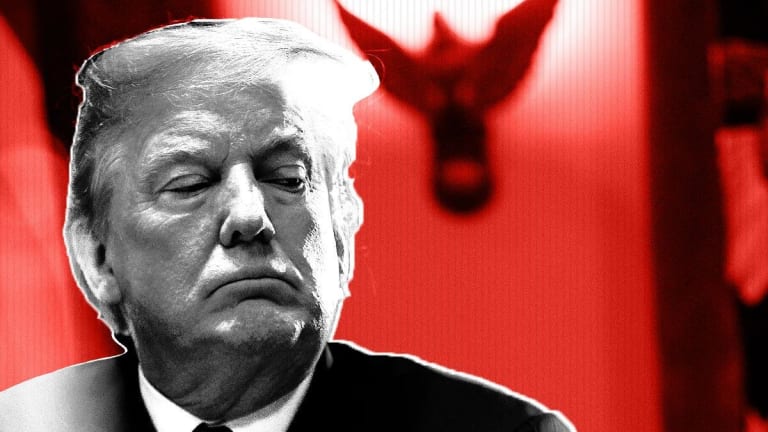 Trade War? Who Cares Because Here Comes a 'Super Spike' in Oil Prices
The trade war has started. While investors haven't been bruised too much on day one, the war is still in its infancy. Is there a 'super spike' in oil prices coming?
Happy Friday.
The trade war is here, and my thoughts on it hit at 12:01 a.m. ET on Twitter. So please check it out @BrianSozzi. But for those not inclined to venture off this comforting page, it's interesting to not see stocks fall off a cliff as the U.S. and China exchange blows on tariffs. Maybe the muted reaction is a function of investors pricing in last month the first round of a trade war. Maybe it's a result of Wall Street not fearing the war will be long.
Whatever the case, investing today is now fundamentally different than yesterday and the market has to realize that. And by realize, I mean re-pricing stocks for a less free-flowing trade environment. A logical investor might want to take his cue from the rout in Chinese stocks as a sign of what could be blown back onto U.S. shores soon.
The Shanghai Composite hit fresh two-year lows on Friday and capped its seventh straight week of declines. Shares are down some 20% from their January high. The fact many buyers still haven't stepped in to buy China stocks, even at the cheapest multiples relative to net assets since 2014, borders on the disturbing side of things. A logical investor also would pay close to attention to how "China Stocks" such as Walmart (WMT) - Get Walmart Inc. Report , Starbucks (SBUX) - Get Starbucks Corporation Report , Apple (AAPL) - Get Apple Inc. Report and Micron (MU) - Get Micron Technology Inc. Report trade Friday compared to the broader market. I
f the underperformance is stark, it won't bode well for the overall market. Tread carefully out there folks, we're only one Trump-Twitter dump away from awakening to Dow futures down 400 points on Monday. 
Call of the Day
Since Friday is shaping up to be doom and gloom (unless the jobs number hits 300,000 which it won't because of the labor shortage), why not stay on the theme. Sanford Bernstein analysts have laid out the case for the next "super spike" in oil prices. Think oil at $150 a barrel.
"Investors who had egged on management teams to reign in capex and return cash will lament the underinvestment in the industry," according to the Bernstein team. "Any shortfall in supply will result in a super-spike in prices, potentially much larger than the $150 a barrel spike witnessed in 2008."
Good thing Ford (F) - Get Ford Motor Company Report , General Motors (GM) - Get General Motors Company Report and Toyota (TM) - Get Toyota Motor Corporation Report are pivoting to SUVs.
Street Rumors 
With Keurig's $18.7 billion deal for Dr. Pepper Snapple Group undefined set to close on July 9, surging sports drink brand BodyArmor -- which is more than 15% owned by Dr. Pepper -- could find a new home, said Wells Fargo analyst Bonnie Herzog. That new home may be Coca-Cola (KO) - Get Coca-Cola Company (The) Report , which for years has struggled to make strong headway into a sports drink category dominated by PepsiCo's (PEP) - Get PepsiCo Inc. Report Gatorade brand. Coca-Cola owns the Powerade sports drink brand.
Said Herzog: "We think there is a decent chance that Keurig Dr. Pepper could lose BODYARMOR following the completion of the Dr. Pepper and Keurig merger (which closes on 7/9) given we don't think the new Keurig Dr. Pepper management team is interested in maintaining minority stakes (such as those Dr. Pepper undertook with its allied brands). As such, we think there's a good chance BODYARMOR could seek out a new partner/owner and we think Coca-Cola would be very interested in the brand given its success (with BODYARMOR's retail sales over the last 52-weeks of $263 million in the Sports Drink category per Nielsen, up 84% y/y). We think Coca-Cola would position BODYARMOR as a premium, isotonic brand above Powerade." A Dr. Pepper Snapple Group spokesman didn't return a request for comment on the status of BodyArmor.
Not a bad comeback on Nvidia (NVDA) - Get NVIDIA Corporation Report this week on rampant rumors of a new graphics chip. The new chip is rumored to be called the GeForce GTX 11 Series, and could be launched as early as August. It would mark the first update to the GeForce gaming chip line in more than two years. Nvidia is a holding in Jim Cramer's Action Alerts PLUS.