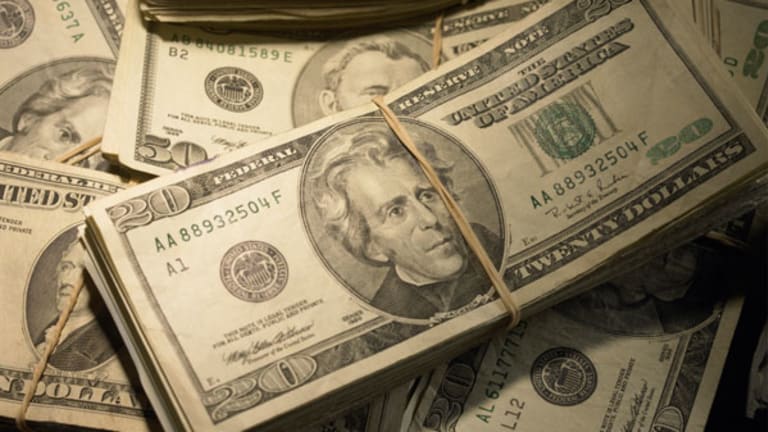 Oil Is Going Down; Caterpillar, JPMorgan Tell You How the Market Fares: Jim Cramer's Best Blog
Jim Cramer discusses oil and also mentions how to tell how the market is faring.
Jim Cramer fills his blog on RealMoney every day with his up-to-the-minute reactions to what's happening in the market and his legendary ahead-of-the-crowd ideas. This week he blogged on:
How oil is going down
How to tell how the market fares
Click here for information on RealMoney, where you can see all the blogs, including Jim Cramer's -- and reader comments -- in real time.
Cramer: Oil Is Going Down; OPEC's Got No Game
Originally published May 25 at 12:47 p.m. EST
The oil stocks were right all along. No matter what OPEC big mouths said about restraint and cutbacks, it was all nonsense. They don't have the ability any more to control oil. Not with Iraq and Iran wanting to pump like mad. Not with Nigeria and Libya wanting so much to rebuild their coffers. There is no way the Saudis could make up for even those countries, let alone the relentless shale extraction in our country, and the Gulf of Mexico wells coming on that produce far more than any shale wells--and for a lot longer, too.
The oil stocks can't bounce here. We are waiting to average down on a couple of Action Alerts PLUS names, but we are using a wide scale that will really be about buying stock when oil gets to $45, and not much before then, because I think the stocks are signaling at least that kind of decline.
If I were at a hedge fund I would be tempted to short them still, but you will have to be nimble because I think the break occurs within a couple of days' time.
OPEC's full of false bravado. It has no game.
Of course there's always some rabbit pulled out of a hat when we get to the magical $45 level and I think it will happen again.
But that's the whites of their eyes. Don't shoot until you see them.
Action Alerts PLUS, which Cramer co-manages as a charitable trust, has no positions in the stocks mentioned.
Cramer: Caterpillar and JPMorgan Will Tell You How the Market Fares
Originally published May 24 at 6:37 a.m. EST
In the old days, when I was an associate at Goldman Sachs, I would often have to go on the road to cold call prospective clients. It was a rough business traveling all over the state of New York beating the hustings for new business, and I was often out of touch with the home office.
Action Alerts PLUS, which Cramer co-manages as a charitable trust, has no positions in the stocks mentioned.
Remember, this was well before cellphones, so you brought plenty of quarters with you and were constantly checking in via phone booths.
Well, suffice it to say I would drive everyone crazy with a list of quotes that I wanted so I could be ready for any contingency if I actually got in to see a possible customer.
So, I developed a system. I figured out what might be the key stocks that could give me the tapestry on the go, the stocks that were the key to this market so to speak, that gave you a sense of what could be going on and what could happen. They were the tells of the tape, and they let you seem smarter than you were on the road.
If I were back in that hard business, calling in on the road from Horseheads, or Elmira or Glens or Honeoye Falls, I would want to know how two stocks are doing: JPMorgan (JPM) and Caterpillar (CAT) . Why those two?
Because they, respectively, define the possibility of rate hikes--so crucial to the almost 20% of the market that's defined by the financials--and the potential possibility of worldwide expansion, both domestically and internationally.
Now, before you quibble, I could easily say Bank of America (BAC) over JPMorgan, but I chose the latter simply because it is more volatile and visible as to the state of the Fed's mind. No stock needs rate hikes more to go to the next level than JPMorgan, which could stand to gain more than $2 billion if the Fed deems the economy strong enough to support two hikes.
I don't think that two hikes derails the economy from these low levels, so I don't think there would be any demand destruction. So, it gives you almost perfect alignment with interest rates, which we all know have to go higher in order to verify any real sign of economic growth. Plus, JP Morgan has gigantic compliance costs and too much capital. Remember the deregulation agenda? Red tape drag should be going down and dividends going up if the Trump trade is game on. Right now, it seems like stasis.
Caterpillar? That's all about the rest of the world, which is beginning to provide a real tailwind to American international industry, as we saw from CAT's animal doppelganger, Deere (DE) , last week. CAT needs the market to overlook last night's Moody's downgrade of China's credit rating, and continue to see the Chinese spend on infrastructure. It needs coal mining to stop shrinking and oil to go higher while the dollar goes lower to make it more competitive than the Japanese. And it needs to see its U.S. order book grow with infrastructure spend, at least at the state level if the $200 billion worth of Budget infrastructure is still born. Nothing will tell the tale of economic expansion better than the trajectory of CAT's share price.
So, in the old days a simple call to my old beloved partner, "Walter, how's JPM and CAT?" If the answer is down, then I knew the prospects were dim for a good day in the market. If the answer was higher, I had extra pep in my step and was ready to win some business.
Action Alerts PLUS, which Cramer manages as a charitable trust, is long SBUX and AAPL.