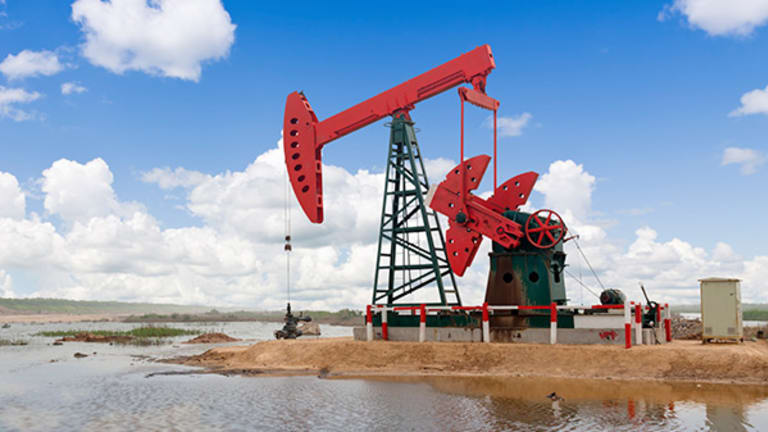 Oil Companies Can Be Good, Bad or Ugly -- Even as Oil Recovers
Oil prices are nearing the widely perceived break-even point of $50 a barrel, but recovery also depends on where oil and gas assets are located.
Editor's Note: This article was originally published on Real Money at 12:27 p.m. on May 17.
Anyone looking to play the risky energy market should know that the break-even point for oil and gas companies keeps getting higher -- even as the price of oil increases. Without taking geography into account, investing in the sector could be a fool's bet.
There are "good basins," "bad basins" and "ugly basins," according to recent research by RBN Energy. The so-called good basins combine robust health of the well alongside lower costs. In a separate report, RBN Energy identified the top 20 counties for drilling activity, where 66% of rigs reside. The economics of drilling and completing wells are "viable" in these areas (pictured below), with most areas outside of these regions underwater with oil at $50 a barrel, RBN Energy said in an email to Real Money.
The findings come at an interesting time. Oil has been nearing $50 a barrel, which was considered a break-even point for many players, where potential profits equal exploration and production costs. However, just as oil is nearing that point, several energy companies have filed for Chapter 11 bankruptcy protection. Within the last week alone, Breitburn Energy (BBEP) , Linn Energy (LINE) and SandRidge Energy (SDOC) have all filed. SandRidge is the fourth of five so-called "zombie" companies Real Money called out earlier this to year to file.
The price increase may be a case of too little, too late -- or perhaps there's more needed to recover.
Part of the problem is that just as some of the better-positioned oil companies resume profitability around $50 a barrel, the servicing companies, which have also been stressed, are expected to demand their "pound of flesh." So-called windfall returns aren't expected to last long at $50 a barrel, Subash Chandra of Guggenheim Partners said in an interview with Real Money Tuesday.
Chandra also reiterated RBN Energy's contention that some of the better-positioned areas are in North Dakota's Bakken region and South Texas' Eagle Ford region.
Even as oil prices rebound, stressed-out companies also have to contend with their past before celebrating.
Energy company boards are having many deep-level discussions about making their institutions more robust, Chandra said. Many are opting to address their leverage -- sometimes at the behest of their bankers -- instead of investing for growth as prices rebound.
Given price uncertainty, opting for the latter could put some companies in the same precarious position in the next few years if they don't address liabilities now. While prices are a big part of the equation, predicting where prices will have the greatest impact is also important.
"Until prices recover substantially, the economic benefits will go to the good locations, with the bad and the ugly continuing to suffer the consequences of low prices," RBN Energy wrote.
In addition to looking at the balance sheets of oil and gas companies, it may be worth consulting a map.