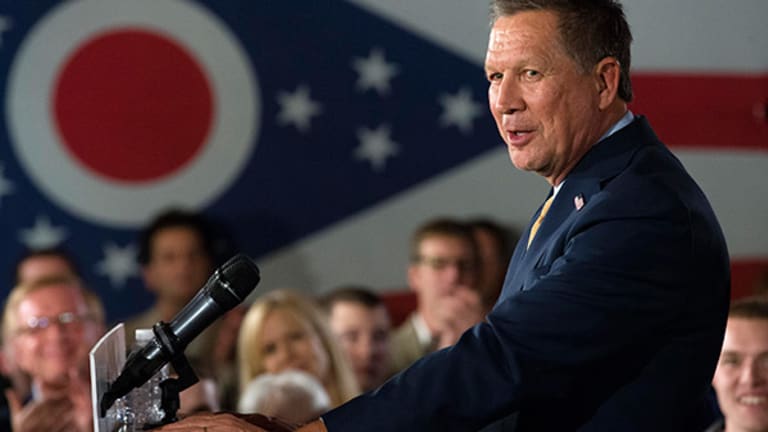 John Kasich: We Can Get to 3% Economic Growth
TheStreet interviews Ohio governor and former GOP candidate before he hit his network tour this week.
The Trump administration must stay focused despite the seemingly never ending flow of distractions, according to Ohio Governor John Kasich.
The former Republican presidential candidate said the administration must concentrate on its legislative message and avoid the distractions of the Russia investigation and the host of media leaks in the background.
"You have to be able to chew gum and walk at the same time," Kasich said in an interview with TheStreet TV on Tuesday, adding that it's probably not possible for the Trump administration to carry on as normal with the slew of media leaks and the Russia investigation in the background. "It's also important to change the message so we can be talking about tax cuts and economic growth - that's a good message."
Trump has been trying to do just that with the unveiling of his budget proposals on Tuesday. 
The plan calls for $3.6 trillion in spending cuts over the next decade, including hundreds of billions of dollars in cuts to Medicaid. Defense spending will increase under the plan. 
"It's just a piece of paper with a lot of numbers on it," Kasich said, adding that it's important for the economic assumptions in the budget to be realistic. 
Trump's budget is forecasting 3% economic growth, even though GDP grew by only 1.6% in 2016. The Congressional Budget Office expects the U.S. economy to grow by 1.9% per year over the next ten years. 
But Kasich thinks the U.S. can get to 3% growth. "I would hope in America if we could have more business investment, higher productivity along with some tax reductions - I don't think we ought to be settling for 2% - I think we can get to 3%," he said.
Kasich appeared on CBS This Morningand The View on Wednesday. 
More From TheStreet
White House 'Taxpayer First' Budget Seeks to Slash $3.6 Trillion in Spending
Editor's pick: This article was originally publishes on 6:09 pm ET on May 23.