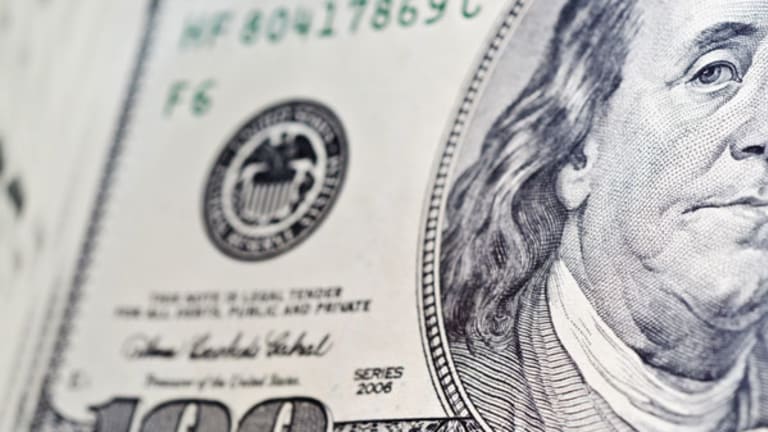 Of Course This Market Can Go Down
Too much bullishness is widely in evidence as investors and traders have been totally conditioned to 'buy the dip' and believe that the Fed has their backs.
NEW YORK (TheStreet) --As major U.S. stock indices reach new highs with no meaningful correction since last October, investors seem to believe that this market can never go down.
Last week, the
Dow Jones Industrial Average
(DIA)
briefly broke 15,000 for the first time, while the
(SPY)
closed above 1600 to set a new record.
The drive higher was fueled after the European Central Bank cut interest rates and by a better-than-expected nonfarm payrolls report on Friday. For the week, the Dow climbed 1.8%, the S&P 500 gained 2% and the
Nasdaq Composite
(QQQ)
gained 3%.
The last time the S&P crossed 1500, the previous century landmark, was in March 2000, just before the dot-com crash that started soon after. So let's take a look at the scorecard of the bull vs. bear case from here. Can this market ever go down again?
>>Also see: Fears of a Bubble Amid Relentless Climb Upward >>
Bull Case
1.
Intense global central bank support from the
Federal Reserve
, European Central Bank and Bank of Japan as they continue quantitative-easing measures in an ongoing attempt to kick-start the global economy.
2.
Earnings reports, while not spectacular, were enough to hold up the major indices during this earnings season that's just ending.
3.
Investor sentiment, which seems bullish (maybe too bullish) and the "buy the dip" mentality still rule major stock indices.
Bear Case
1.
A definite and significant global slowdown is under way. Recent economic reports from every corner of the world, including Japan, China, Europe and the U.S. confirm the deceleration under way, and this can only add downward pressure on corporate profits over the coming months.
2.
A stagnant U.S. economy. While the nonfarm payrolls report was celebrated on Friday, 165,000 new jobs is pathetic in the historical scheme of things, and underlying indicators such as hours worked, underemployment and low-paying jobs making up the bulk of the gains dampened the overall significance of an "improving" labor market.
3.
Seasonality: "Sell in May and go away" is a widely known phenomenon, and its accuracy has been well proven over time.
4.
Markets are overbought on a technical basis. Generally, the major indices are at levels from which significant declines occur. A peek at the percentange of S&P 100 stocks above their 200-day moving averages tells the story as we see that current levels of bullishness tend to mark market tops and are usually followed by meaningful declines.
>>Also see: 4 Apps to Help You Snag Discounts >>
5.
Too much bullishness widely in evidence as investors and traders have been totally conditioned to "buy the dip" and believe that the Fed has their backs. The VIX (the CBOE S&P 500 Volatility Index), also known as the "fear index," languishes near historic lows while margin debt is near record highs, similar to those readings of July 2007, set just three months before the beginning of the financial crisis and related bear market.
So can this market ever go down? Yes. Will it ever go down? Yes, and that could happen soon.
remains in red flag status, expecting lower prices ahead.
John Nyaradi is Publisher of
, a financial media site focused on news, analysis, and information about Exchange Traded Funds (ETFs) and global financial and economic developments. John's investment articles have appeared in many online publications and he is a frequent guest on numerous financial media outlets. His book,
Super Sectors
, is published by John Wiley and Sons and included among the "Year's Top Investment Books" in the
2011 Stock Trader's Almanac
.