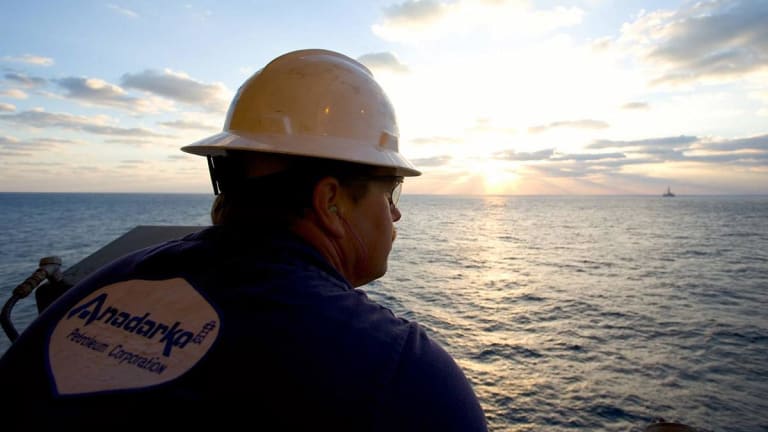 Occidental Sweetens Bid for Anadarko with More Cash
Occidental improves its $76-per-share bid to include $59 a share in cash, aiming to best a rival Chevron offer.
Occidental Petroleum (OXY)   on Sunday revised its $57 billion offer to buy Anadarko Petroleum (APC)  to include $59 a share in cash, up from a previous $38 a share as it tries to push aside Chevron (CVX) in a bidding war. OXY also said it's reached an agreement to sell Anadarko's Algeria, Ghana, Mozambique and South Africa assets to Total S.A. (TOT) for $8.8 billion. 
Occidental amended the terms of its $76-a-share bid for Anadarko to $59 in cash and 0.2934 shares of Occidental common stock per share of Anadarko common stock vs. a previous offer of $38 cash and 0.6094 shares of OXY stock.
The move comes even though Chevron entered into a definitive agreement in April to buy for cash and stock to equal to $65 a share when that proposal was announced, although market moves have since lowered that bid's stock value a bit.
Occidental said Sunday that its revised rival bid would represent "a premium of about 23.3% to the $61.62 per share value of Chevron's pending offer as of market close on May 3." 
OXY also said it had reached a deal to sell Total some of Anadarko's assets equal to about "6% of the expected net production and approximately 7% of the cash flow after capital expenditures of Occidental in 2020 pro forma for the acquisition of Anadarko.
"We are pleased to have secured this agreement with Total," Occidental CEO Vicki Hollub said in a statement. "The $8.8 billion value to be received for Africa represents an attractive value based on our extensive evaluation over the last 18 months. Given our long history of working together productively, I am confident we can execute this sale quickly and efficiently. Total has extensive experience working in Africa and is well positioned to maximize value from these assets."
The proceeds of the sale of would cover part of the "cash consideration" to fund the proposed acquisition of Anadarko, Hollub said. It would also "fast-track" Occidental's divestiture plan, providing for much of the $10 billion to $15 billion in planned asset sales.
Jim Cramer owns Anadarko in his charitable trust. For a rundown of how he plans to play Chevron and Occidental's bidding war for the company, click here for a free 14-day trial of Jim's Action Alert PLUS club for investors and read the latest research note on the situation from Jim and his team of analysts.
Investing Education Quick Clips | A Playlist for Your Portfolio