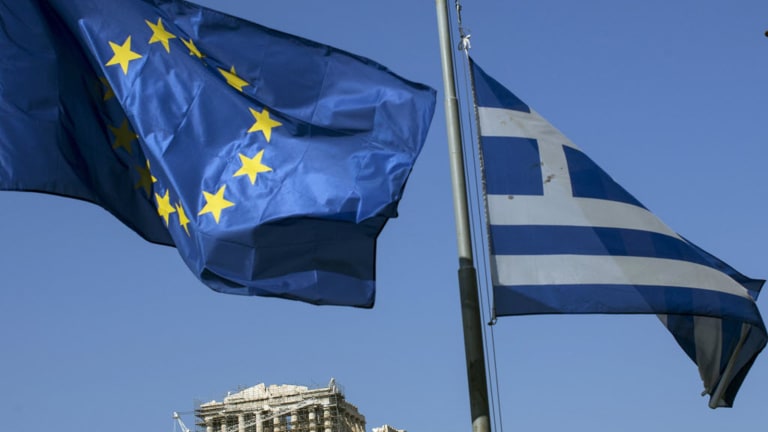 Greece Defaults on $1.7 Billion Debt
Germany promises to negotiate about 'absolutely nothing' before Greece's referendum on bailout proposals, and President Obama says risks from the crisis have been 'properly factored in' to markets.
Germany promises to negotiate about 'absolutely nothing' before Greece's referendum on bailout proposals, and President Obama says risks from the crisis have been 'properly factored in' to markets.
NEW YORK (TheStreet) -- Greece officially defaulted Tuesday on its $1.7 billion debt to the International Monetary Fund, cutting the country off from access to billions of euros. The U.S. markets may advance again Wednesday, given they received a lift Tuesday on the prospect that Greece would default on its IMF loans and the U.S. may delay a rate hike as a result.
But investors will likely have to wait until Sunday to see any significant movement in the Greek debt crisis. That's when Athens officials were hoping to do a referendum to allow its residents to vote on its creditors' bailout proposals.
The best thing for investors to do in the meantime is remain calm, U.S. President Barack Obama said earlier on Tuesday.
"For the American people, this is not something that we believe will have a major shock to the system, but it's obviously very painful for the Greek people," he said in a news conference at the White House. "What we've been encouraging both the Greek government and our European partners to do is to continue to negotiate and find a pathway toward a resolution."
The crisis worsened last weekend, when Greece walked away from negotiations with creditors as Prime Minister Alexis Tsipras called for a referendum, to be held Sunday, on requirements that the country make further financial reforms in return for a rescue. 
On Tuesday, Greece's European creditors began assessing a last-minute proposal Athens made for a new two-year rescue deal, submitted just hours before the country's international bailout program expires and it loses access to billions of euros in funds. That offer involves a proposal to tap Europe's bailout fund -- a pot of money set up after Greece's earlier rescue programs to help countries in need.
German Chancellor Angela Merkel, whose country is Europe's largest economy, rejected the proposal as insufficiently specific, dampening hopes of a quick deal.
"We'll negotiate about absolutely nothing" before the referendum, she said at an event for her political party, the Christian Democratic Union, in Berlin. Merkel had said earlier that talks with Athens could continue even after Tuesday's midnight deadline.
EU officials said Greece would lose access to more than 16 billion euros ($18 billion) in financial support once its bailout expires. While the country can apply for other forms of assistance, those could take days, even weeks, to organize. European officials and Greek opposition parties have been adamant that a "no" vote in Sunday's referendum will mean Greece leaves the euro and possibly even the EU.
What happens next is largely up to Greece itself, and whether the country wants to come back "with its tail between its legs" to the European Commission, the International Monetary Fund and the European Central Bank, said Simon Smith, chief economist at FXPro in London.
"The ball is firmly in Greece's court," he said in a Tuesday interview. "I really don't see the aforementioned creditors making that first move."
The days stretching between now and Sunday's referendum will "make people realize just how much Greece is in the driver's seat," said Peter Tchir, managing director at Brean Capital. "Greece can win by defaulting."
What happens with Greece has the potential to affect growth in Europe, a major export market, significantly and that can have ripple effects in the rest of the global economy, Obama said.
It's important "to make sure that we plan for any contingency and that we work with the European Central Bank and other international institutions to make sure that some of the bumps that may occur in the financial markets, and that have already occurred, are smoothed out," the president said. "It's something that we take seriously, but it's not something that I think should prompt overreactions. And so far, I think the markets have properly factored in the risks involved."