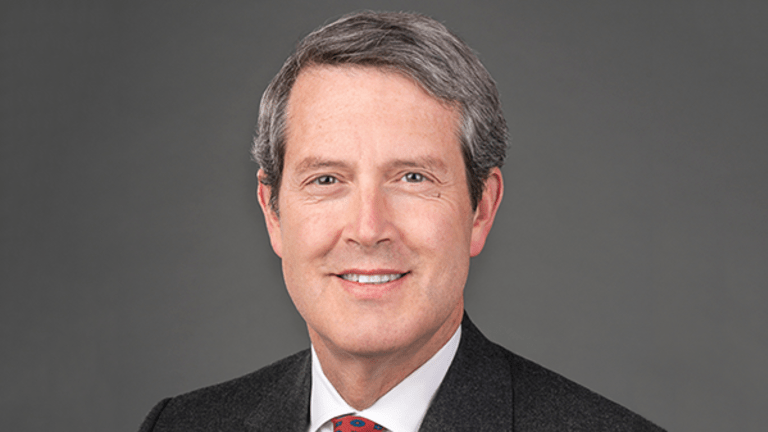 These Are the Top Obama Era Regulations at Risk From Trump's New Bank Supervisor Pick
Easy money time?
President Trump late Monday nominated former Treasury official Randal Quarles as the Federal Reserve's top bank supervisor, a nomination that will lead the way to a dismantling of many Obama Administration bank regulations and one that is expected to send a positive signal for now to big and regional bank stocks.
Quarles' nomination had been expected for months and was confirmed by the White House late Monday. The candidate served in both Bush Administrations before joining buyout shop Carlyle Group in 2006 and later the Cynosure Group.
The appointment should boost stocks of the largest U.S. banks on Tuesday, including Bank of America Corp. (BAC) - Get Report , Wells Fargo (WFC) - Get Report , Citigroup (C) - Get Report , Goldman Sachs (GS) - Get Report , Morgan Stanley (MS) - Get Report and JPMorgan Chase & Co. (JPM) - Get Report . His pick should also make it easier for some regional bank consolidation, with some of the larger mid-size banks such as BB&T (BBT) - Get Report and Regions Financial (RF) - Get Report leading the way with Fed-approved acquisitions.
If confirmed by the Senate, as expected, Quarles will be the Trump Administration's point man on bank regulation. His appointment suggests that the Treasury Department will take steps to ease restrictions imposed on big banks by the Dodd-Frank Act, written in the wake of the 2008 financial crisis.
Legislation would be required to eliminate many of the regulations set up by Dodd-Frank. However, a whole host of restrictions could be eased by the Fed without the need for a legislative overhaul.
For example, the Federal Reserve vice chairman essentially controls stress tests that big banks have been required to undergo before being permitted to buy back shares and issue dividends. The central bank could make the most onerous of the tests, the Comprehensive Capital Analysis and Review, less difficult. Alternatively, Quarles and the Fed could move to eliminate it altogether. Already the Trump Administration has given the biggest banks the authority to increase their capital distributions to nearly 100% of net earnings over the next four quarters, a major hike from 65% last year.
In addition, the Fed could lead the way among regulators to ease restrictions on the so-called Volcker Rule, which is a key restriction designed to keep big institutions from speculative trading on their own accounts. A recent report by the Trump Administration Treasury Department recommends that banks with less than $10 billion in assets be exempted from the Volcker Rule, which is based on a concept introduced by former Fed Chairman Paul Volcker. The report also recommended that regulators could exempt bigger banks for the Volcker Rule if they don't trade a lot, however little detail is provided as to how regulators would oversee such a change.
Isaac Boltansky, analyst at Compass Point in Washington, notes that Quarles has stated that the Volcker Rule was "not well designed." In addition, Quarles has said that the Dodd-Frank Act was a "failure of ambition." 
"Our view remains that Mr. Quarles would use his post as Vice Chair for Supervision to orchestrate a broad deregulatory agenda for the nation's banks, with a focus on increasing stress test transparency, altering the Volcker Rule, and securing relative regulatory relief for regional/community banks," Boltanksy said. "We caution, however, that these changes will be measured in years -- not months. Quarles would surely face pointed questions during his confirmation hearing, but his path to confirmation appears clear." 
Jaret Seiberg, analyst at Cowen Washington Research Group, noted that the new Fed chief of bank supervision will be the "leader of financial deregulation" because the central bank supervises the biggest banks. He said that the nomination would be seen as a positive for big banks.
"That pick should ensure the door is open to sensible changes that can reduce costs and burden," Seiberg said.
A pick of Quarles follows the departure in April of Daniel Tarullo, who unofficially was the top bank supervisor during the Obama Administration. Tarullo effectively filled the role, created by Dodd-Frank, even though he wasn't confirmed by the Senate for it and didn't officially hold the title.
Privately, Tarullo was feared and criticized by many bankers, who grew frustrated when the Fed blocked dividends and stock buybacks because of unclear "qualitative objections" to their risk management plans.
Already the Trump Administration's Fed has eased restrictions on big banks by eliminating the qualitative review aspect of the tests for all but the largest 13 financial institutions. It's possible that the Fed will eliminate the qualitative review by pointing out that the institutions have already raised a significant amount of capital as a buffer against future financial crises.
As a Fed governor, Quarles will also have a voice in the Federal Open Market Committee's decisions on interest rates.
He's generally seen as more hawkish on interest rates than many current FOMC members, as well as being opposed to breaking up big banks deemed "too big to fail" during the financial crisis of 2007-2009.
Wells Fargo and Citigroup are holdings in Jim Cramer's Action Alerts PLUS Charitable Trust Portfolio. Want to be alerted before Cramer buys or sells WFC and C? Learn more now.
Visit here for the latest business headlines.