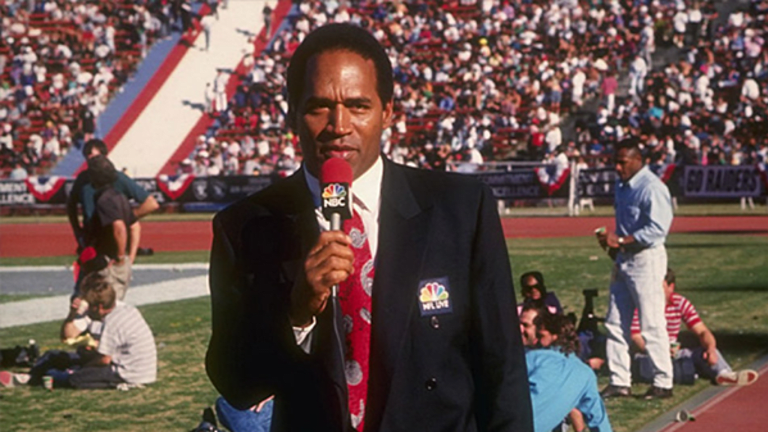 O.J. Simpson Is a Free Man After 9 Years In Prison: Here's a Look Back
O.J. Simpson left a Nevada jail on Sunday after serving nine years behind bars for armed robbery. Here's a look back at his career.
The Juice is finally loose.
O.J. Simpson walked out of a Nevada prison shortly after midnight on Sunday following nine years in the can. Simpson was granted parole on July 20 by the Nevada Board of Parole Commissioners.
Nearly 25 years ago the country was sent into a state of shock when television sets across the nation were instantly tuned to a slow-speed police chase involving one of the biggest American celebrities at the time, football legend O.J. Simpson.
What followed was dubbed the "Trial of the Century" in which Simpson was acquitted of the murders of his ex-wife Nicole Brown Simpson and her friend and restaurant waiter Ron Goldman on June 12, 1994.
But, the troubles wouldn't end there for O.J.
The former NFL MVP served a nine-to-33-year sentence for the 2007 armed robbery of two sports memorabilia dealers. 
In light of Simpson being freed, TheStreet compiled some of The Juice's career accolades. 
Ford (F) - Get Ford Motor Company Report has come a long way since O.J.'s legenary Bronco. 
Career Accomplishments in Football 
O.J. Simpson built a Hall of Fame career during his 11 seasons in the National Football League. 
Simpson was named the league's Most Valuable Player during the 1973 season, a year in which he became the first player to break the 2,000 yard rushing mark in a season (he did it in only 14 games).
Simpson also holds the current NFL record for rushing yards per game in a single season. 
Prior to joining the NFL, Simpson won both a National Championship and a Heisman Trophy while playing at the University of Southern California. 
Spokesman
In 1975, Hertz Rent-A-Car made Simpson the first African-American male hired for a major national corporate advertising campaign. 
The campaign would prove wildly successful and propel Simpson into other marketing campaigns for companies including Royal Crown Cola, Schick, Foster Grant, Treesweet orange juice and Wilson Sporting Goods.
Actor 
Simpson has stared in many Hollywood movies including the Naked Gun trilogy in which he played Detective Nordberg.
Before he set off on his film career, he stared in the television mini-series Roots in 1977. 
The Juice has also acted in the Towering Inferno and Capricorn One.
Broadcaster 
O.J. Simpson spent time working as a sideline reported and broadcaster for football games after retiring from the sport.
Simpson was the color analyst on Monday Night Football from 1983-85. 
For the 1989 season, Simpson was an analyst for NBC's NFL Live! alongside Bob Costas. Simpson remained on the program until the end of the 1993 season.