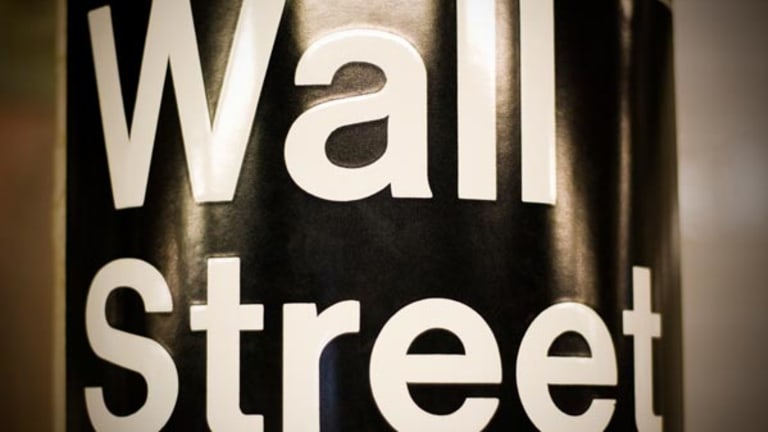 NYSE Euronext Suffers From Stock Slump
Euronext's earnings are being hurt by the market decline, even though trading is volatile.
Euronext's earnings are being hurt by the market decline, even though trading is volatile.
Regarding the stock selling that has been going on recently, even the place, or exchange, where the transactions take place isn't expected to do all that great either.
The consensus forecast for securities-exchange behemoth
NYSE Euronext
(NYX)
is for earnings-per-share growth to slow to 3.6% next year from 34.6% in 2005, 391% in 2006 and 197.1% last year. For fiscal 2008, ending this month, analysts expect growth of 11.9%.
TheStreet.com Ratings' model computes a grade of "D" for NYX, which equates to a "sell" recommendation.
NYX shares, which traded in the $100-$110 range in late 2006 and early 2007, have been moving steadily lower and changing hands in the low $20s.
Euronext has grown to much more than just New York's Big Board. In addition to the New York Stock Exchange, it includes the six-country European equity exchange group Euronext, European derivatives exchange Liffe, futures exchange NYSE Liffe and NYSE Arca Options. In October, it finalized the acquisition of the American Stock Exchange.
Euronext offers trading in 4,600 listed securities from 3,600 issuers in 55 countries, with a cumulative market capitalization of $30 trillion as of the end of last year. Besides equities, products traded by NYX units include options, closed-end and exchange-traded funds, listed debt, convertible securities, warrants and futures. They also handle transactions in derivate vehicles such as structured and repackaged products and equity-linked as well as index-linked securities. The firm's offerings include market data and securities-related technology solutions.
NYX's Euronext unit is an integrated cross-border exchange combining the former stock exchanges of France, the Netherlands, Belgium and Portugal into a single market.
More familiar to Americans, the firm's NYSE Arca division is an electronic exchange for stocks and other securities that initially do not qualify for listing on the NYSE, but nonetheless meet U.S. registration, accounting and governance standards. Many ETFs and exchange-traded notes, or ETNs, are listed on NYSE Arca, and the recent acquisition of the American Stock Exchange will make NYX the dominant marketplace for those popular investment and trading vehicles.
Investors can trade more than 8,200 equity securities and about 200,000 option products through NYSE Arca.
The firm's competitors include the
London Stock Exchange Group
(LSE)
, the commodities trading powerhouse
CME Group
(CME) - Get Report
and the
Nasdaq OMX Group
.
Richard Widows is a senior financial analyst for TheStreet.com Ratings. Prior to joining TheStreet.com, Widows was senior product manager for quantitative analytics at Thomson Financial. After receiving an M.B.A. from Santa Clara University in California, his career included development of investment information systems at data firms, including the Lipper division of Reuters. His international experience includes assignments in the U.K. and East Asia.