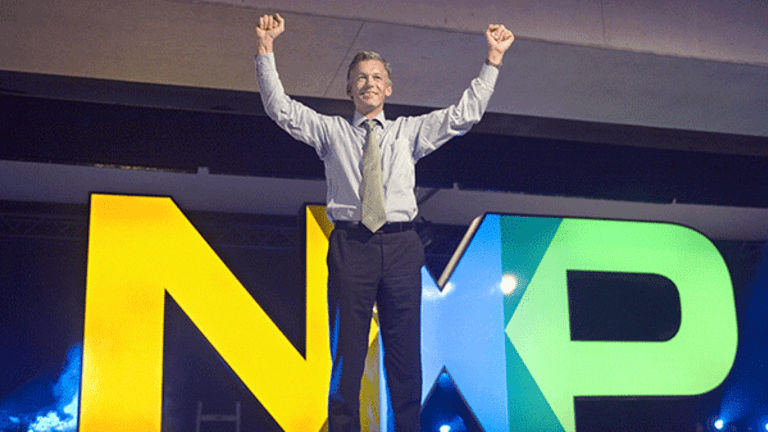 Publish date:
NXPI, WBA, DOW: Jim Cramer's Views
Cramer shares his views on the unkillable market. NXP Semiconductor, Walgreens and Dow Chemical are among the stocks discussed.
Cramer shares his views on the unkillable market. NXP Semiconductor, Walgreens and Dow Chemical are among the stocks discussed.
Jim Cramer shares his views every day on RealMoney.Click here for a real-time look at his insights and musings.
Cramer: Takeover Talk Drowns Out Earnings Report
Posted at 4:01 p.m. EDT on Friday, Oct. 21, 2016

Takeovers just change the equation. They scare shorts, and shorts are integral to putting out supply that often tends to stop stocks in their tracks.
Take this Time Warner (TWX) deal. If you are short Netflix (NFLX) - Get Report or Viacom (VIAB) - Get Report , the first because you think it has too big a run and the second because the fundamentals are awful, you fear any Time Warner deal on Monday. You feel you should cover because both are going to be rumored instantly if there is a deal. Who can stay short in that environment?
Likewise, if we get more consolidation in the semis, meaning if Qualcomm (QCOM) - Get Report , buys Action Alerts PLUS holding NXP Semiconductor (NXPI) - Get Report for the rumored $110 price, then do you want to be short Skyworks (SWKS) - Get Report or Qorvo (QRVO) - Get Report or Micron (MU) - Get Report ? I don't think so.
Normally, we would be focused just on earnings, but these takeovers hijack the narrative. But these days it's too hard to just focus on earnings given that these companies are huge and make it so other than the hundred-billion-dollar club you have to expect that anything can happen.
I find it ironic given that the Feds just blocked Lam Research (LRCX) - Get Report and KLA-Tencor (KLAC) - Get Report , are giving Action Alerts PLUS holding Walgreens (WBA) - Get Report and Rite Aid (RAD) - Get Report a real hard time and don't seem inclined to let DuPont (DD) - Get Report and Dow Chemical (DOW) - Get Report , which is a holding in Cramer's Action Alerts PLUS, merge so easily.
No matter, the prospective deals are in control and there are lots of tales to spin that make a ton of sense even when the fundamentals may be weaker than expected.
Action Alerts PLUS, which Cramer manages as a charitable trust, is long NXPI, WBA and DOW.
Cramer: Lam Research and Skyworks Are Priced Too Conservatively
Posted at 6:17 a.m. EDT on Friday, Oct. 21, 2016

The idea of a peak in the semiconductor cycle--cellphone, semi equipment, whatever--flies in the face of every quarter I am hearing, yet it remains a dominant theme among the mutual and hedge fund managers I listen to.
When they aren't being out-and-out bearish, most of the managers that come on television or talk about the market can't find a cycle that they like. But they can easily find ones they don't: namely anything having to do with cellphones and cellphone chips, because of problems with Samsung and because Action Alerts PLUS charity portfolio Apple (AAPL) - Get Report is already tapped out and because there's nothing new under the sun.
But there I was Thursday, talking with Martin Anstice, the CEO of Lam Research (LRCX) - Get Report and Liam Griffin, the CEO of Skyworks (SWKS) - Get Report , and I simply have to wonder what the heck they are talking about.
First of all, cellphones are now part of a vast ecosystem that devours all sorts of chips to do everything. A cellphone that runs in conjunction with the connected home and the connected car is not some hardware device. It is a complicated machine that does all sorts of thinking and learning for you and is packed with chips.
It's the same thing as a car. That's not going to be a piece of hardware, it is still one more delicate piece of machinery that is loaded with chips, typically chips that are made by the same companies as those in a cellphone.
Everyone seems to want to pigeonhole Skyworks into a chipmaker for cellphones, and I am not going to say that it isn't. Apple and Samsung matter tremendously to it. But Skyworks is only one acquisition away from being Broadcom (AVGO) - Get Report , and it's got plenty of cash to be it. In the meantime, its expansion into autos and healthcare is happening pretty quickly. Oh, and it isn't so bad to be the largest semi content in Apple, when Apple can't make enough phones.
Lam?
What can I say? I thought the KLA-Tencor (KLAC) - Get Report -Lam deal was exactly what was needed, given all the consolidation in the semi business. Its customers were consolidating, so it would have helped to have it be able to merge with KLA. Sure, maybe the customer said one thing to Justice and another thing to Martin, but even without KLAC, these semi companies can't make what they need for more complex devices without Lam's help.
The real knock on Lam, I think, could be a slowdown in spending from the biggest semi company out there that spends on equipment, Samsung, simply because I believe that people continue to underestimate how much this Galaxy Note 7 fiasco is going to cost them. That's especially as we still haven't heard the complete fallout from the largest market, China, because of the possibility that Samsung out and out dissembled to important individuals within the 88 million-strong Communist Party membership. They may have to cut back simply because of the losses for the Galaxy line.
That said, Internet of Things, machine learning, artificial intelligence: these aren't all software issues. They are hardware issues. They aren't peaking. They are in secular growth mode. The stocks are reflecting peaks as if they are still in the old cyclical mode of personal computers or something.
I think that's way too conservative, if not plain wrong. These companies are making too much money--have you seen the size of their cash hoards? $7 billion for Lam and $1 billion for Skyworks with no debt--and have too many possibilities to sell them here, now, especially going into what has long been the seasonably strong fourth quarter.
Action Alerts PLUS, which Cramer co-manages as a charitable trust, is long AAPL.
Cramer: I'm Changing Direction and Moving Into the American Express Lane
Posted at 2:56 p.m. EDT on Thursday, Oct. 20, 2016

I had been wavering on Netflix, even taking its letter out of FANG, changing the acronym to FAA as Google had changed its name to Alphabet. I liked it because FAA, as we know from Sound of Music, means there's a long, long way to run, and I didn't know if Netflix would hold FANG back. But I know Hoag, he used to be on the board of TheStreet and his venture capital company, Technology Crossover Ventures, the largest shareholder in TheStreet, had put a lot of money into Netflix at much lower levels. If you are real smart like Hoag and you plunk down that much change, you aren't doing it idly, so I caveated my negativity because of my family's love of the Netflix programming and Hoag's savvy style.
Don't overstay your welcome. Don't dig in your heels and ignore change just because you had one set of facts that you want to stick to even as that narrative has changed, for the worse or for the better.
This isn't original thinking. It was the legendary economist John Maynard Keynes, when asked why he flip-flopped on an issue, allegedly said, "When the facts change, I change my mind. What do you do, sir?" I say allegedly because no historian has ever been able to precisely pin down Keynes' words, but the sentiment certainly rings true.
Take today. The stock of American Express (AXP) - Get Report is the biggest winner in the S&P 500 and it deserves to be because the facts changed. American Express had been a serial guider-downer, meaning that almost every quarter produced a disappointment and analysts had to cut numbers. Your stock doesn't drop from $95 to $60 in a two-year period because you're doing well.
This particular quarter announced last night was set up to be a truly horrendous one because not only did we expect the usual excuse-making and alibi-mongering for the lack of operational growth, the company also let the lucrative Costco (COST) - Get Report contract go to Visa (V) - Get Report and Citigroup (C) - Get Report . I know I was asked what to expect of American Express several times this last week, and all I could think of was I expect another disappointment. (Costco and Citigroup are part of TheStreet's Action Alerts PLUS portfolio.)
Instead, we got a solid quarter with excellent growth and a re-acceleration of spending to get more customers, not the usual cost cutting that would shrink the base and make the company less competitive.
When I saw the number I realized, OK, I had overstayed my welcome on the negative side of the story and it was time to switch directions.
I know that in this YouTube world, it is incredibly easy to dial up a contradictory clip. I have slagged American Express repeatedly. I couldn't see the value proposition anymore, but I had gotten a card out of school more than 35 years ago, and I was keeping it almost for sentimental reasons. It just seemed atavistic.
Then a few weeks ago, I was flying up to see my daughter in Oregon, and I wanted to use the United lounge while I killed time to get some work done. Even though I was flying United, I didn't have a card, so they wouldn't let me in. I was visibly upset but the nice woman at the counter asked if I had a platinum American Express card. I said yes, and she said why not go to the Centurion Lounge. I asked what the heck that was. She said it's a fabulous place that American Express has provided to platinum members.
Next thing I know, I am in the equivalent of my own office replete with some darned good food, excellent libations and, lo and behold, my own power outlet. It was heavenly.
I should have changed my mind right then, but it's not that simple. A serial underperformer doesn't get out of the doghouse that easily, especially when I thought giving up the Costco business was just plain dumb, no matter how much it costs.
Now, I know, after this quarter, where the company said on its call that it had bought back 7% of its shares year to date, that the story has changed. American Express is back on track because it is giving members a bargain that beats the other guys.
It's a buy.
You see, narratives do change and you do need to keep up with the changes. Take Netflix (NFLX) - Get Report . Three days ago, it was at $99. Thursday, it's at $123. Why? Because the whole story changed. Netflix trades on sign-ups. The sign-ups had been weaker of late even as the company had repeatedly told you not to look at its growth on a quarter-to-quarter basis. You need to think long term.
How long term? How about the timeframe of a smart director, Jay Hoag, who bought 900,000 shares in the open market this summer at $89. Insiders can't flip stock. They have to be in for the long term.
Some of the so-called smartest money on Wall Street bet against Netflix, though, assuming it just had to screw up. You see what happens when the short-sellers are the ones to screw up. You get three straight days of gains.
Or how about Snap-On Tools (SNA) - Get Report , an old Mad Money favorite. Lately, the shorts had circled around the stock of Snap-On, saying it had made too much money on its finance arm and not enough on its operations. Thursday, it reported a stellar operations number and another strong finance number, but what the shorts have now been schooled on is the idea that the incredible collection rate of Snap-On is because the company knows its customers. That's how Snap-On's stock jumps 10 points on an otherwise soggy day.
Or as I talked about Wednesday, the stock of United Airlines (UAL) - Get Report , once the worst performer of the airlines, has leapfrogged over its compadres even as its numbers ahead simply aren't as bad as they used to be. The market has valued this company as the worst operator and therefore judged it far more harshly than the others, as witnessed by its well-below-average price to earnings multiple. What people didn't realize is that Oscar Munoz, the new CEO, is simply a much wiser, better operator than the old team. If you don't believe me, go ask any United employee. I poll all of them because, as I said earlier, I fly United a ton, and I keep hearing the same thing: We're treated much better and the on-time ratio and complaint ratio are much better than they used to be.
Again, I know, those are intangibles, but they are intangibles that lead to a changed narrative, a much more positive one, so the market's willing to pay more for its numbers. I think that, like Snap-On and American Express and Netflix, you aren't going to flick a switch back and reverse the process.
Every day we see stories that change. Every day we have to challenge our assumptions. Don't be so negative on Mattel (MAT) - Get Report , Barbie's growing again. Better get a little more negative on the rails as Union Pacific's (UNP) - Get Report stock plunge signals too much excitement.
But the most important thing you need to be thinking about is that you have to be flexible. For me, with clips that can be run about anything I might have said at one time even if I have changed my mind, this world can be a challenging one, demanding thick skin. But if I dig in my heels and say, "Just you wait, the stock of American Express shouldn't be up because, well, I don't know, it just shouldn't be," then I may be consistent; however, I would also be wrong.
This isn't politics. It's not flip-flopping. The facts have changed, you have to change your view, too. Unless, of course, you care more about being consistent and losing money than you do about being right and making some.
Action Alerts PLUS, which Cramer co-manages as a charitable trust, is long COST and C.
Action Alerts PLUS, which Cramer co-manages as a charitable trust, is long COST, C, AAPL, NXPI, WBA and DOW
.