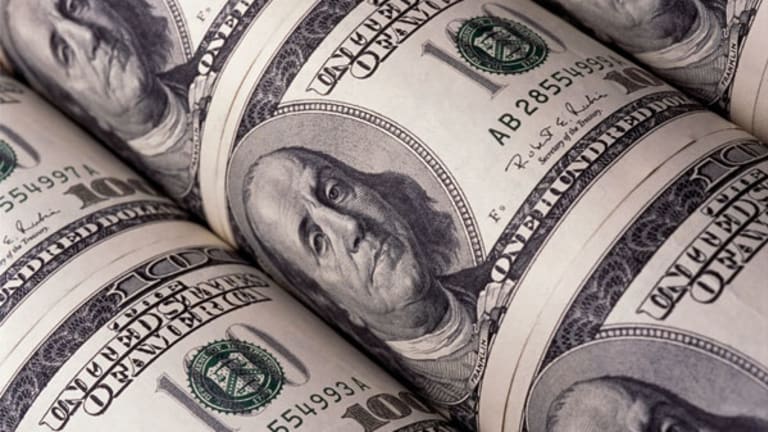 NXPI, AAPL, C: Jim Cramer's Views
Cramer shares his views on takeover talks. NXP Semiconductor, Apple and Citigroup are among the stocks discussed.
Jim Cramer shares his views every day on RealMoney. Click here for a real-time look at his insights and musings.
Cramer: Takeover Talk Drowns Out Earnings Report
Posted at 11:26 a.m. EDT on Thursday, Oct. 27, 2016

We are seeing what's known as a re-rating of some big sectors on the fly right now, meaning that institutional investors are pushing money toward groups that had been neglected or had stalled out that have suddenly come alive.
Take the banks. They are a huge part of the stock market and are very far behind the averages. That's because they have been stuck in interest-rate hell. They simply can't make all the money they once did on your deposits because rates are so low. Investors have pinned their hopes on the Fed to raise rates and generate higher profits in the classic risk-free fashion.
But today there's not much focus on the Fed. The focus is on fees, fees and more fees. Maybe enough fees to make it so people will want to own financials for more than just their net interest margins.
When giant deals like ZTO Express, a Chinese logistics company, come public -- the largest deal of the year--we have to take notice, especially when it sounds like Snapchat, which will be a colossal deal, might not be all that far away.
There haven't been many initial public offerings, a very lucrative business, this year and it has hurt the equity sales and trading/corporate finance lines of brokers. That could change this quarter.
When you see deals like the $47 billion buy of longtime Action Alerts PLUS holding NXP Semiconductor (NXPI) - Get NXP Semiconductors NV Report by Qualcomm (QCOM) - Get Qualcomm Inc Report , a deal that has driven up the acquirer's stock dramatically, you can taste the big merger and acquisition fees, especially when this deal comes right on the heels of the $85 billion purchase of Time Warner (TWX) by AT&T (T) - Get AT&T Inc. Report . (Qualcomm and AT&T are part of TheStreet's Dividend Stock Advisor portfolio.)
When you see the wild trading in currencies coupled with all the bond activity -- both issuance and trading -- you have to start thinking that maybe the Brexit turmoil that brought rich trading fees may not be so one-time-only.
And when you see the loan growth that we are getting at large banks like Bank of America (BAC) - Get Bank of America Corp Report and JPMorgan (JPM) - Get JPMorgan Chase & Co. Report as well as the smaller regionals like KeyCorp (KEY) - Get KeyCorp Report and Huntington Bancshares (HBAN) - Get Huntington Bancshares Incorporated Report , you have to believe that gross margins could at last be climbing just from borrowing alone. (Huntington Bancshares is part of TheStreet's Stocks Under $10 portfolio.)
How big can the ripples be? I will go out on a limb here and say that if the Federal Reserve raises rates in December, you may see even the most beleaguered company in the universe right now, Wells Fargo (WFC) - Get Wells Fargo & Company Report , see its stock go higher. Now that would really be something. In the meantime, the cheapest remains Action Alerts PLUS holding Citigroup (C) - Get Citigroup Inc. Report , which I think can vault 15 points before I would be concerned about its valuation. (Wells Fargo is part of TheStreet's Action Alerts PLUS portfolio.)
Similarly, we are seeing a re-rating of the oil service stocks. Once oil got to $50, domestic drilling has truly picked up in this country. The big dogs that provide assistance to the oil companies that work in the bigger shales like the Permian or in what's known as SCOOP in Oklahoma are seeing a revival. That's how the stocks of Halliburton (HAL) - Get Halliburton Company Report and Baker Hughes (BHI) have been such horses.
Finally, I remain firmly convinced that the airline stocks are back to stay. I say that because when one of the best-run airlines, Southwest Air (LUV) - Get Southwest Airlines Co. Report , says some pretty downbeat things about current business and the rest of the stocks in the cohort either down go down or are hit with just glancing blows or even go higher on the same day, that's just a plane of a different color. It's the much better-run United Continental (UAL) - Get United Airlines Holdings, Inc. Report that remains the draw in the group.
The banks, the oil service companies and the airlines, all groups that the market had given up on for the last year, are all inching back, all primed to explode higher if just a few more things go well.
Action Alerts PLUS, which Cramer co-manages as a charitable trust, is long NXPI, C and WFC.
Cramer: Demand Lifts Defense, Aerospace, Cybersecurity, Regional Bank Stocks
Posted at 4:19 p.m. EDT on Wednesday, Oct. 26, 2016

What's driving higher the stocks that are working in this market? What are the secret sauces behind the propulsion? And what's causing some stocks to plummet even as it looks like, on the surface, nothing's wrong?
This group's been overly punished but until some company stands up and bucks the trend I see this group, including Zimmer Biomet (ZBH) - Get Zimmer Biomet Holdings, Inc. Report , Stryker (SYK) - Get Stryker Corporation Report and even the much loved Medtronic (MDT) - Get Medtronic Plc Report , Becton Dickinson (BDX) - Get Becton, Dickinson and Company Report and Baxter International (BAX) - Get Baxter International Inc. Report , remaining in the doghouse.
These are great questions for the moment given that we are in the most intense days of earnings season and snap judgments are being rendered and then re-rendered on the fly in what is an insanely difficult moment.
How insane? Before we delve deeper, consider the stock of Boeing (BA) - Get Boeing Company Report , which has spent tons of time in the wilderness after a very long period of outperformance. This morning it guided up on both earnings and revenues and the stock launched four points before the opening. Then the company told you that some part of the enterprise, namely wide bodies, which has soft sales in "mature wide bodies," and the stock plummeted six points, but then when it made it clear that the demand for narrow bodies is off the charts the stock snapped back to where it was in the premarket.
So look at the arc: Guide-ups that are accepted, then challenged, then accepted again -- all within two hours' time.
But the signature reason why the stock's climbing?
Demand. In the end Boeing explained that there is tremendous demand for its overall product line and that's long-term demand. The cycle is intact.
Yes, demand is, right now, the No. 1 reason that's driving stocks higher.
Same thing goes for the launch of the stock of Akamai (AKAM) - Get Akamai Technologies, Inc. Report . You may not know Akamai, but it is a content-delivery system that is used by many companies to send streaming presentations over the internet. Until today many investors thought this was a commodity business. But the essence of what Akamai talked about on its call, right up top, was the need for a secure network. In a time when cyberterrorism is running rampant, at a time when even Preet Bharara, the whipsmart U.S. Attorney for the Southern District of New York, admits that the government is behind the times on cybersecurity, it's a better thing to rely on a secure network rather than on an unsecure one. Hence the magnificent nine-point gain, one that is reminiscent of the triumphant run in Proofpoint's (PFPT) - Get Proofpoint, Inc. Report stock when it recently saw its surge in business because it keeps email secure.
Or how about the gigantic gain in the stock of Northrop Grumman (NOC) - Get Northrop Grumman Corporation Report ? There is off-the-charts demand for defense gear not just from our country but from around the globe. And Northrop's following the pattern established yesterday by Lockheed Martin (LMT) - Get Lockheed Martin Corporation Report , which revised guidance up huge.
How about one that's a little harder to gauge? It looks like there is stirring demand for money, that's right, money that is lent from banks. We heard that yesterday from Beth Mooney, the CEO of Keycorp (KEY) - Get KeyCorp Report , and we heard it today from Huntington Bancshares (HBAN) - Get Huntington Bancshares Incorporated Report . The Regional banks remain a terrific place to go.
Okay how about the flipside? Who doesn't have demand? I think there are some possible opportunities here, but let's begin with the Edwards Lifesciences (EW) - Get Edwards Lifesciences Corporation Report , which has the breakthrough heart device that allows doctors to perform important heart surgery without having to crack open the chest cavity. This company has beaten numbers and beaten numbers and beaten numbers again. You know how that works. You saw it with Ulta Salon, Cosmetics & Fragrance (ULTA) - Get Ulta Beauty Inc Report , the cosmetics company. At a certain point the analysts figured out the game and just took numbers up where they couldn't be crushed any longer. Does that mean demand has slowed? For some aggressive money managers the answer is a resounding yes. The combination of the sharp decline in Edwards Life sciences and the actual shortfall in the earnings from NuVasive (NUVA) - Get NuVasive, Inc. Report , which markets surgical spine treatments has caused people to run from everything device, including Abiomed ABMD, a cardiovascular company that reports tomorrow and DexCom (DXCM) - Get DexCom, Inc. Report , a diabetes monitoring company reporting next week.
The airlines are a tough call. I had been building a thesis that demand is going to become more positive in 2017 and that's been a winning theory that has been driving the stocks until Southwest's (LUV) - Get Southwest Airlines Co. Report Gary Kelly lowered the boom this morning and said that he sees passenger revenue miles headed down 4% to 5%. Southwest's the most reliable in the group, but I found myself thinking don't give up the airline ship especially United Continental (UAL) - Get United Airlines Holdings, Inc. Report , which is becoming a most-improved airline under new CEO Oscar Munoz, and Southwest's issues are giving you a chance to buy UAL on a dip. In fact, I reiterate that the group should be bought and it's important to note that Delta's (DAL) - Get Delta Air Lines, Inc. Report stock didn't even go down after Southwest's warning.
Here's a tough one. Is there enough demand for sportswear apparel? Some of my favorite companies' stocks have been crushed during this period, including both Nike (NKE) - Get NIKE, Inc. Class B Report and Under Armour (UA) - Get Under Armour, Inc. Class C Report . Kevin Plank the CEO of Under Armour came on my friend Scott Wapner's "Halftime Report" and told a story of having to spend money to keep up sales and that's being flagged as a problem in demand. I think the real issue is that you have a battle for share among three crafty players, Under Armour, Nike and a renewed Adidas and no one wins on the battleground except the arms dealer. My conclusion: Buy Footlocker (FL) - Get Foot Locker, Inc. Report , which is a pure beneficiary of the suppliers' nightmare struggles.
Finally, let's talk about Action Alerts PLUS holding Apple (AAPL) - Get Apple Inc. Report , which is the elephant in the room. Elsewhere I talk about the shoddy way I think the analysts treated CEO Tim Cook last night, questioning the companies' growth strategies, actually asking in several different ways if it even has one. I think that the most important issue on the whole call, the one that seemed to elude all of the analysts, is that demand is greatly exceeding supply. I take Apple at face value and I think you should own it and not trade it because its products are loved, the stock is inexpensive and it has a growing service stream that, within a year, will be visible to all as another reason to step up and buy the stock.
The antipathy ran deep, though, oddly among many analysts who are actually recommending the stock, so it might take another day to settle. I know if you listened to the call the analysts' questions implied a boatload of reasons to dump the stock. Let me just say for the record that they had the same objections twenty points lower and where did that get them and more important where did it get you?
I know the answer. On the wrong side of the investment.
Oh, if I am going down the path of telling you what else is driving stocks I would be remiss not to mention that takeover talk is still a main driver. Last night Apple talked about doing a possible large acquisition. When you think acquisition these days you think about content--thank you AT&T (T) - Get AT&T Inc. Report with its pursuit of Time Warner (TWX) --so once again Netflix (NFLX) - Get Netflix, Inc. Report runs on the theory that Apple can easily afford the $70 billion that I think it would cost to buy that company, lock stock and barrel. All I can say is that they weren't interested at $25 billion I sure hope they aren't interested now.
Action Alerts PLUS, which Cramer co-manages as a charitable trust, is long AAPL.
Action Alerts PLUS, which Cramer co-manages as a charitable trust, is long
NXPI, C, AAPL and WFC
.