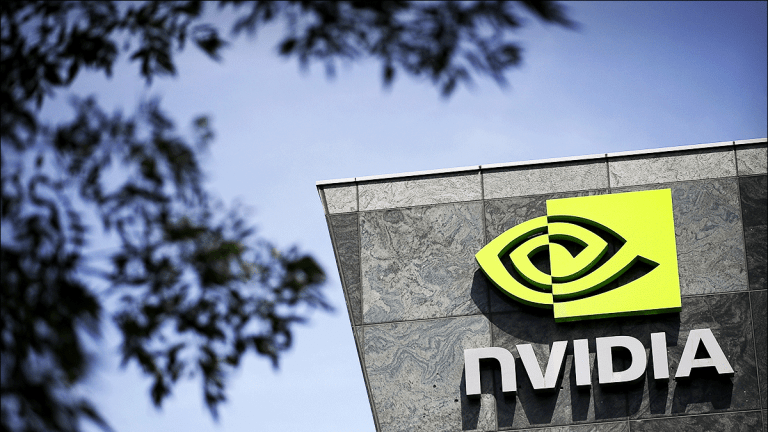 Nvidia Unveils New Products Targeting Notebook Buyers and Cost-Sensitive Gamers
The GPU giant is looking to shore up a mid-range GPU business recently hurt by a plunge in demand from cryptocurrency miners.
Two months after issuing soft guidance that was blamed on pressures in its mid-range PC GPU business Nvidia (NVDA) - Get NVIDIA Corporation Report is eager to give more cost-sensitive PC gamers a new reason to open up their wallets.
At a Las Vegas event on Sunday night ahead of this week's Consumer Electronics Show (CES), Nvidia CEO Jensen Huang unveiled the GeForce RTX 2060, a desktop gaming GPU based on his company's recently-launched Turing architecture that sports a relatively aggressive $349 retail price. For comparison, the company's first three Turing gaming GPUs -- the RTX 2080 Ti, 2080 and 2070 -- sport starting prices of $999, $699 and $499, respectively.
Nvidia also announced that gamers buying the RTX 2060, which becomes available on Jan. 15th, can get a copy of either Electronic Arts' (EA) - Get Electronic Arts Inc. ReportAnthem or Battlefield V thrown in. Those buying the RTX 2080 or 2080 Ti get both games.
In afternoon trading on Monday, Nvidia shares were up 6.11% to $144.54 after having risen 6.4% on Friday.
Like costlier and more powerful Turing gaming GPUs, the RTX 2060 supports real-time ray tracing, a demanding graphics-rendering approach that -- by delivering much more realistic shadows, reflections and refractions than are possible with traditional rendering approaches -- is promised to yield gameplay with photorealistic imagery. Several demos showcased over the course of Nvidia's event highlighted the potential of real-time ray-tracing, made possible on Turing GPUs via specialized processing cores known as RT cores, to deliver game content that's hard to distinguish from movie imagery.
Whereas existing RTX GPUs support between 6 and 10 gigarays per second of ray-tracing performance, the RTX 2060 only delivers 5 gigarays per second. However, Nvidia insists this is enough to deliver an adequate experience for mainstream gamers; a demo showed a system with an RTX 2060 playing Battlefield V with ray-tracing enabled at a 1440p resolution.
The company also asserts the 2060 will outperform its older GTX 1060 mid-range GPU, which is based on its older Pascal architecture, by 60% when running existing (non-ray traced) games. The 1060 launched in July 2016 with a $249 MSRP.
In addition to ray-tracing, the 2060 and other Turing gaming GPUs support (via specialized cores known as Tensor cores) deep learning super sampling (DLSS), a technique that attempts to boost game performance by using trained AI/deep learning algorithms to add content to a rendered scene, rather than relying on more computationally demanding anti-aliasing techniques. Though enabling ray-tracing hurts the performance of a game (as measured in frames per second, or fps), Nvidia insists enabling both ray-tracing and DLSS can yield better performance than leaving both off.
Separately, Nvidia announced that notebook versions of its RTX GPUs will be available on commercial systems starting Jan. 29th. 40-plus systems from major notebook OEMs are promised, including 17 that support Nvidia's Max-Q platform for building thin-and-light gaming notebooks.
The moves come after Nvidia guided in its October quarter earnings report for January quarter revenue of $2.7 billion, plus or minus 2% -- an outlook that implied a 7% annual revenue drop at its midpoint. Nvidia blamed the guidance on a mid-range Pascal GPU inventory overhang that was blamed on a plunge in demand from cryptocurrency miners.
Huang said on Nvidia's Nov. 15th earnings call that the inventory issues will take "one to two quarters" to correct, and that Nvidia has responded to the problem by deciding not to sell any more GTX 1060 GPUs into the channel during the January quarter. Launching the RTX 2060 should help offset at least some of the near-term damage caused by the Pascal inventory overhang.
Meanwhile, bringing the RTX line to the notebook market should bolster a business that wasn't affected by the crypto mining boom and bust. During the Nov. 15th earnings call, both Huang and CFO Collette Kress mentioned that Nvidia's notebook gaming GPU sales remained strong in the October quarter, with sales to China rising 50%.