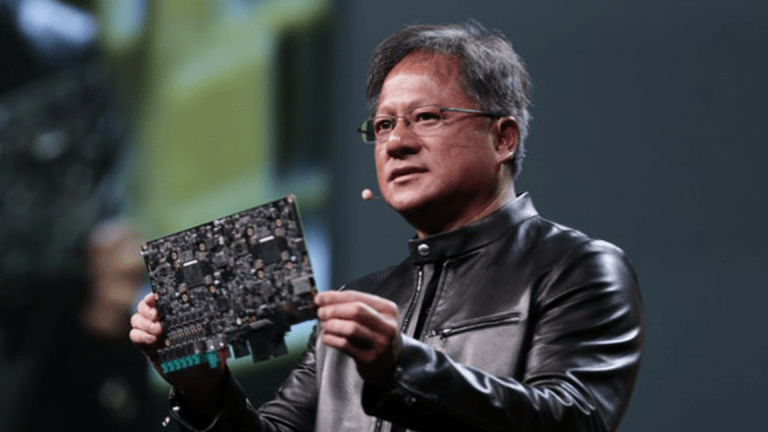 Nvidia Slides In Spite of Beating Estimates: 7 Key Takeaways
Strong demand from gamers and cloud giants helped Nvidia beat estimates and issue solid sales guidance. But its comments on cryptocurrency mining demand are leading to profit-taking.
A steep slowdown in demand from cryptocurrency miners is tempering enthusiasm for what in many ways is a strong Nvidia (NVDA)  earnings report.
After the bell on Thursday, Nvidia reported April quarter (fiscal first quarter) revenue of $3.21 billion (up 66% annually) and GAAP EPS of $1.98, handily beating consensus analyst estimates of $2.89 billion and $1.46. All five of Nvidia's reported market segments -- Gaming, Datacenter, Automotive, Professional Visualization and OEM & IP -- beat consensus revenue estimates.
Nvidia also guided for July quarter revenue of $3.1 billion, plus or minus 2%. That implies 39% growth at the midpoint and is above a $2.95 billion consensus.
Nonetheless, shares were down 3% in early trading Friday. They sold off in after-hours trading on Thursday after CFO Colette Kress stated on Nvidia's earnings call that July quarter sales of products meant specifically for cryptocurrency miners would be around one-third of an April quarter level of $289 million (9% of Nvidia's total revenue). GPU archrival AMD's (AMD) shares were down over 2% in Friday trading.
High expectations have something to do with Nvidia's decline: The GPU giant went into earnings close to an all-time high of $260.50, and trading for 36 times a fiscal 2020 (ends in Jan. 2020) EPS consensus of $7.19 (that's likely to go up a bit post-earnings). Here are some key takeaways from Nvidia's earnings report and call:
Ahead of the July quarter slowdown, crypto demand provided Nvidia with a healthy revenue boost in the April quarter. Sales of the aforementioned crypto-specific products helped Nvidia's total OEM & IP revenue (it also includes non-gaming GPUs sold to PC OEMs) more than double sequentially and annually to $387 million. And with some miners buying regular gaming GPUs, it was one reason (though by no means the only one) that Nvidia's Gaming segment revenue rose 68% annually to $1.72 billion.
Though a crpyto slowdown was expected, given improving graphics card supplies and recent remarks from AMD and Taiwan Semiconductor , the magnitude of the expected July quarter drop seems to have caught some investors off guard. In addition to lower cryptocurrency prices and greater mining difficulty levels, the launch of an Ethereum mining ASIC from top Bitcoin mining ASIC developer Bitmain could be weighing.
GPU demand from gamers is strong, but gauging just how strong is a little tricky. In addition to sales to miners, Gaming segment revenue benefited from Nvidia's efforts to replenish graphics card channel inventories that had been depleted by miners, as well as from growing sales of Tegra processors for Nintendo's Switch console. With gaming graphics card supplies much healthier now, Nvidia won't get a similar sales boost from channel fill this quarter. And together with lower OEM & IP revenue, that seems to be why Nvidia is guiding for July quarter sales to be slightly below April quarter levels. However, CEO Jensen Huang asserts there's still a lot of "pent-up gamer demand" that needs addressing.
Nvidia's April quarter growth was pretty broad-based.
Not surprisingly, Nvidia's Datacenter segment had a stellar quarter: Revenue rose 71% to $701 million. Strong demand among cloud giants for Nvidia's Tesla V100 server GPU (widely used for AI training work) naturally played a role. But Nvidia also reported shipments of GPUs used for inference (the running of trained AI algorithms against real-world data and content) more than doubled sequentially. Broader corporate demand for Tesla GPUs for handling high-performance computing (HPC) workloads also helped. And Huang indicated Nvidia's DGX systems -- they're used by enterprises that don't want to build their own AI training systems -- are now doing "a few hundred million [dollars]" in annual sales.
Nvidia's spending growth continues to gradually accelerate: The company's GAAP operating expenses rose 30% annually to $773 million, after growing 28% in the January quarter. The main driver: A 32% increase in R&D spend to $542 million.
If Huang is worried about growing AI training competition, he's not showing any signs of it. He insisted the Tesla V100 outperforms Alphabet/Google's  recently-announced 3rd-gen Tensor Processing Unit (TPU), which appears to be about twice as fast as the 2nd-gen version on an apples-to-apples basis and noted the programmability of the V100 is a major advantage (TPUs are specifically meant to run Google's TensorFlow machine learning framework). He also sounded unconcerned about efforts (such as those from Intel and various startups) to build programmable AI training processors. "[I]t's going to be hard. It's going to be expensive. And we've been doing it very long time," he said.
Huang and Kress both talked up the impact of "battle royale" multiplayer games such as Fortnite and PUBG on the gaming GPU market -- both in terms of attracting new gamers and motivating existing gamers to buy new GPUs. Huang also predicted Nvidia's RTX ray-tracing technology for graphics rendering -- it's supported by a new Nvidia workstation GPU -- will give the game industry a boost by helping developers create high-quality game content. The comments come ahead of the expected 2018 launch of the first gaming GPUs based on Nvidia's Turing architecture.
TheStreet's Eric Jhonsa previously covered Nvidia's earnings report and call through a live blog.
Jim Cramer and the AAP team hold positions in Nvidia and Alphabet for their Action Alerts PLUS Charitable Trust Portfolio. Want to be alerted before Cramer buys or sells NVDA or GOOGL? Learn more now.