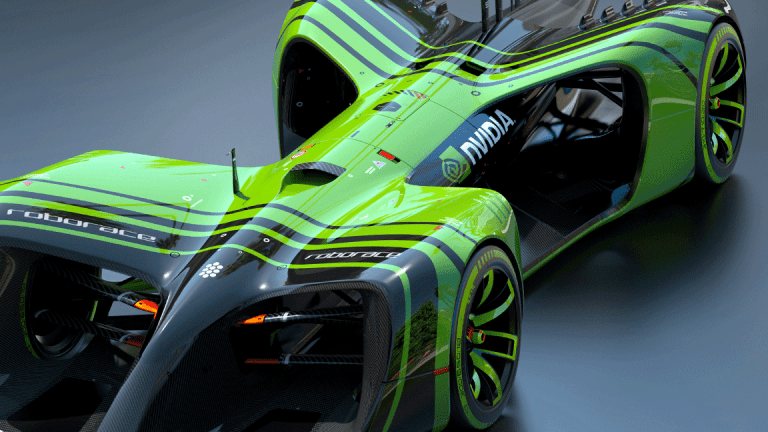 Nvidia Share Price Could Bounce Sharply From Here: Market Recon
A bearish crossover on Nvidia's chart could fail to materialize.
This chart of Nvidia (NVDA) - Get Free Report is so interesting:
First, consider that NVDA's current uptrend began with the bottom created in early July (although one could make the argument that the current uptrend actually began two months or even two years earlier). Two other things also jump out immediately:
1) The Chaikin Money Flow (the panel marked "CMF" above) is just incredible. Nvidia has seen healthy non-stop inflows for more than six months now. You don't see that every day.
2) After Thursday's regular-session selloff, the Relative Strength Index (marked "RSI" at the top of the above chart) is no longer emitting signs of an overbought condition. Of course, that could change at Friday's market opening.
It's also easy to see from Nvidia's April lows through to its May highs that June's pullback almost perfectly respected a first-line 38.2% retracement support level. When using that same support as the low on a new Fibonacci model that runs through the highs of very early November, suggested support comes in around $186. Our 50-day simple moving average is now $186.99, so this is approximately where we might move to capital-preservation mode if the worm were to turn against us.
Now let's go to the pitchfork in the chart above. You can see that the lower tine has been tested as short-term support since late September, and that Thursday's pre-earnings action proved particularly challenging.
Add it all up and we expect Nvidia to bounce sharply Friday morning. Hopefully, even if profit takers do show up in early trade, the Moving Average Convergence Divergence (MACD) won't allow for that bearish crossover that appeared imminent just Thursday.
In the meantime, here's my overall take on NVDA:
-- Target Price: $229
-- Aggressive Target: $248
-- Stop-Loss Level: $187
Sarge's Trading Levels
These are my levels to watch today for where I think that the S&P 500, and the Russell 2000 might either pause or turn:
SPX: 2602, 2596, 2587, 2578, 2567, 2558
RUT: 1493, 1482, 1475, 1470, 1463, 1457
Today's Earnings Highlights(Consensus EPS Expectations)
Before the Open: (MT) - Get Free Report ($0.72), (JCP) - Get Free Report (-$0.43)
After the Close: (SMCI) - Get Free Report ($0.28)
(This is an excerpt from Stephen "Sarge" Guilfoyle's Morning Recon, which now appears exclusively on Real Money, our premium site for active traders. Click here for a free 14-day trial and receive Morning Recon every day, along with exclusive columns from Jim Cramer, James "RevShark" DePorre, technical analyst Bruce Kamich and more.)
Here's a few things you probably don't know about Nvidia:
More of What's Trending on TheStreet:
At the time of publication, Stephen Guilfoyle was long NVDA, although positions may change at any time.