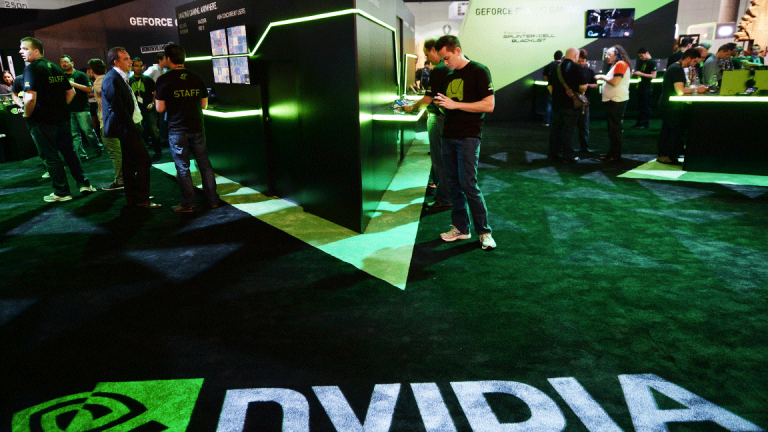 Nvidia Much-Anticipated Q2 Earnings Report: 5 Key Things to Watch
Data center sales trends, gaming GPU commentary and spending growth are among the things to watch as Nvidia reports.
Following a giant two-year rally, Nvidia's (NVDA) stock has mostly moved sideways since late January.
Can the GPU giant's July quarter earnings report help shares break out of their current range? To do so, it will probably have to both show that Nvidia's data center momentum remains strong and calm worries that have popped up about its PC GPU sales amid a drop in demand from cryptocurrency miners.
Nvidia reports after the close on Thursday, and will host an earnings call at 5:30 P.M. Eastern Time. The consensus among analysts polled by FactSet is for revenue of $3.1 billion (up 39% annually) and GAAP EPS of $1.65. For the October quarter -- Nvidia typically provides sales guidance within its report -- the consensus is for revenue of $3.33 billion (up 26%) and GAAP EPS of $1.79.
TheStreet will be live-blogging Nvidia's report and call after the close; please check our home page then for more details.
Here are a few things for investors to keep an eye on:
1) Datacenter Segment Growth
During the April quarter, Nvidia's Datacenter segment revenue rose 71% annually to $701 million. Giant AI/deep learning investments among cloud giants helped, as did broader enterprise AI investments and healthy demand for Nvidia server GPUs within the traditional high-performance computing (HPC) space.
For the July quarter, the consensus is for Datacenter revenue to rise 78% to $740 million. In spite of some competition from AMD's (AMD) server GPUs and Alphabet/Google's (GOOGL) Tensor Processing Units (TPUs), Nvidia remains quite dominant in the market for accelerators used to train deep learning algorithms. The company has also reported seeing strong growth in the more competitive AI inference market, which involves hardware used to run trained AI algorithms against real-world data and content.
2) Crypto Mining Demand
During its May earnings call, Nvidia forecast its sales of products meant specifically for cryptocurrency miners would fall by roughly two-thirds sequentially from an April quarter level of $289 million. Has crypto demand stabilized, or does Nvidia see it falling farther?
It's worth noting here that in addition to the miner-specific products, sales of which are recorded in Nvidia's OEM & IP reporting segment, miners have accounted for a fraction of the sales recorded by Nvidia's Gaming segment, which covers PC gaming GPUs and console-related products.
3) PC Gaming Sales and Outlook
The consensus is for Nvidia's Gaming segment revenue to rise 48% to $1.75 billion. A healthy PC gaming hardware market -- aided by interest in AAA titles, eSports and "battle royale" games such as Fortnite and PUBG -- is expected to help, as is strong demand for Nintendo's Switch console, which is powered by an Nvidia Tegra X1 system-on-chip (SoC). On the other hand, sales to miners have clearly fallen, and there were reports in June and July about rising GPU and graphics card inventories due a dropoff in miner demand.
In addition to its reported July quarter Gaming sales, keep an eye out for any commentary about Nvidia's October quarter and/or holiday season outlook for the segment. Nvidia, whose Pascal-architecture products still dominate the high-end PC gaming GPU market, has been rumored to be planning to launch next-gen gaming GPUs (based on an architecture called Turing) during the current quarter. For now, the consensus is for October quarter Gaming revenue to grow 23% to $1.93 billion.
4) Automotive Commentary (Including, Maybe, About Tesla)
Nvidia's Automotive segment sales rose just 4% in the April quarter to $145 million, as the company pares its investments in the infotainment SoC market in the name of pursuing autonomous driving opportunities. With shipments for autonomous driving design wins not expected to ramp until the back half of 2019, Automotive sales are expected to once more rise 4% in the October quarter, totaling $148 million.
However, Nvidia has at times provided useful commentary on its call about how its autonomous driving efforts, and how it sees the business evolving. And with Elon Musk having declared on Tesla's (TSLA) August 1st Q2 call that the custom self-driving silicon his company is developing will be far superior to GPU-based solutions -- Tesla's second-gen Autopilot system relies on an Nvidia Drive PX 2 computing board -- it wouldn't be surprising to see Nvidia chief Jensen Huang offer a retort to Musk.
5) Spending Growth and Gross Margins
Thanks in large part to big R&D investments, Nvidia's non-GAAP operating expenses rose 25% annually in the April quarter to $648 million. And the company forecast its non-GAAP opex will rise 29% in the July quarter to $680 million.
GAAP opex, which includes stock compensation and one-time charges, is expected to rise 32% to $810 million. Will Nvidia guide for spending growth to accelerate further in the October quarter?
Also keep an eye out for how gross margins are trending. Nvidia's non-GAAP gross margin rose 5.1% percentage points in the April quarter to 64.7%, and was forecast by the company to be in a range of 63% to 64% in the July quarter.
Alphabet and Nvidia are holdings in Jim Cramer's Action Alerts PLUS member club. Want to be alerted before Jim Cramer buys or sells GOOGL or NVDA? Learn more now.
This column originally appeared on Real Money, our premium site for active traders. Click here to get more great columns like this.