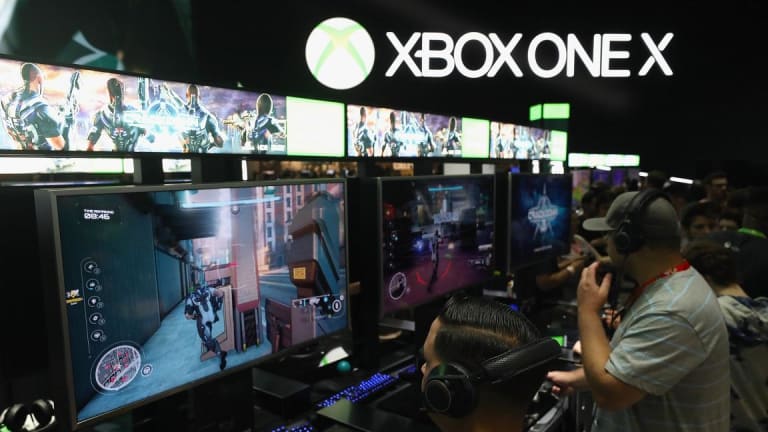 Publish date:
What Nvidia and Netflix Have to Do With Microsoft and EA's Latest Gaming Moves
PC gaming growth and the rise of subscription content services are shaking up the way the gaming industry operates.
PC gaming growth and the rise of subscription content services are shaking up the way the gaming industry operates.
Nvidia (NVDA) - Get Report , Netflix (NFLX) - Get Report  and Spotify's (SPOT) - Get Report imprints can be found all over Microsoft (MSFT) - Get Report  and Electronic Arts'  (EA) - Get Report announcements at the E3 gaming conference.
Collectively, Microsoft and EA's latest moves show how three trends -- the growth of PC gaming, the substitution of outright purchases of goods with subscriptions and a desire for seamless cross-platform experiences -- are reshaping how the gaming industry functions for PC and console gamers alike.
At its Sunday E3 press conference, Microsoft confirmed -- after previously hinting at such an effort -- that it's prepping a game-streaming service that will work across Xboxes, PCs and phones (but not PlayStations, for obvious reasons), and support a number of game developers. No details have been given yet about the launch date or pricing of the service, which will be distinct from the $10-per-month Xbox Game Pass service, which only runs on Xboxes and involves game downloads rather than streaming.
Nvidia and Microsoft are holdings in Jim Cramer's Action Alerts PLUS member club. Want to be alerted before Jim Cramer buys or sells NVDA or MSFT? Learn more now.
Microsoft also disclosed the purchase of four gaming studios; the list includes Playground Games, which is responsible for the Xbox's Forza racing game series. In addition, although Microsoft is less than a year removed from launching its 4K gaming-capable Xbox One X console and less than five years removed from launching the original Xbox One, Xbox chief Phil Spencer says Microsoft is "deep into architecturing the next Xbox consoles."
Separately, Electronic Arts at its own event unveiled Origin Access Premier, a service for Windows games that's promised to offer access to all of EA's PC game launches when it arrives this summer. Access Premier costs either $15 per month or $100 per year, and is much more ambitious than EA's Origin Access and EA Access services. Those services work on PCs and Xboxes, respectively, cost either $5 per month or $30 per year and offer early trials for new games along with a catalog of older games (including some, but not all, of EA's hit titles) that can be fully played.
To a gamer from, say, 2012, a lot of these announcements would be stunning.
The PC gaming market's growth has much to do with these moves. After many years of being viewed as the gaming industry's red-headed stepchild, PC gaming activity and hardware spend has picked up markedly. The ability of powerful PC gaming rigs to deliver visuals that surpass what consoles can do has contributed to this growth; other factors include superior gameplay customization and the popularity of PC-based game-streaming and eSports.
All of this has been great news for Nvidia, which continues to dominate the high-end PC gaming GPU market, as well as for PC gaming peripherals suppliers such as Logitech (LOGI) - Get Report  and Turtle Beach (HEAR) - Get Report . And it gives the likes of Microsoft and EA -- and perhaps eventually Activision (ATVI) - Get Report ? -- an incentive to better cater to PC gamers via subscription services.
The trend also gives both Microsoft and Sony (SNE) - Get Report a strong incentive to speed up the pace at which they launch new consoles. Whereas it took Microsoft eight years to launch a successor to the Xbox 360 and Sony seven years to launch a successor to the PlayStation 3, both companies are now moving much faster, as the Xbox One X (launched in 2017) and the PlayStation 4 Pro (launched in 2016) demonstrate.
The speed at which PC gaming keeps evolving means that console makers simply can't wait eight years anymore to update their hardware. That in turn is good news for AMD (AMD) - Get Report , assuming the company maintains its position as Microsoft and Sony's console processor supplier. Nvidia, for its part, is the processor supplier for Nintendo's Switch console.
Microsoft and EA's gaming subscription efforts also have much to do with how games are now monetized via revenue streams such as in-game purchases, ads and eSports leagues. And also with how consumers, particularly younger ones, have embraced subscription services as alternatives to the purchase and ownership of physical or digital goods.
Video and music streaming services such as Netflix, Spotify, Hulu and Apple's (AAPL) - Get Report Apple Music are perhaps the most prominent examples of the subscription trend, but one could also cite offerings such as the consumer-focused plans for Microsoft's Office 365 platform and Adobe's (ADBE) - Get Report Creative Cloud platform.
It's worth noting that the rise of subscription-based content and software services has often served to grow total spending on the content/software being consumed. Both Microsoft's consumer and commercial Office revenue grew at double-digit clips last quarter; the likes of Spotify and Apple Music have led music industry revenue to see its strongest growth in decades; and the aggressive spending of Netflix and its peers has been a boon for Hollywood content creators. Over the long run, it wouldn't be shocking to see if subscription-based gaming services had a similar impact on gaming industry revenue.
Of course, these subscription services wouldn't have gotten to where they are today if they didn't support a wide variety of software platforms and device types. It looks like Microsoft, which no doubt has noticed the runaway popularity of Fortnite, which runs on mobile devices in addition to PCs and consoles, wants to make sure the same holds for its game-streaming service.
Sony, whose PlayStation Now game-streaming service runs on the PlayStation 4 and PCs, might announce a bold move or two of its own at its E3 press event, which is set for Monday evening. As Microsoft speeds up the pace of console launches and looks beyond the Xbox for gaming growth, standing still isn't an option.