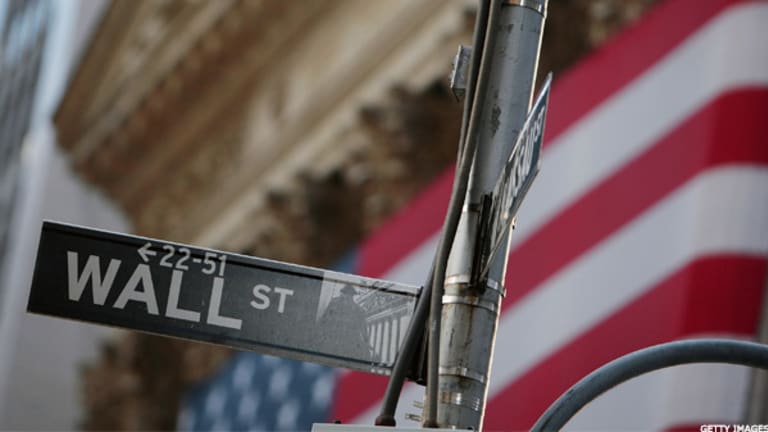 Nvidia Is to Intel What Salesforce Is to Oracle
In the future -- maybe just three years -- you'll have a monitor without a processor. And that imperils chipmakers.
NEW YORK (
) -- Many companies change over time, and therefore warrant a fresh look.
When I was a little boy during the Cold War,
Nokia's
(NOK) - Get Free Report
productwas studded winter tires. The company reinvented itself to become theworld's leading cellular-phone maker, then collapsed under competitivepressure from
BlackBerry
undefined
,
Apple
(AAPL) - Get Free Report
and
Google
(GOOG) - Get Free Report
, and has now ended up being
Microsoft's
(MSFT) - Get Free Report
de-facto handset hardware arm.
Also see: 12 Ways Skimping Now Can Blow Up in Your Face Later
Nvidia's transformation in the past three years has not been asradical as Nokia's, but needs to be understood better. It is also atransformation that is not yet over. Nvidia is three years into atransformation that will take another three years to complete. So youcan view this write-up as a half-time report, if you will.
Nvidia has two basic business segments:
1. Graphics processors for PCs.
Most computer enthusiasts know Nvidia as the PC gaming graphicscompany. Traditionally duking it out against
AMD
(AMD) - Get Free Report
, Nvidia is a leadingsupplier of graphics cards for both PC OEMs as well as the hobbyistcustom after-market.
The past couple of years have seen an important addition to thistraditional Nvidia graphics market, and that's the industrial market.All sorts of companies are using Nvidia's GPUs for computing-intensivetasks. Think "trains, planes and automobiles" -- a common use casefor Nvidia's GPUs is for complex product design and engineering.
On its own, this market is already growing at a very healthy rate.However, 2013 will start the transformation of the industrial GPUmarket from "one GPU in every PC" to a cloud-based model.
>>> Also see: 5 Big Benefits to E-Filing Your Taxes
The way to start thinking about why this is happening is by way ofanalogy: At various stages over the past 15 or so years, computingtasks have moved from the local processor to the cloud. It startedwith web-based email, such as
Yahoo
(YHOO)
, taking on Microsoft Outlook, andthen Google Docs took on Microsoft Office.
Salesforce.com
(CRM) - Get Free Report
took on
Oracle
(ORCL) - Get Free Report
and
SAP
(SAP) - Get Free Report
.
These are all the same thing, in principle: Instead of buying the mostexpensive hardware for each and every person, you can "rent" sharedserver space in a remote location. When you go on vacation or travel,you don't build a new house to sleep every night -- you rent a hotelroom. It's far more economical.
Salesforce.com would call this "software as a service" (SaaS). Nvidiais now taking this concept to the industrial GPU market, and it mightbe called "hardware as a service."
In order to attack this market, Nvidia is using multiple overlapping strategies:
First, Nvidia building its own cloud GPU appliance, which is soldin two base configurations -- $25,000 and $40,000, plus an annuallicense fee starting at $2,500.
Second, Nvidia is partnering with the leading server hardwarecompanies:
HP
(HP) - Get Free Report
,
Dell
(DELL) - Get Free Report
and
IBM
(IBM) - Get Free Report
. They will be reselling Nvidia'ssolution starting this year.
Also see: Cramer Greets the 21st Century: Airbnb
Third, Nvidia is partnering with the leading server virtualizationsoftware companies:
VMware
(VMW) - Get Free Report
,
Citrix
(CTXS) - Get Free Report
and Microsoft. They will bereselling Nvidia's solution starting this year.
Basically, all the largest and most relevant vendors are endorsingNvidia's solution as the "hardware as a service" solution for heavyindustrial GPU computing. I doubt HP, Dell, IBM, Microsoft, Citrixand VMware are doing this because their sales expectations are modest.
On the consumer gaming side, we should see an analogous development,Nvidia expanding the gaming market by processing the games in thecloud and delivering the experience as a service to a simpler processin a less expensive end-user device. You're already using web-basedemail and productivity such as Google Docs, so why not also games?
Why is this "hardware as a service" Nvidia strategy important? Whyshould we care? Ultimately, it's about the network making the serviceavailable to more people, at lower cost. Instead of outfitting bigPCs with power-hungry Intel and AMD processors, we human beings reallyonly need to be looking at a rich display in front of our faces. Thiscould be so much cheaper if the device is as close as possible tobeing only a display with network connectivity, as opposed to anentire Intel computer glued to the display.
What this means is that Nvidia is now bringing supercomputercapability on a "cloud rental" basis to smaller and smaller companies.It's almost like the web-hosting business enabling start-ups such asSalesforce to quickly build up a business to compete with Oracle andSAP. I almost apologize for sounding lyric about this, thinking aboutJoseph Schumpeter's "gale of creative destruction" of capitalism, newbusiness models rendering the old ones obsolete.
And in this case, Nvidia is driving such a crest of "creativedestruction" forward against the Intels of this world, starting rightnow and for the next three years.
2. The Tegra mobile processors.
The second, and thus far smaller part of Nvidia's business, is a lottougher than the industrial graphics processor business. It's also alarger market, with a potential to sell over a billion units per year.
The dominant incumbent in this space is
Qualcomm
(QCOM) - Get Free Report
. It rose to thisposition by leveraging its dominant position in cellular modems intoexecuting a new mobile CPU platform very well.
Two of the industry's leading players -- Apple and
Samsung
-- maketheir own CPUs, but also pair them with Qualcomm's stand-alonecellular modems. Nvidia certainly has its work cut out for itselfhere, and victory is by no means certain.
Nvidia's challenge right now is to do the opposite of what Qualcommdid in the past few years: Add a competitive cellular modem to itsCPU/GPU. This may have been an almost-impossible task only a coupleof years ago, but an opening has now presented itself in themarketplace for Nvidia: LTE on lower frequencies.
The industry is now standardizing on LTE, and more lower frequencies,such as 700 MHz in the U.S., have now been made available. This meansQualcomm's expertise in legacy technologies used by companies such as
Verizon
(VZ) - Get Free Report
and
Sprint
(S) - Get Free Report
, is disappearing in importance.
Obviously, Qualcomm will continue to be a leading vendor in the newlow-frequency LTE world as well, but over the next year or two pricingshould collapse, and probably margins too -- for Qualcomm.Essentially, the Qualcomm monopoly will be no more, starting thisyear.
Just like Qualcomm executed so well in adding its Snapdragon CPU toits cellular modem, Nvidia must now execute similarly well in adding acellular modem to its Tegra CPU. Over the past three years, Nvidiahas stumbled many times in just making its Tegra CPU competitive,and the cellular modem is arguably an even bigger challenge. There isno shortage of legitimate doubts as to whether Nvidia will be able topull this off.
In addition, other new competitors are also using the sameopening to enter this market:
Broadcom
undefined
and
Intel
(INTC) - Get Free Report
are the mostprominent.
The good news for Nvidia's Tegra opportunity is that it's so large.Even if Nvidia fails to dethrone Qualcomm, and even if Intel andBroadcom match or overtake Nvidia's Tegra, this could still be athriving business with a No. 4 market position, and right now Nvidia isgunning for the No. 2 position.
Icing on the cake: Nvidia's SHIELD gaming device.
Marrying the two sides of Nvidia's business is the SHIELD gamingdevice, which should go on sale in late June for somewhere under $500.It marries a gaming-optimized Android handset, with the possibilityto connect to Nvidia's future cloud-gaming services. It already looksto become an iconic product in the gaming community.
Bottom line:
Is Nvidia to Intel what Salesforce.com is to Oracle?Will the cloud take over powerful computing? If the answer to thisquestion is yes, Nvidia may be in the catbird seat as it completes itstransformation over the next three years.
-- Written by Anton Wahlman in Palo Alto, Calif.
At the time of publication, the author was long AAPL,GOOG, QCOM, NVDA, INTC and BRCM, and short MSFT and AMD.
This article is commentary by an independent contributor, separate from TheStreet's regular news coverage.
This contributor reads:
On Twitter, this contributor follows: